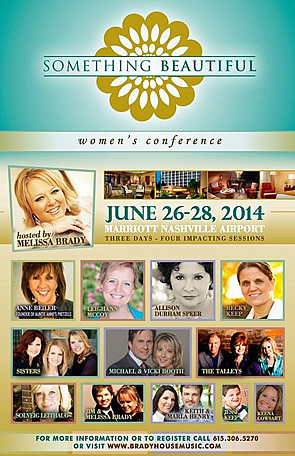 A few seats are still available for the second annual
Something Beautiful women's conferenc
e, to be held June 26-28 in Nashville, Tenn., at the Marriott (Nashville Airport location). Gospel artist
Melissa Brady
hosted a wonderful conference last year, during which women sang, laughed, cried and were encouraged as they celebrated the beauty God has for their lives. This year promises to be even better, with guest speakers/singers including
Allison Durham Speer, Michael and Vickie Booth, Anne Beiler
(owner of Auntie Anne's Pretzels),
the Talleys, Solveig Leithaug, Sisters, Leighann McCoy
and others.
Something Beautiful
is a great place for women to come together in community and find their faith refreshed. If you are anywhere near the Nashville area, please join us for this exciting event! Register at
bradyhousemusic.com
, and enjoy this video preview!