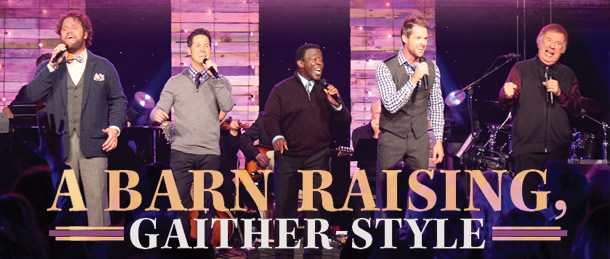 Awhile back, when
Bill Gaither
was visiting Feek Farm, the charming home of artists and friends
Joey + Rory
in tiny Pottsville, Tennessee, 45 minutes south of Nashville, he had an epiphany — one that turned out to be as right as rain on the roof of the farm's barn-turned-concert-hall/studio.
"I was doing a video with Joey and Rory, right in their backyard," Gaither recalls. "We ate and celebrated the birth of their new little baby, Indiana, and I said, 'Boy, we ought to look at this place as a possibility for the Vocal Band.'"
That first look eventually led to the taping of the Gaither Vocal Band's newest DVD,
Sometimes It Takes a Mountain
, featuring songs from the CD of the same name released in 2014, in Feek Farm's rustically high-tech environs.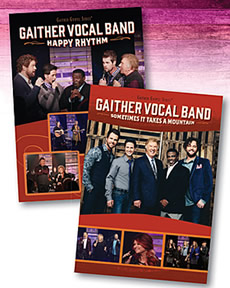 What's more, the taping before a live audience of Homecoming artists and friends ended up so rich — with an abundance o of classic tunes and special guests — that a second CD and DVD,
Happy Rhythm
, emerged as well.
"All of this starts with a song," says Gaither, noting the resonant lyrics, melodies and peak vocal performances within the music. And yet, the rural barn also added to the mystique.
"We wanted to find a warm, cozy setting," he continues, reflecting on the variety of venues in which the GVB has performed both live and for video.
"The biggest was at the Georgia Dome with 40,000 people. That's exciting. We've done Carnegie Hall, the Kennedy Center, Sydney Opera House — all grand, prestigious places. But to me, some of our best videos have been in intimate situations, like a cabin, or the tabernacle near our home in Indiana, and now Joey and Rory's farm."
Chronicling a New Chapter
Adding to the DVDs' uniqueness: They're the first recorded with the band's most recent additions, lead singer Adam Crabb and baritone Todd Suttles, both of whom shine on numbers that showcase their distinctive sounds as they mesh with Gaither, Wes Hampton and David Phelps.
Produced by Gaither and Phelps, along with Ben Isaacs, the DVDs also benefit from an all-star cast of instrumentalists — Kevin Williams, Greg Ritchie, Ben Isaacs, Wesley Pritchard, Kevin Moore, Matthew Holt and a few surprise guests — along with the famed Voices of Lee choir from Lee University in Cleveland, Tennessee, and a live orchestra composed of violin, viola, cello, trumpet, trombone, ute and piccolo.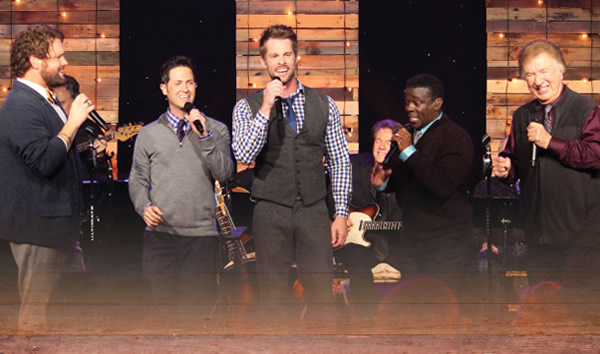 Throw in a who's-who of guest players and vocalists on many of the 34 songs performed that night — the Nelons, the Isaacs, Charlotte Ritchie, the Martins, Goodman Revival, Buddy Greene, Gene McDonald and more — and the result is a stirring, Spirit- lled celebration.
In addition, the DVDs feature entertaining vignettes from the GVB's visit to nearby Marcy Jo's Mealhouse and Bakery — a down-home café opened by Joey and her sister-in-law, Marcy (Rory's younger sister) — and insightful, behind-the-scenes interviews in which Bill Gaither chats with friends and artists.
Hope for the Weary
In her inimitable style, Gloria Gaither wrapped a bow around the taping by speaking heartfelt words of hope in the midst of pain and loss — words that provide a fitting capstone to the songs raised to the barn's rafters and beyond.
"The world is battling…" she said. "We are battered soldiers at battles that we ourselves have invented: tired, worn out, beat up, churched out, struggled out. It is time for the wounded from self-inflicted wars to come home. The way to win is to give up, to surrender, to realize that the battle you've been fighting is already won. What Jesus wants for you is freedom … and we don't get free by struggling; we get free by surrendering."
With words and songs like these, the path to freedom is all the sweeter.