On the day Congresswoman Gabrielle Giffords was shot, a remarkable little girl went to Heaven. A gunman targeting Rep. Gabrielle Giffords (D-Ariz.) shot 20 people in Tucson on January 8, 2011, and nine-year-old Christina-Taylor Green was one of the victims. Inspired by her dream to become a politician, Christina could not have imagined that on that fateful day, that Heaven would be her destination. President Obama's memorial tribute challenged America to be "as good as she imagined we could be." Gloria talks with Christina-Taylor's mother, Roxanna Green about the book she has written, As Good As She Imagined, and the hope that has been born as a result of a nation's loss and her family's grief.
GLORIA:
Since most of our readers are not familiar with your family or your book — and we want them to read it — let's begin by telling them a little bit about your family.
ROXANNA:
Well, we are a very Christian family. We go to church, we give back to our community and we're involved with several charities. We're sports-minded. My son plays baseball and my daughter used to play baseball. She also danced and did gymnastics. We used to go on big vacations. We love the water and love to explore. My husband dives and I used to snorkel. We're just a close-knit family. We love each other very much. I guess we're just a basic, all- American family.
GLORIA:
There's lots of baseball in your book. What is the baseball heritage that you refer to, and how is it that your husband is in baseball? Tell us a little bit about his background and how that came to be a big thing in your family.
ROXANNA:
Well, my father-in-law, Dallas Green, used to be a professional baseball player. He was a pitcher and my husband was a pitcher as well. Then they had cousins who played baseball, and my nephews are very good at the game. When John was finished with his professional career, he finished his engineering degree and worked a couple of years in that field, but he missed baseball. I guess it's just in his blood, so he went back as a scout, and now he's a national cross checker for the Los Angeles Dodgers. He's been doing that for almost 20 years. His father's been doing it since he was a teenager. He was a manager and a general manager and a fine player. Right now he still works for the Philadelphia Phillies. So it's just kind of our thing — it's a big part of life. When the kids were really, really small — Christi was just a natural. She was the only female on her baseball team this year; and then last year she was one of two girls. Of all the teams she played on, none of them really had any girls, so it was kind of unusual and kind of neat.
GLORIA:
I think that children seem to have their personalities right from birth. They are just born with a certain vibe. Their personalities are evident right from the beginning, and Christina evidently just came out of the womb smiling by the way you described her.
ROXANNA:
She was a very, very happy child, and she was also fearless. She wanted to try everything. She was tenacious, curious and adventurous. As a mom you sometimes worry and hope she doesn't get hurt, but no, she just wanted to keep up with the boys.
GLORIA:
Tell us how she got involved with baseball.
ROXANNA:
We were living in Pennsylvania, and she told me she wanted to play tee-ball. She was about the age when kids do soccer or tee-ball, one or the other. She tried soccer in the fall, I believe, and when it came springtime she really wanted to play tee-ball. She was just a natural, and once my husband realized that she was very good, then he would co-coach her teams and help out and she would be able to practice with my son when she got old enough.
GLORIA:
And she was the only girl on the team, right?
ROXANNA:
Yes, the last year that she played, she was the only girl on the team, and she played just as well or better than the boys.
GLORIA:
Her birthday has a big significance. You mentioned that there was a book called the Faces of Hope, that a mother whose baby was born on 9/11 put together and your daughter was in it. Did you meet the author, Christina Naman?
ROXANNA:
Oh yes. When the 50 children reached their two-year birthday, she put together a big party. It was a wonderful event. We all met in New York City and had a four-day, fun event. I met Christi Naman then and we've clicked ever since. I've always thought she was an amazing woman. We're both women of faith and everyone who met her thought she was lovely. We still do to this day.
GLORIA:
I sent for that book and it is delightful.
ROXANNA:
It is! I'm a fan of Christi's books. She's a great children's author and she comes up with wonderful ideas for families to share.
GLORIA:
You also dealt with autism in your family. Would you talk about that a little bit, and maybe how that prepared you for the tragedy that later happened?
ROXANNA:
You know, I don't think anything prepares you for an unexpected tragedy like the one we went through. All I can say is that from a very young age, probably day three, when my son was born, my mom and I noticed there was something not quite right. It was a very challenging time. It took three people to feed him on different shifts because not one human being could stay up that long. He just catnapped and was a slow eater. I prefer to talk about the positives; he is very high functioning now. He gets A's and B's. He plays on a baseball team and is 12 years old and he pitches, so he's just like his dad and grandpa —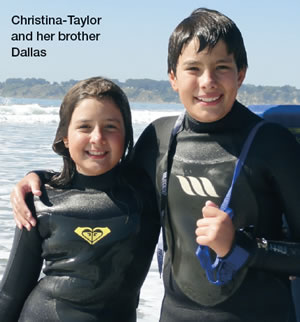 and he's doing amazingly well. I have to attribute that to all the counselors, teachers and therapists that worked very hard with him when he was young in Pennsylvania and the ones here in Tucson as well. I had faith and I worked hard at it 24/7, and it was one of those goals that was "I'm going to make it happen." Not "if" or "I hope it does" but I am going to make this happen for him. So I guess Christina just reverted to being the older child. She was very strong and patient. I don't know if it's just female characteristics or maybe that's what her person was going to be anyway, but they were the best of friends. It was really sad when she passed away, not only for my husband and me, but also for him to lose his best friend. With autism, social skills are always delayed, so it was really hard on him, but he's doing the best he can. He's got a lot of friends, but it's sad because they used to do everything together.
GLORIA:
Well she seems to have fallen in love with him from the time she was little, and I thought that your description of how close they were was really a wonderful thing. I'm sure that he probably misses her as much as you or anybody could.
ROXANNA:
Definitely. He talks fondly of her and he has happy memories. I'm very grateful that he's so strong. After a month or so he finally said, "Well, she's always going to be with me, and I feel like she's here." He will talk to her pictures and he'll say things like, "Aww, I wonder what Christina would have done?" How she would have liked this or that, you know special events that we've attended. It's always in a positive manner, and he knows that he's going to see her again someday. We wish she were here with us to experience the wonderful things of life, but she had a wonderful nine years and we just try to look at the things she did with us that some people don't even get to do in a lifetime. We just try to look at the positive.
GLORIA:
I want you to tell the readers why Christina wanted to be at the reception at the grocery store the day that Congresswoman Gabrielle Giffords was shot. I thought for a 9 year old, her curiosity in politics and the questions she had in her mind to ask her were very unusual.
ROXANNA:
Well, Christina wasn't your average little kid. She desperately wanted to be older. She gravitated to a lot of my friends' children who were young teenagers, and I think she was just ahead of her time. She was an intelligent, straight-A student, but in certain things she was older. She had paid attention to my mother and me and my brothers when we were following the Obama campaign, and that's when she decided to be very interested. Obviously, we thought it would be boring for her, that she would want to be outside playing and doing her sports, but she was very interested and asked a lot of questions. My side of the family has always been so involved in politics and campaigning that maybe she got a little bit of that from us. My husband and I didn't influence her either way; we agreed that when you grow up you have to make decisions for yourself.
GLORIA:
So why did she want to go that day?
ROXANNA:
I think she wanted to go because she wanted to learn more about government. She knew who Gabrielle Giffords was, and she knew that my mother liked her. Maybe she thought that she could be a Congresswoman or a Senator or the President someday. She was also involved with other politicians who were female, so I think she gravitated towards strong women, and she was just always challenged by someone doing something that's not the normal thing. I think she wanted to go and ask her questions and learn more about what she could do for her community and her state.
GLORIA:
Now she was with friends that day, right? How did you first hear about the shooting, and when did you learn that it was your daughter?
ROXANNA:
When I received a phone call from my friend's husband. He called and said that they were both in the hospital. I asked him if it was a car accident or what had happened, and he didn't really have any details. Someone had just called him and said to get to University Medical Center right away. So we didn't have any details, and we didn't know what had happened. I just told him, "I'll meet you there. I'm leaving right now." I just assumed that possibly a truck or something had hit their car.
GLORIA:
So you hadn't heard on television or anything before that, that there had been a shooting.
ROXANNA:
No I had not, because it was a Saturday morning and we don't watch that much television, so we were just doing everything we needed to do around the house.
GLORIA:
And your son was not with them, right?
ROXANNA:
No, he was with me, and my husband was off running around doing chores.
GLORIA:
Well I can't imagine the impact on that whole week. I'd like to talk a little bit about the news stories that were going on from our point of view, but before I get there — you were born in the Bronx and grew up in New York, right? How did you get to Arizona?
ROXANNA:
My mom wanted to move west when I was about 10 years old. She had severe allergies, and the doctors said that a drier climate would be good for her. She had family here, so it was just the best choice for us.
GLORIA:
Where did you go to college?
ROXANNA:
University of Arizona.
GLORIA:
So you were there the whole time in Arizona?
ROXANNA:
Yes.
GLORIA:
And how did you meet your husband?
ROXANNA:
I met him through some mutual friends.
GLORIA:
Well evidently that's been a wonderful marriage and I think for it to have weathered tragedy like this really speaks well of the two of you. Now I want to go back to this little girl who had so many big ambitions and dreams. What was going on with your family in those days after the shooting? What was your experience?
ROXANNA:
I can't even put it into words. I don't know how to describe it, but it was like a nightmare that never ends. Usually if you have a bad dream every once in a while, you wake up, you pinch yourself, and it's over. This was like a nightmare that kept getting worse and worse and worse. It was very difficult. It was a very challenging time in our lives. I was just grateful to have my brothers by my side and my friends, my family, my faith…I don't know how we would have made it.
GLORIA:
Do you have contact, or have you had contact since, with the Giffords family?
ROXANNA:
Yes, ever since it all happened. Mark Kelly went to the funeral services with Gabrielle's family members. They sent us the biggest, most gorgeous bouquet of roses I've ever seen. Throughout the month, he sent special things for Mason Murphy, an elementary school. That's the school my children attended. He also took a baseball up into space, had it signed by all the astronauts, and Dallas was awarded that at Fenway Park. So my son thinks he's a hero. He admires him, and hopes to get to meet him someday.
GLORIA:
How has Christina's death changed your family? I know that's still happening, so it's not easy to answer that question in the midst of it, but has anything changed? Has it broadened your view, or perhaps bettered your view of people in the public life? Evidently the Obamas were very kind to your family. The famous address of course that most of us heard and that he made—have any of those experiences changed the way you live your life? How did your faith play in during that time?
ROXANNA:
I've always had a strong faith, ever since I was born. My parents raised me that way, and my brothers had a strong faith also. My husband is strong as well. You rely on your faith, family and friends to get you through the hard times. Sometimes you just think you're in a nightmare,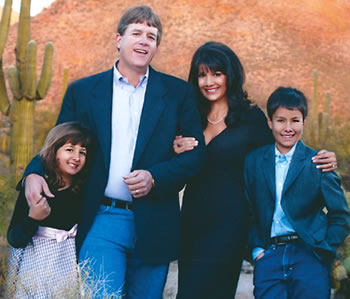 but you realize it did and it could happen to anybody. I think overall, it probably brought us closer together. We always were close, but really close since we lost our mom two years ago. I think it makes all of us appreciate life more, the simple things in life, and not take things for granted.
GLORIA:
How has this affected your son? Evidently he has adjusted quite well, and it seems that he has been free to talk about his sister and communicate his feelings.
ROXANNA:
He's always been really close to us and he's even closer now. He speaks of Christina fondly, and he has great memories of wonderful things they shared together in their short nine years. He just knows that he can tell us anything he wants. We have a really open relationship, and he has always felt comfortable to tell us the good, the bad and the ugly with whatever he is experiencing, whether it's at school, at home or in sports. I just think it continued on with this tragedy. He knows that he can come to us, and if we can't figure it out we will find someone who can. He has a positive attitude for losing his best friend, his sister whom he adored so much. I'm really kind of amazed at how well he's doing. I'm happy for him.
GLORIA:
I was interested in your description of the memorial that was created for Christina that involves some of the artifacts from 9/11. There's something amazing about this little girl whose birth date and death date were both national news stories, and in between, this passion that she lived was almost like she was on fast forward…like she couldn't cram enough in between those two dates in her life. Tell us a little bit about that memorial for those who haven't read the book.
ROXANNA:
Well the memorial that is dedicated to her is a statue that is on "Green Field."
It used to be called "Field #1" at our Little League park. She played on that field quite a bit, and so did my son, so they decided to rename it "Green Field." An artist, Lei Hennessy-Owen, decided to build a beautiful angel statue. She built it out of remains from 9/11 and the three places that were hit. It's made of steel and it's gorgeous. It's a huge angel that's just beautiful and when we found out about it, we were so honored and thrilled that Lei was doing this for us, because she's an excellent artist and very well known throughout the country, and we just couldn't believe it. When she brought it over here, it took about six days, and she had volunteers and truckers who helped along the way to get the different things that they needed to pick up at the three different spots. They brought rocks from Pennsylvania and the steel from the Pentagon. We were just blown away by its beauty. Everyone who plays at that park loves it. When the sun hits it, it's like it's on fire. It just glows. It's almost spiritual; it's just hard to describe. We're just very honored that she did that for our daughter.
GLORIA:
Is there anything you would like to tell our readers who have experienced tragedies like yours? I think sometimes we are erroneously taught that if we follow the Lord and serve Him that everything will be perfect. He'll work out all the problems and we'll never have any tragedies. If we have enough faith, there's never going to be anything negative. Of course Scripture proves that not to be the case because all the great saints of the Bible went through horrible times. What would you say to people who are now going through something similar to what you went through?
ROXANNA:
If they are Christian and they believe in God and Jesus, I would just tell them to pray. Get your close friends and family together. Pray privately. Hold tight to your faith and read the Bible. Go out and help others; that has been therapeutic for us. A lot of people who have lost children in the past have reached out to us, but now we plan to do that for other people who go through similar tragedies. It's just really therapeutic for the person who has gone through the tragedy, especially those for whom it might be new. Our experiences will help them heal. I think we rely a lot on our faith and our family and friends to help us through hard times like this. Especially our faith because I did teach my children that bad things happen, and they knew through various other things that have happened to our family that life isn't perfect and they just have to be ready for anything that comes their way. You can be as safe as can be, but in this instance, who would have known that by going to a supermarket in a nicer part of town, Christina wouldn't come home? You just have to be careful, be real and appreciate every day. You don't know if you're going to have tomorrow.
GLORIA:
Well thank you so much! It's an amazing story, and I fell in love with your daughter. I thought the book really let us know what kind of child she was. She was a very special child. I can't help but think that you were gifted by God to have had her in your home.
ROXANNA:
A lot of people have told me that. That she was a special angel that came to visit us for a short while, but she had to go back up to Heaven to "help out" — so I just hold on to that thought and idea. Sometimes it makes it easier. But her brother has met the President and the First Lady and he'll hopefully meet Gabrielle Giffords and her husband Mark Kelly soon, so her dreams will still come true through us.
GLORIA:
Well that's wonderful. Thank you so much for letting me talk to you about this today, and I would recommend your book. It's endearing and you let us walk through so much of this with your family, sharing the private moments with your close friends. It's really a wonderful project, and I'm glad you did it.
ROXANNA:
Thank you so much! If anyone is interested, we also have a website where we sell items, and we have scholarships and grants available to young children. It's
christinataylorgreen.org
.
GLORIA:
That has become a foundation to help kids, right? Special projects with kids to help with their learning, particularly in education. Thank you, Roxanna, for your time, and I hope I get to meet you someday in person.
ROXANNA:
Thank you so much. I really appreciate it. Meeting you would be an honor. Take care.