Zig Ziglar • 1926 –2012
On November 28, 2012, the world lost a hero, and the Homecoming family lost a dear friend. Zig Ziglar passed away after suffering from pneumonia. His influence is impossible to measure, and the gift of his wisdom will live on for generations to come.
This national hero inspired us to live remarkable lives. As an author, speaker, mentor and leader, he has helped countless people and businesses thrive, using spiritual principles and a positive perspective. He saw life for all its possibilities, and he helped thousands upon thousands of others do the same.
After the announcement of Zig's passing, Bill Gaither reflected on his years of friendship with this influencer:
"Gloria and I have been truly blessed to consider Zig among our dearest friends. For many years he brought his family to Family Fest and Praise Gathering; and for the first few years I didn't realize he was there until after the weekend was over. Eventually we became friends, and I always looked forward to our time with him and his family. But I was always so impressed that a person of his standing would purchase tickets like anyone else and make the effort to come and let the music feed and encourage him and his family. I believe that same quality — being willing to seek out inspiration and input from others — is one of the qualities that gave him such longevity, since he gave so much of himself to encourage and teach others.

"This sweet man was a champion of the power of positive thinking, and he was living proof that, 'As a man is in his heart ... so is he.' Even in his last years of life, he was a beacon of joy. During the last Family Fest he attended a couple years ago, his memory was faltering a bit and his daughter, Julie, had to help lead him to the platform, but the moment he spoke to the audience, his mind and heart were as engaging and full of wisdom as ever. He remained a testament to the principles he had spent his life communicating."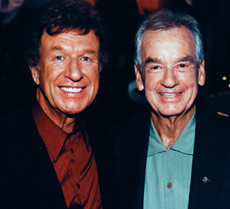 (Pictured left: Bill Gaither with dear friend Zig Ziglar)
While millions of people have been affected by Zig's positive attitude about life and work, many may not realize that his life was far from struggle-free. In his own words, Zig shares glimpses from his life story and the circumstances and turning points that shaped his attitude and faith in the face of those challenges:
My spiritual journey, interestingly enough, started when I was 10 days old. I died that day. Ten days earlier the doctor had delivered me to my mother and said, "You have a perfectly healthy baby boy." Ten days later, he laid me on the bed and said to my mother, "He is no more." My grandmother reached down and picked up this lifeless body. And they said she started talking to me. But you, of course, know that she was not talking to me; she was talking to her heavenly father. She was pleading for my life. God responded to that prayer, and obviously I did survive.

As a child, I watched a widowed mother who lost her husband and was left with six children too small to work — there were 12 of us, all told. She lost her daughter just a few days later. And so it was a pretty tough childhood. I watched my mother's incredible faith... ...Almost immediately after I became a Christian, a need arose in our family, and we immediately needed an extra $500 a week. I want to emphasize that in 1972, $500 represented a considerable sum of money. We were already struggling. Something amazing happened. This major corporation, one of the Fortune 500 — I had done a series with them — wrote me a letter and said, "We want you to do another series, but if you don't mind, we would like to pay you in advance so that we can get it in this year's budget." Well, because of my gracious, understanding nature, I agreed to go along with their request — regretfully, of course — but I agreed to go through with it!

Now here's the interesting thing: In all of the years before, and all of the years since, that has never happened again, where anybody wanted to pay me for a series in advance. That met our needs. We have a great God, ladies and gentlemen. My picture of what a Christian is changed immediately. My picture of faith changed immediately.

His faith was contagious indeed. But even Zig had times when he needed encouragement. During one of the early Homecoming tapings, Zig shared a story about a dark time in his life when he had lost his daughter, and how a Homecoming video encouraged him during a particularly difficult night when he couldn't sleep. As we sadly bid a temporary farewell to our friend, we rejoice that he is now with his daughter, singing in a place where every tear is wiped away. See you at the House, Zig!