God doesn't need an orator who knows just what to say.
He doesn't need authorities to reason Him away.
He doesn't need an army to guarantee a win.
He just needs a few good men.
Men full of compassion who laugh and love and cry;
Men who'll face eternity and aren't afraid to die;
Men who'll fight for freedom and honor once again;
He just needs a few good men.

I was born three months after Pearl Harbor was bombed. I remember (barely) rationing of certain materials and foodstuffs, gas and metals. I can recall my mother's friends talking about "the war effort" and "rolling bandages."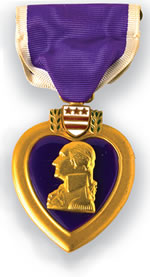 I grew up with a cousin (born in the same month as I) whose father, my father's only brother, was wounded in action in New Guinea and was given a Purple Heart. At 4 years old I wasn't sure why the pink heart he had wasn't good enough, but my family spoke about it like it was an honor to have the purple one. When he came home to claim his little daughter from my grandmother and grandfather who were caring for her, he brought a new wife who was the Army nurse that had tended to his wounds in the Army hospital. As it turned out, she was from Mississippi and had the only really Southern accent in our family.
My uncle finished his education in literature and theater with a civil defense loan and taught in the Chicago area until he retired. He and his Army-nurse wife had four more children. Phoebe, the cousin who was like a sister, still keeps in touch, and Jeannie, one of the other four children, came to spend the day with me when we were singing last November at Willow Creek Church.
My father never served in the military, but became a wonderful pastor who, with my artist/writer mother, built strong congregations in Michigan. Both of them had a passion for people and instilled in my sister and me a love for God's kingdom the world over.
One of Bill's earliest memories is of his sixth Christmas Eve when at his family's Christmas gathering, word came that his Aunt Lillie's handsome son Glen had been killed in Germany only a few days after he had been deployed. This bright young man was engaged to a lovely girl and had hoped to go into the ministry of the Nazarene Church where he had been active in the youth group.
From then on for years, there was certain sadness for Bill about Christmas Eve, and the Gaither family celebration. Maybe that is why we tried to make new memories with our children on Christmas morning.
Like most families, ours has been affected by the loss or injury of one of our own who served in the defense of our country. For Aunt Lillie, the fracture to her soul caused by losing a son never fully healed, though she lived to be in her 90s. And my family was changed forever by "the war." Many men and women who have experienced the horror of war carry deep wounds. Scar tissue of the spirit finally forms, and life goes on. But nothing is ever quite the same. There are emotional sacrifices that go on long after "Johnny comes marching home." The freedom that we treasure in America is unique in all of the world. As we begin the summer season traveling, gathering, worshipping and celebrating with our families, let us take time to savor our freedoms. Let's use these freedoms — rare in the world — to do good things.
We are free to help others,
free to assemble,
free to be generous,
free to pray,
free to learn,
free to criticize and question.
And let us always be aware that freedom is not free. It has come at great cost. May we never misuse it or use it as a license to take away someone else's freedom.

In 1967, the Singing Rambos were asked to travel and perform a six-week tour for our military troops in Vietnam. Even though the war was somewhat controversial, my dad and mom said, "Our brave young soldiers are there and we will go take them the gospel and a sweet slice of home."
For me, as a young teenager, the thought of traveling to a far country sounded exotic and adventuresome ... never mind the thousands of cute soldiers! The day before our departure we gathered for a final briefing with government officials. There was a rude awakening from one of the officers. "Now, Buck, Dottie, Reba and Pat, you have completed your rounds of 24 shots, medical evaluations and blood work," he said. "Here are your dog tags to wear around your neck and ID cards which must be with you at all times."
He ceremoniously placed both items into our hands. I looked down at the shiny metal necklace and the laminated card with my photo in the corner. The fi rst thing that caught my eye was
BLOOD TYPE: O Rh-negative with Du-negative factor
.
"Why is the blood type so specific?" I asked him.
"Because if you are wounded we will know quickly, exactly which blood type we need to give you."
"What! Wounded? I'm not a soldier. I'm a singer!"
"Unfortunately, our enemy doesn't know that," he said. "You're a foreigner in a strange land, so you are a target there. Remember, for a soldier in a combat zone, there is no 'at ease.' And in that place of war ... we are all soldiers."
The following six weeks we performed four concerts a day for our troops. After every show we mingled among them, signed autographs, lavished hugs and not a few prayers. Not one man or woman said a word that was disrespectful or out of place. Instead of pornographic magazines in their pockets we saw comic books. I'll never forget how young they were, how brave.
What an adventure we had! We crash-landed twice, our chopper was fired at repeatedly with machine guns, and one night the base we were staying at was pummeled with incoming mortars. Yes, I do know what it's like to spend a terrifying night in a foxhole praying.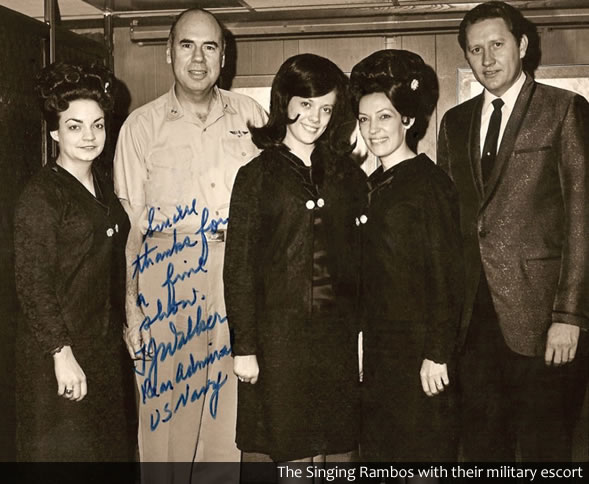 All of this was just a drop in the ocean compared to the ravages of war our heroes endured. To this day when I see a man or woman in our military uniform, I get a lump in my throat and will often salute a "Thank you."
So many times I've observed and experienced another war: this spiritual battle we all wage against the darkness. Often I ponder the lessons of a young girl's experiences in a combat zone and refl ect upon words of wisdom spoken so long ago...
"You're a foreigner in a strange land so you are a target there. Remember, for a soldier in a combat zone, there is no 'at ease.' And in that place of war... we are all soldiers."

My daddy was in the Army, stationed in Frankfurt, Germany during peacetime before he and Mama married. I can remember both my brother and I wearing his fatigues with all of the patches—"3rd Armored Spearhead Division," "Williamson" and others. He kept everything and we considered his treasures, ours!
He was a gentle man, with a heart of gold. Somewhat shy, but a talker, he made friends easily and kept them a lifetime. Daddy was tall and lean, with dark hair, hazel eyes and a sweet smile.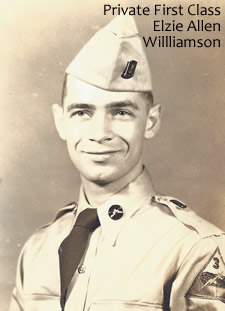 He loved the outdoors and always loved hunting and fishing. He was the kind of man who enjoyed giving young people a nugget of wisdom to ponder — always in his same quiet manner.
There was so much of his personality that carried over from his days in the Army. He was neat and organized, well groomed and felt shabby without his crisp white undershirt beneath his starched, collared over shirt. His shoes were shined every couple of days and he was clean-shaven every day.
Daddy was a man of humility, grateful for everything he had been given. He was born in South Carolina, somewhere in the middle of 11 children, giving him understanding as a leader and caregiver, yet never getting his feathers ruffled or expecting a handout. He was a hard worker and received perfect attendance pins from work almost every year.
He and Mama married in 1960 and built their home just before I was born and because Mama traveled and sang every weekend with her family, Daddy was our caregiver whenever he wasn't at work. It was natural for him, since he had helped take care of his younger siblings for years.
Daddy died June 12, 1984, at the very young age of 50. There is not a day that goes by that I don't miss him and his gentle, grounding spirit. He sent his mother many gifts from his stay in Germany, including a couple of clocks that were given to me by my uncle several years ago. I treasure those, along with one of his old army boots that Mama and I turned into a vase back in the '70s, a trinket box with a couple of love letters to Mama, a pocketknife, lighter, and a brush and cup for shaving.
My daddy was a simple man, who left behind a long legacy of love during his short time here on earth. Daddy was our hero.

Ladye Love Smith's father, Julian Reece "J.R." Long, bravely and proudly served his country with the Coast Guard/Marines during World War II. Also an avid musician, Mr. Long had perfect pitch and played guitar, mandolin and violin. He loved playing with his band, the Savannah Dixieland Band, and he also performed with Ladye Love and Reggie on several Homecoming cruises.

Mr. Long was a coach and teacher in the Memphis public school system, rising to become the Tishomingo County Superintendent of Education in Mississippi. He later worked in the banking industry for more than 25 years and served as Vice President of First American National Bank.

Most importantly, J.R. Long was a beloved husband, father, grandfather and friend. Here, Ladye Love and Reggie reflect on J.R.'s life and legacy.


Ladye:
Daddy was born in Iuka, Miss., in 1923. He had two loves other than God and his family; he loved music and he loved being a veteran of World War II. He was very patriotic — he was even born on the fourth of July! He was so proud to defend the country he loved, and he became known for his signature World War II hat that he wore
everywhere
.
Every Veteran's Day, he would speak at the local high school in Iuka about what it meant to him to serve our country. And, every Memorial Day, his Dixieland jazz band would play at Shiloh National Military Park for a big ceremony there.
When he served with the Coast Guard in World War II, he played guitar in a band aboard ship. He played big band music — he called it his music — and that's where I got my love for that musical era. Reggie and I have a big band CD (titled
Standards
), and Daddy played on it. It was so special to get to do that with him.
Daddy was one of five brothers. The youngest was not old enough to serve, but all four of the others went to serve in different branches of the military and in different theaters — one in England, one elsewhere in Europe and the other two on ships in the Pacifi c. Miraculously, all four came back home safely.
While Daddy was in the service, he wrote letters and sent money home all the time. When his oldest brother passed away a couple years ago, they had an estate sale. A friend of mine bought a dresser there and inside, he found a letter that Daddy had written to his parents during the war, and he sent it to me. Daddy shared all these details about the war in there … about getting his hair cut and about all of the daily things they did.
I remember him saying that he and one of his brothers had an unexpected reunion when their ships ended up in Hawaii at the same time. Uncle Herman was on furlough there, and he saw my daddy's ship pull up. That was really something, because my uncle was stationed in Europe, and my father was stationed in Okinawa. So, Uncle Herman talked them into letting him board Daddy's ship. Daddy was on deck playing in the band when my uncle came aboard, and they had a wonderful reunion. Although Daddy was not scheduled to have time off then, his superior offi cer let him go out and spend some time with his brother.

Reggie:
During his time with the Coast Guard, J.R. (or Pa-in-law, as I called him) started out in the northeastern U.S., helping to build ships. Later, he was attached to an amphibious unit that went to Guadalcanal and then Okinawa, and the ship's number was 13. He would often begin stories with, "When I was aboard ship — lucky number 13 — in the mighty Pacific…"
His ship transported Marines, and their main job was to put the Marines ashore in Okinawa, which was a very difficult and dangerous process — a lot of lives were lost. I asked him, "Pa-in-law, were you just scared to death?" He said, "You know, there were some scary times, but for the most part, I was so young that everything was bigger than life and it was all an adventure."
He said that the scariest times were when the siren on the ship would go off, which meant that kamikaze planes were coming. He saw a kamikaze fl y into a ship nearby, which caused the entire body of the ship to explode, killing a couple thousand men instantly. The only two or three who survived had been standing on the deck. Because of that, J.R. said that he actually felt safer on deck than down inside the ship, so at the siren's warning, he would always race to the top. He remembered looking up into the sky and the planes looked like swarms of bees coming at them.

Ladye:
One of the most special times I shared with my father toward the end of his life was when we were able to go on an Honor Flight. I had heard that they were taking World War II veterans to see the monument, and I'd wanted to take him. We were on a waiting list for a year, but then he got sick with cancer.
He came to live with Reggie and me near the end, and I brought up the Honor Flights again. He said he'd still love to go. Thankfully we were able to make that trip — the last Nashville Honor Flight happened on May 8, 2013. Daddy died less than four weeks later, on June 6 — a couple of hours after my birthday ended — and just 28 days shy of his 90th birthday. He said that the Honor Flight was one of the best experiences of his life, and he actually got much better and stronger for a while after that trip.
It was amazing! He said, "They treated us [the veterans] like royalty." When we arrived at the Nashville Airport, members of the color guard stood at attention with flags for the men to walk through into the airport. They had a big breakfast, while a country band played for them. When we were leaving, fire trucks paid tribute with a water arch salute. U.S. Airways had a charter flight just for the veterans, and the flight staff were all volunteers. They just loved on them, celebrated them, honored them.
We arrived at Reagan Airport and were greeted by lines of people on each side as we walked through. They were clapping and cheering, holding posters saying things like, "Thank you for your service."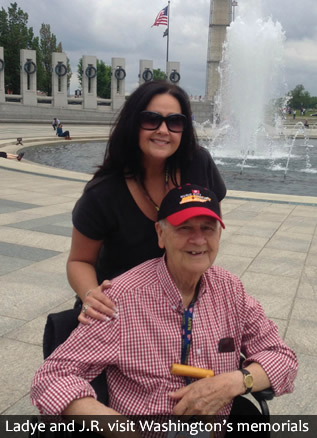 When we arrived at the monument, Rep. Jim Cooper of Tennessee was there to greet us. Not only did we visit the World War II monument, but we were able to visit other memorials as well.
That night when we returned for our flight home, they had a band playing big band music, complete with singers and dancers in costumes from that era. On the plane home, they also played big band music, and the flight attendant had me come to the mike and sing "I'll Be Seeing You." Daddy was so excited when I did that!
The trip was an incredible time for the veterans, and I'm so grateful that Daddy and I were able to share that experience together. As he was looking out the window of the plane that night, thinking over everything that happened that day, he smiled and said, "This is really good. This is a good way to end."

Reggie:
J.R. and Bill Gaither were good buddies, for the little time they got to spend together. Bill told Ladye Love one time, "Your daddy is my hero." They had a lot in common; Ladye's daddy was an English teacher too, then a principal, even before he went into the banking business for almost 30 years. And of course, they shared a great love for music.
Pa-in-law was just a character; he lived full out. He wanted to live. When he had cancer in his last days, at nearly 90 years old, the doctors said, "Mr. Long, we've never given this treatment to a 90-yearold." He said, "Well, what's the alternative? We've gotta do it, because I've got more to do!" He enjoyed a good time and loved to laugh and be part of the party. I think that's why he was so strong to the very end.

There I stood in a small railroad car, shoulder to shoulder, with my wife, our children, her mother, sister and brother, all full-blooded Jews by birth, staring at a 10-by-10-inch square taped off to show where a Jewish prisoner stood while riding to Bergen-Belsen concentration camp in Germany. For a few fleeting moments my mind imagined being one of those people, who had been stripped of everything they had, including their dignity, riding for miles and miles in that little space. There were no windows and no toilets, only miniscule cracks between the wood panels of the boxcar. I shuddered. I wondered how many innocent Jews had ridden in that very car to that cruel labor camp. I wondered how many survived. History tells us that one out of every four Jews died on the way or in the camps, over 50,000 people. There were 10 of us stacked in that boxcar along with our German tour guide. Lily began to sing a Yiddish lullaby to memorialize her mother's journey to this encampment. Even 60 years later, the sorrow overtook us all. We began to pray and cry out, thanking God for the miracle he performed for Lily's mother, Faye, and her father, Oscar Fishman. They spent four years of their young lives in the muck and mire that are now known as Bergen-Belsen and Buchenwald concentration camps.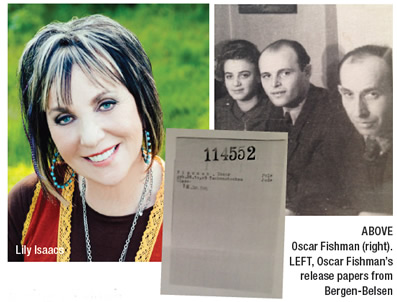 Just outside that little boxcar was a set of railroad tracks. I walked along a stretch of those tracks, again thinking of the horrors of World War II. I looked down and noticed a stamp in the rusted iron ties. It was branded, "1936." The tour guide told us that these tracks were the only way in or out of Bergen-Belsen prison camp. I was standing on the tracks that carried over 250,000 innocent people to their own personal hell. These were the same tracks that carried Faye and some of her brothers and sisters. I have no way to describe the heaviness and sorrow I felt that day. But, I can describe the elation I felt when I looked into the faces of my mother-in-law, my wife and my children standing before me, who are also full-blooded Jews!
Buchenwald concentration camp was liberated on April 4th, 1945, and Bergen-Belsen was liberated seven days later. Filled with a myriad of emotions at Bergen-Belsen, I did not take the time to think of how all this had happened. Then, it came to me. The only reason we could stand there in that place and praise God for His miracles, was because someone had put their lives on the line to liberate Faye, Oscar and the rest of the prisoners from hell on earth.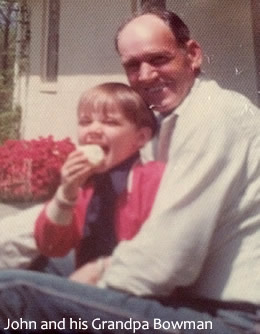 Just two years ago, my father and I were talking about World War II and the horrors of the labor camps. In passing, I mentioned that Faye, Lily's mother, was at Bergen- Belsen and Oscar, her father, was at a camp called Buchenwald. Daddy set upright in his easy chair and said, "Your grandpa helped liberate Buchenwald!" To say the least, I was shocked. Was it possible that my grandpa helped liberate Lily's father?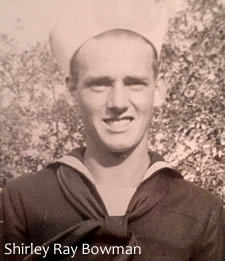 My grandfather, Shirley Ray Bowman, was a Boatswain's first mate in the Navy during World War II. He enlisted on April 26th, 1943, and was honorably discharged December 4th, 1945. He served in several different theaters in the war: England, France, Belgium and Germany. He was wounded twice: once in the leg and another in his side. Recently, I went to my grandma's home in Ararat, Va., to talk to her about this incredible chain of events and to seek illumination. She dug through her papers and found my grandfather's discharge papers and a letter from President Reagan commending him for his service to our country.
I had no idea that Grandpa had even been near those camps. But I found out from Granny that was intentional. Grandpa hardly ever spoke about the war. I spent two summers with him, and I never heard him say anything about it. My grandmother said that right after Grandpa came home from the war, he was very depressed. She told me a story about when they were walking to a country store near their home. They were just walking along enjoying the day, when an animal made a noise in the bushes. Grandpa wheeled around with his hands clutching a rifle that was not there. The war was hard on Grandpa, but he dealt with it as best as he could. I always thought of him as a hero, but I did not know just how much of a hero he was.
Near the bottom of his discharge papers was a list of the countries where he had fought. Written underneath in large print were the words, "Remagen, Rhine River." I vaguely remembered the name from history classes in school, but I needed a refreshing.
From the research I can find on the Internet, Remagen was the last bridge across the Rhine River in Germany to fall during World War II. The bridge connected Germany to the eastern fronts of Europe. As the Allies got closer, the Nazis sought to protect that bridge. The Allies captured the bridge on March 7th, 1945. Even after the bridge was secured, Hitler wanted to destroy it, fearing that it would open Germany to an all-out Allied invasion. I don't know for sure, but I think that's part of the reason my grandfather was there. He helped build the pontoon bridges just south of Remagen, because General Patton knew the Nazis would not stop until the Remagen bridge was destroyed. The U.S. protected the bridge valiantly. However, on the 17th of March, 1945, the bridge collapsed from the constant bombardment around it by the Germans. Nonetheless, the fact that my grandfather was there shows he was in Germany at the time the Buchenwald camp, where Oscar Fishman was held, was liberated. I have no proof that he actually was there, other than what my grandfather had told my dad. That's enough for me!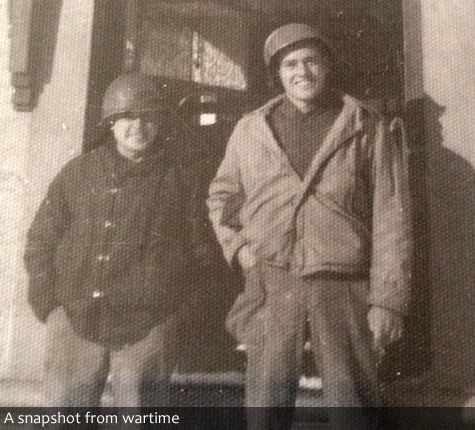 I thought the first time I ever laid eyes on Becky and all the Isaacs was June 4, 1991, and for me, it was. But now that I have put the pieces together, it is quite possible that our families have met before! One thing is for sure: our families have a tie to each other long before 1991. The year was 1945!
I thank God every day that He, along with my grandpa, helped Faye and Oscar out of those hellish prisons. If something had happened to either one of them, things would not be as they are today. If my grandfather had been killed, my daddy wouldn't be here, and I wouldn't be here. If Faye or Oscar had perished neither Lily, Becky, Sonya or Ben would be here. My life, if even in existence, would be much different. But, thank Jehovah and our Jewish Messiah, Jesus, for His kindness and His mercy, for His omnipotence and His omniscience. He knew that I would need Becky to complete my life. He knew that I would need my grandpa, my dad, my mom, my sister and my children, Levi and Jakobi. They are the best friends I've ever had.
Many years ago, Oscar, Lily's father, gave his heart to Jesus on his deathbed. My grandfather, Shirley, went home to be with the Lord in 1983 at the age of 59 after a long bout with emphysema. I'm reminded of that song that Jessy Dixon used to sing, "I Wonder What They're Doing There Now?" Who knows? Maybe Jesus Himself introduced them to each other and explained all the questions I'm sure they had. I can't wait to see them both and celebrate, together, this amazing and unbreakable tie we have.

I am very proud of my only brother, Paul Knauls. He is a lively 83-year-old and has been married to his wife Geneva for 48 years. He is an entrepreneur who goes to open the doors of his business each morning, leaves for home at noon, and then returns in the early evening to close the beauty and barber shop. He is well known in the city of Portland and in fact, he is affectionately called (even by the sitting mayor) "the mayor of northeast Portland!"
I would like to share what he still considers a great honor. Shortly after graduating from high school, Paul joined the Air Force in July, 1949. One day he was called into his superior's office and told that since President Truman had desegregated the armed forces a year earlier, there was an Air Force base near Spokane, Wash., that needed to have the first "Negro" airman sent there. And because of Paul's easygoing personality and pleasant demeanor, they were certain he should be the one to have that assignment.
Paul took the train from Lackland Air Force Base in Texas to Spokane, arriving at midnight. The next morning he walked into the mess hall to a surprised group of men! Now, being the first Negro at Fairchild Air Force Base, Paul said that he did not experience any prejudiced looks or remarks — and because he was such a good pool player, he always had partners to play in the game room!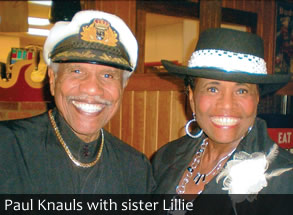 Although he was never sent to fight and never saw "war," he was sent to Fort Lee, Va., to be trained to repair the military's office machines and that was how he proudly served his country for three years and nine months during the Korean confl ict. He received an honorable discharge in 1953 as a staff sergeant with "four stripes"—what a guy. That's my brother!
Each Memorial Day I look forward to attending a function honoring veterans, just to say "thanks." There is also another way that I express gratitude to servicemen and women in uniform in airports as I travel. When I see them in the food court buying food, I will go to the register and offer to pay for their purchase. It is my way of saying "thank you." I am thankful for the freedom we enjoy because of those who have served and the many who have given their lives. May God bless America!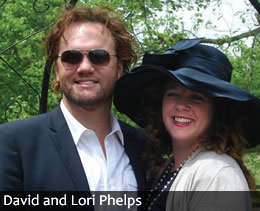 Thank you to my dad, Ted Purtle, for all you have sacrificed for our freedom. Over the years, my dad has served with the United States Marine Corps and the Texas Department of Public Safety. As long as I can remember, I have seen him sacrifice to make sure our country, state, roadways, etc., were safe. I, as well as many other fellow Americans could never thank him enough!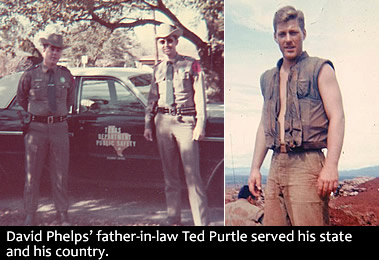 My father Peder and brother Bjarte both served in the Royal Norwegian Air Force, my oldest brother Lyder in the Army and yet another brother Paul served in the Marines. None of my immediate family have served in active duty during war times; I just remember seeing my handsome brothers in uniform, and recall missing them something fi erce when they would be gone for what seemed forever. (I was the youngest of the quiver.)
However, my father-in-law, Gordon Chaffee, did serve in the United States Air Force for nearly four years, from 1948–1952, in part during the Korean War. He was stationed first in Shreveport, La., then transferred to Omaha, Nebraska. In Nebraska he was assigned as orderly to General Curtis LaMay's aircraft.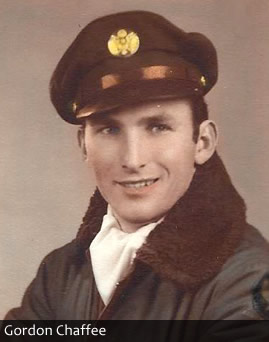 While he was still a soldier, Gordon and Sharon Rose married on November 15, 1951, and so their fi rst seven months of marriage, they lived on base in a small apartment. He left active service shortly before their firstborn, my husband Jim, was born.
When I wrote the song "Safe and Sound," I thought of the plight of a mother or spouse of a soldier, whose loved one would be away at war for a whole year or longer — someone who knew intimately the pain of long separations, observed the coming and going of seasons, observing life all the while missing someone. Someone who knew how it felt to sacrifice their own comfort for the nation's freedom and peace.
The decision to dedicate the song to family members of deployed military came as I watched my girlfriend's reaction to the lyrics when it was brand new. "This is our song!" she gasped, wiping tears running in streams down her sweet face. "This is a song for ALL military families! This is exactly how it feels! 'Safe and sound' — we constantly pray and wonder what condition our deployed loved one will be in when they come home, if they return alive at all."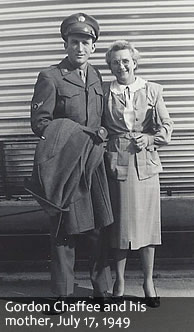 The pride and fierce commitment to the freedom of this nation runs deep in my girlfriend and her whole family. I see it time and again in her noble, selfless actions, so very strong and brave. She herself is also the daughter of a war veteran. I've shared many mealtimes with her dear parents who, to this day, bear the marks of war in their daily lives. They continue to pay a very high cost, but their attitude is still that of honor, grace and strength, daily living in prayer for the troops and concern for the military community at large.
I am so glad this issue of Homecoming Magazine is paying tribute to our soldiers. I'm delighted to share my American country-roots-sounding, patriotic, feelgood, toe-tapping song, featuring Buddy Greene's gorgeous harmonica, with Homecoming readers, and with this pay a small tribute to our servicemen and women. For a free download of the song (lyrics, and listen) go to Solveig's "Safe and Sound"


My brother, Michael D. Wright, spent 20 years in the United States Air Force. I remember our family watching the evening news religiously to keep up with the Vietnam War activities of the early '70s when Mike was sent there to help squelch the global threat of communism. When I look at the photos now, I realize what a daunting task it was for such a young man to leave the safety and security of the greatest nation on Earth, to serve in what was becoming one of the United States' most dubious wars that left nearly four million dead. With over 30 percent of the American wounded dying from war wounds, and the horror stories of how our veterans were treated upon their return from the confl ict, it seemed the disaster would never end.
Fortunately for our family, Mike made it home safely and remained in the Air Force until his retirement in 1990. He then spent four years teaching electronics in Saudi Arabia. When he returned to the U.S. in 1993 he became a technology teacher at ITT Tech. After that he taught electronics in the Knoxville school system. Today he is a high-school teacher in North Carolina and a member of Calvary's Hill Quartet in Fayetteville. In his various locations with the Air Force and in the days since, he has been among the biggest supporters of my music, as well as the other Homecoming artists. For several years he coordinated the volunteers at GaitherFest in Myrtle Beach, and he seldom misses an opportunity to support the Homecoming crew when they are nearby in concert.

I can't say how proud I am of my big brother. He is an absolute inspiration to me, as a husband, father, airman, teacher, singer and most of all, brother. So, thank you, Master Sergeant Michael D. Wright, for your service to your country, family, community and Christian music.

My father, Rex Nelon, was a Marine. I look at him in the uniform and I can't believe that's him. He looks so very young. I've read the letters that he wrote to my grandmother while he was on duty and it sounds nothing like the big and strong father that I know, but rather a young man in strange surroundings doing his duty, but wishing he were home, hearing the prayers of his mother who adored him. I have often wondered what he thought as he looked up at the stars at night while he was there. Did he miss the music that he loved? Did he wonder if he would ever go home? Was he happy or sad and homesick? Did his future of a wife and kids ever cross his mind? I wish I would have thought to ask him more questions.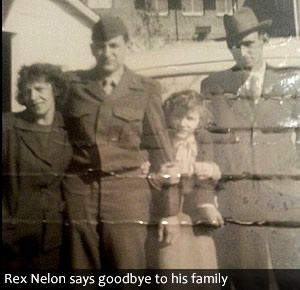 There is no doubt that his stint there grew him up fast. He would tell me of the times that he stood at attention for hours as the sun would beat down on them. I always loved his stories. One of those times, after standing in the sun for hours, he passed out, breaking his jaw. He was taken to the hospital where they wired his jaw shut.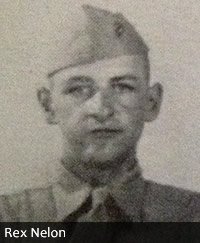 The one thing I clearly remember was that every four hours he was given a shot of penicillin for infection. He said the needles were huge and it hurt so bad that he could hardly stand it. I'm sure those were not his favorite times, but I am so proud that I can say he served our country. It helped shape him into the strong man he became. He was so special to me that I still cry to this day when I see or hear his voice on a video. He is and always will be my hero!

I was born on Veteran's Day. We were a pretty patriotic family, and the story goes that my parents almost named me Armistice, which is another name for that day in November when Americans honor their fallen soldiers. My dad served in Germany during WWII, and he met and married Mom when he was stationed at the old Army/Navy Hospital in Hot Springs, Arkansas. In the early '70s, two of my older brothers, Marvin and Danny, received the news that their numbers had come up in the draft lottery. So after a few weeks of basic training, they both shipped off to Vietnam.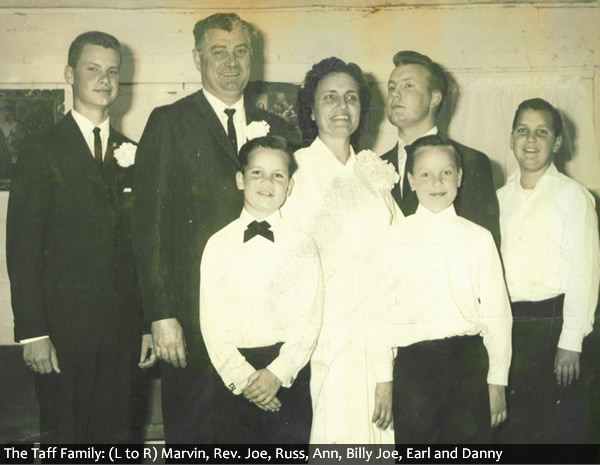 I was in elementary school during those years, and my "alarm clock" every morning was the sound of my parents in the living room of our narrow, shotgun house, pacing back and forth praying for their boys before Dad left for work. (He was a Pentecostal preacher, so those prayers were loud!)
Danny and Marvin couldn't tell us exactly where they were stationed of course, but we kept a big map of Vietnam on our kitchen wall with colored pins marking some of the places they had been. This was the first time a war had ever been televised, and I remember Mom leaning forward in her chair during the nightly news, scanning the blurry combat footage for a glimpse of one of her sons. Eventually, miraculously, both of my brothers made it back alive; but the men who returned were very different than the 19-year-old boys who had left.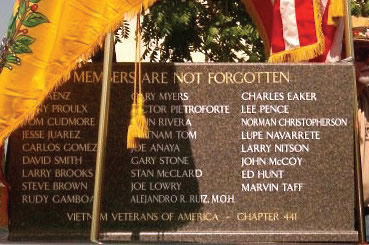 Because Vietnam was such a controversial and unpopular war, my brothers were not welcomed home with parades or hailed as heroes. In the years following their return, I watched Marvin and Danny struggle and become increasingly bitter as they dealt with what I now know was depression and PTSD. They had also both repeatedly been exposed to the toxic defoliant called Agent Orange, and to this day they suffer from all kinds of weird physical problems that the VA doctors can't identify and don't know how to treat. We lost Marvin a couple of years ago to complications following a surgical procedure. Serving their country changed my brothers' lives forever, and cost them their youth, their innocence and their health. Not all casualties of war are in the graveyard.