Hovie Lister:
Showman, flamboyant accompanist, master of ceremonies, singer, pastor, husband, father, grandfather, and beloved friend of gospel music!
"HOVIE LISTER, MORE THAN ANYONE ELSE, PUT STYLE AND FLAIR INTO gospel music!" This remark of distinction, a part of the Atlanta Journal Constitution tribute to Hovie, was made by longtime friend and fan, U.S. Senator Zell Miller. "When I first saw him onstage, he reminded me of Clark Gable, with his pencil mustache, wavy hair and wide, toothpaste smile," said the senator. "He was a minister who believed that religion did not need to have a long face; he made religion upbeat!" And that, he did! My 50-some-year association with Hovie Lister and the Statesmen began when, as a junior high kid, I bought their first record at Joe's Record Shop in Anderson, Indiana. For many years, I was just a starry-eyed schoolboy, inspired by the excitement and joy they were able to create on a 78-RPM record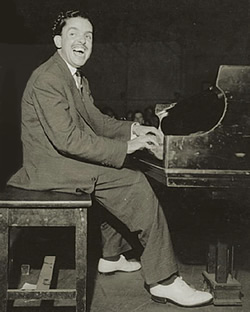 and hankering to do what they were doing at the level they were doing it!
In the early '60s, I finally had the chance to make Hovie's personal acquaintance. Few people knew him well; most knew only the showman they saw onstage. Hovie was indeed different than most gospel musicians of that time. The majority of gospel groups worked all week at full-time jobs and sang on weekends at small auditoriums or possibly at a singing convention. The Statesmen Quartet began by performing daily radio concerts on Atlanta's WCON and later, WSB. It was one of the first groups to take gospel out of the church circuit into the mainstream, touring the country in a custom-designed bus, drawing audiences of 3,000 or more. For more than a decade, the quartet had its own syndicated television show, "Singin' Time in Dixie," which Hovie produced. He took his group to an unprecedented level and prepared the way for many others to follow.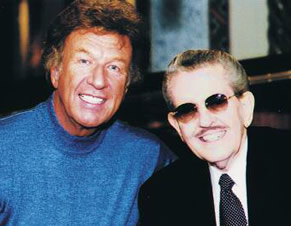 By the early '70s — after losing, one at a time, the original members of the group (most of them passing away) — Hovie decided to "hang it up." At that time, I called and told him I'd love to help him make a solo album. He was somewhat awed at the suggestion, since by then the Gaither Trio was well established, and Hovie's reputation was pretty much that of an accompanist/manager/promoter of other great singers. He thought I might be joking. But he took me up on the offer; he and his wife, Ethel, came to Alexandria and stayed three days while we created an extraordinary vocal project. But the best part of that event was that I got to know Hovie!
I learned that, unlike a lot of other artists, Hovie had always had another life. He was quite a figure in Georgia state political life, becoming friends with the governor and with the chaplain of the state prison systems to which he frequently brought his music.
"His music crossed racial lines, so he was able to very much identify and relate to prisoners, regardless of their race," said Senator Miller. "He was a fatherly, lovable man, someone you felt you could tell anything to."
This was a side of Hovie I had not known. He was always the professional — so in control. I don't think I had ever seen him without a suit and tie. But during these years, I got to know some of the people with whom he worked; they couldn't say enough good things about Hovie and his care about doing things that none of us in gospel would have suspected he did.
In the early '90s, I invited Hovie to the early Homecoming gatherings. In that group, he was a sparkplug — still had a fire in his eyes that could energize a roomful of people. He did the first four Homecoming tapes with us. Then I heard he had lymphoma. I called him to ask if it were true.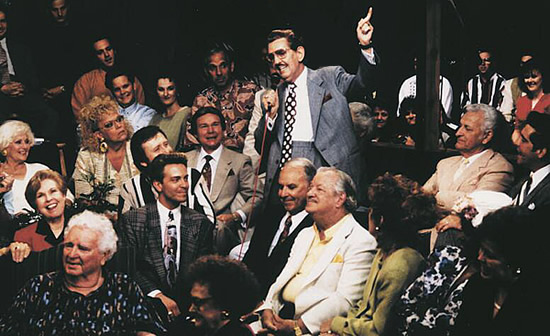 There was optimism in his voice. "Yes, it's true, Bill. But I've got good doctors; we're starting on a chemo program, and we're gonna beat it!"
First round, they did! Six months later, the disease was in remission, and Hovie was back taping gospel music. The next bout with the cancer required more extensive chemotherapy, and he lost his hair. That didn't faze Hovie. Donning what became his signature captain's hat, this tough, feisty, courageous character was still vital in spirit.
About a year before he died, he was getting ready to sing with us at a Fort Worth concert. As he took his place at the piano, I said, "Hovie, a lot of people are asking about your health. Talk about that before you sing."
In his husky, raspy voice, he said, "Last time I went to the doctor, he gave me a good report." The crowd applauded, but Hovie interrupted their enthusiastic response. "Now wait! I'm not naïve about cancer. I know I'm only as good as my last report, but Bill has asked me to come back to Fort Worth; I put it in my book, and I'm planning to be here. But if I don't see you here, I'll see you there. In the meantime, I'm tired of talking about my health — let's sing about Jesus!"
In that last year, Gloria and I spent some sweet time with Hovie and Ethel on St. Simmons Island, where they had a vacation home. Soon after we checked into the nearby hotel, the clerk called to announce that a "Mr. Lister" was in the lobby.
Sure enough, there he stood in this white shirt and tie, weak in body, but immensely proud to show us around "his place."
Hovie passed away Dec. 28, 2001. On New Year's Eve day, I spoke at his memorial service. Jake Hess, Jack Tony and David Phelps went along to sing. And there were stories. I told the one about the time a certain newspaper reporter made the mistake of commenting that Hovie Lister and the Statesmen were something of a sideshow act. When the Statesmen took the stage in the arena of that reporter's town several nights later, Hovie's shrewd retort brought a cheering full house to its feet: "When Hovie Lister comes to town, it ain't no sideshow; it's the main attraction!"
A
Saturday Evening Post
article once credited Hovie with "putting rhythm into religion." Anyone who experienced Hovie at work in concert got a lot more than rhythm. Maybe his former lead singer, Jake Hess, said it best: "He was the greatest showman gospel music ever had. When Hovie hit the stage, you knew you were going to have a good time."
Hovie was one of those few originals encountered in a lifetime of friendships. He wore his life with dignity, unbridled enthusiasm and a resounding hallelujah! I will miss him. We will all miss him.