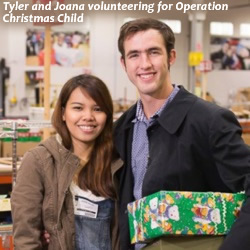 This week is
Operation Christmas Child's National Collection Week
, so if you are planning to pack a shoebox of goodies to send to a grateful child overseas, this is a great time to do it! And, we think it's the perfect time to pass along a beautiful story from Homecoming columnist and "Godwink Guy,"
SQuire Rushnell
. On his Facebook page, Squire posted this amazing true story that all began with an Operation Christmas Child shoebox!
LOVE IN A SHOEBOX

The year was 2000.

As 7-year-old Tyrel Wolfe finished packing his Operation Christmas Child shoe box, he taped a picture of himself inside … dressed in his favorite cowboy outfit.

He had no idea what kind of Godwinks would follow.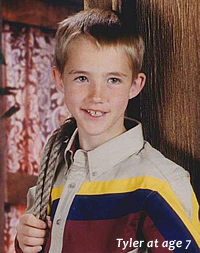 That shoebox … like 11 million to be sent out this year … left Tyrel's hands in Idaho and arrived to the hands of a little girl in a far-off land … 8-year-old Joana Marchan in the Philippines… seven thousand miles away.

Joana was so appreciative of the gift of the shoe box that it opened her heart to Jesus.

She sent an appreciative letter to Samaritan's Purse …but …it was lost. She never got a response.

But the memory did not fade.

Eleven years later, Joana … now age 19 … decided to try and find the boy in the cowboy outfit. She went on Facebook. There were many people named Tyrel Wolfe, BUT … there was only one in a cowboy outfit. It was HIM.

Joana and Tyrel began a long-distance pen-pal friendship that lasted for more than a year. Finally, Tyrel … saved up his money and bought a ticket to the Philippines.

They met … fell madly in love … and in 2014 they were MARRIED!

Joana and Tyrel love to spend a little time each November volunteering their services … packing shoe boxes for Operation Christmas Child.

THAT GODWINK … IS LOVE IN A SHOE BOX.
Can we all say THANK YOU to Samaritan's Purse ... Franklin Graham and his team ... for this wonderful annual commitment?

Wishes for winks.
SQuire


Check out SQuire's column in each issue of
Homecoming
for more GODwink stories that are sure to put a smile on your face. And, SQuire posts stories each week on his
Facebook page
, so if you haven't already, be sure to "like" that page!