This past April 11, Claude and Connie Hopper were surprised with a 50th Anniversary party hosted by the Hopper Heritage Foundation. Family and friends from all over gathered in Greensboro, N.C., to celebrate with them. Among the well-wishers were guests Janet Paschal and Dennis Swanberg, who spoke to the crowd about how the Hoppers' marriage, lives and music had blessed them in their own lives.
"It was great for me and my brother to watch my mom and dad be so surprised," says son Dean Hopper. "Here these people had come in from all over the country to help them celebrate their fiftieth anniversary."
Claude and Connie's love story started in the late 1950s, when the Hopper Brothers were singing at a number of churches. It was Claude's brother Steve who suggested they ask Connie Shelton to play piano for them.
"I definitely remembered Connie from high school," Claude reminisced, "when she played piano in some of our assembly programs."
Then came the stoplight: In the fall of 1958, Claude was taking a lunch break from his part-time job at the A&P Grocery in Madison, N.C., when he took a walk to the corner. While standing there, Connie Shelton drove up to the light.
"It was my big chance to ask her to play piano for us," Claude says. Motioning for Connie to roll down her window, he hollered, "Hey, Connie! My brothers and I are singing together in a gospel quartet. Would you be interested in playing for us?"
Connie answered, "I'll have to think about it." Then, the light turned green and she found herself blurting out: "Uh...oh...OK!"
Claude remembers, "From the first day she started with us, Connie knew more about shaped-note parts and quartet style than anyone else we knew. She helped us instantly! We started going to Connie's parents' house to work on vocal arrangements."
Looking back all these years later, it is easy to see the providential hand of God at work in the lives of these two. Not long after she joined the group, Claude asked Connie out — but Connie had a boyfriend.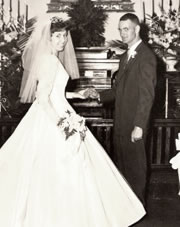 Claude persisted, and soon the two began dating. They dated for a while, and on April 14, 1961, they married. Fifty years later, Claude and Connie Hopper are stronger than ever.
The couple was also recently presented with the Harmony Honor from the Southern Gospel Music Guild, celebrating their 50 years of marriage, music and ministry.
"They've had a great life together, a great marriage," Dean says. "And their bond is just as strong today."
For more articles featuring the Hoppers, click here.