Not long after their "step back in time" taping of an old-fashioned
Homecoming Tent Revival
, filmed in May on the grounds of the Billy Graham Library in Charlotte, North Carolina, the Homecoming Friends reflected on what the day meant to them. The DVDs, which are due to release in September, celebrate the spirit and music of the revivals of the 1950s and 1960s that were instrumental in bringing countless individuals to Christ.
JIM MURRAY said:

"As I was sitting there under the big tent in the parking lot of the beautiful Billy Graham Library, I thought back to my younger days when I attended the Billy Sunday Tabernacle in Winona Lake, Indiana. It was at that old, sawdust-scattered revival hall that I began to understand the reality of Christ and that He wanted to be involved in my life on a daily basis. The refreshing rain we experienced there in Charlotte, mixed with the smell of the sawdust, renewed so many long-forgotten and misplaced memories. Just to see and hear George Beverly Shea and Cliff Barrows was such a thrill! Thanks, Bill, for inviting me to be a part of this once-in- a-lifetime event."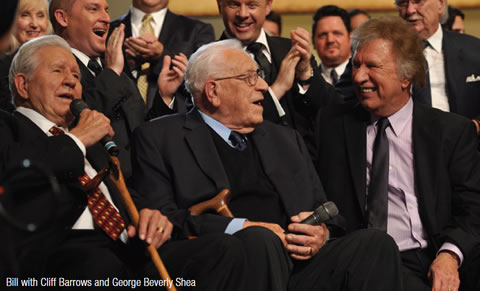 JIM BRADY said:

"Being at the Tent Revival taping in Charlotte brought back so many memories! As a kid, my family ministered at tent revivals every summer. Dad would preach while we would sing, and to encourage us boys, he would tell my brother, Steve (who led the singing) "You're my Cliff Barrows." Then he'd look at me and say "Jim, you're my George Beverly Shea." As we sat under the tent, my mind often dwelt on the air-conditioned church sitting at the top of the hill, the friends I would get to see and the interesting shapes my feet would make in the sawdust. Still, I understood, even as a little boy, there was something different there, something special.
As we walked toward the tent on the grounds of the Billy Graham Library, memories of those childhood summers floated in my mind and my excitement grew. I once again met with friends and as the scent of sawdust filled the air, we sang. When the storm came, I remembered how, all those years ago, when a summer rain would start to fall, the men would lower the sides of the tent, the rain would cool the air and the meeting would continue on and just as back then, the rain came. This time, we had to wait until it quieted enough to continue filming but that was all right because it gave us more time to visit. I especially enjoyed seeing my buddy, Michael English, the incredible Larnelle Harris and some of my favorite songwriters, Squire Parsons and Larry Gatlin.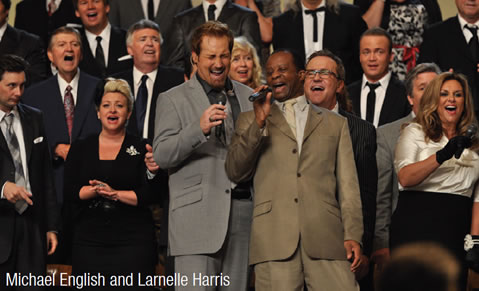 I have to say, this just might have been my favorite Homecoming video yet. As in my summers growing up, while we kicked up sawdust and sang together, something very special happened. There was a sweet closeness with God and one another that I'll keep in my heart for years to come!"
LARNELLE HARRIS said:

"What a privilege to be in a tent meeting with Cliff and Bev. I got the sense that their mission has not changed...that along with Dr. Graham, they are still working to win people to Christ."
TANYA GOODMAN-SYKES said:

"It was so moving to walk through the Billy Graham Library and realize all over again how many lives have been touched by this amazing man. Michael and I felt blessed to be a part of such a great night. The scent of pine in the thick night air, the heartfelt music, the laughter and tears, the downpour of rain and of God's sweet presence— it was a truly, wonderfully authentic tent revival experience!"
JOE BONSALL of the Oak Ridge Boys said:

"I am so honored that Bill Gaither invited the Oak Ridge Boys to be a part of the great Tent Meeting Homecoming. The atmosphere of the historic Billy Graham library, the '40s and '50s attire and approach, the rainstorm, being surrounded by friends of like minds and feeling the real spirit of the Gospel made for a very special night. For me as a fan? On that magical rainy night I believe I heard some of the BEST singing I have EVER heard! EVER!"
DUANE ALLEN of the Oak Ridge Boys said:

"Glory was coming down and the music was fi lling our souls...then, there was God speaking to us with bolts of lightening and earth-moving rumbles from thunder. Then the water and sawdust started fl owing through the tent, unsafely mixing with electrical and power cables all under the tent! Talk about energy! The music had to pause for a moment while God addressed us with His own electric show. Then, almost like the storm never happened, the music continued until after midnight, fi lling the tent—and our souls—with musical blessings that came from some of the greatest singers on earth. Located on the Billy Graham Library grounds, it was truly a tent revival! It felt like a modern-day, retro-feeling tribute to the great tent revival days! What a great experience!"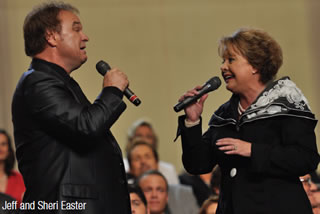 SHERI EASTER said:

"Jeff and I had such a wonderful time at the taping. Because of scheduling confl icts, our children weren't able to be there with us, so we arranged one of our favorites for a sweet duet, similar to the style of the Louvin Brothers. The song, "In the Sweet By and By," is one that we sing with my mama every night as we put her to bed. She has Parkinson's and Lewy body dementia and is unable to do anything for herself anymore. Jeff and I have the privilege of putting her to bed each night, and it's always a special time to sing together as a family. She traveled with her brothers and sisters for 58 years singing gospel music in churches, auditoriums and yes, tent revivals. I thought of her as we sang that night, knowing that she is the inspiration for that song choice."
WOODY WRIGHT said:

"It was strangely familiar, sitting in the choir under the tent in Charlotte. I cut my teeth on some of those same songs at revivals and tent meetings in my younger days. Then when Mr. Shea and Mr. Barrows began to sing, my mind drifted back to the 1969 Billy Graham Crusade I attended at Neyland Stadium in Knoxville. That day, President Nixon and Johnny Cash were on the platform.
The Gaither Tent Revival taping will be a precious memory for as long as I live. To love God and make music with some of my dearest friends was an unforgettable moment, one of many in this beautiful family we call "Homecoming." Thanks Bill and Gloria for making it happen for us all!"
BUDDY GREENE said:

"Being at the Tent Revival video shoot was pretty special. It was my fi rst time to see the Billy Graham Library. Having been to the Cove on many occasions, I was not surprised to see that the same high standards evidenced there are also in place at the library and museum. The grounds are beautiful and immaculate, the staff warm and friendly, the food excellent.
Of course, it was great catching up with so many of the Homecoming artists. The day before the taping I had a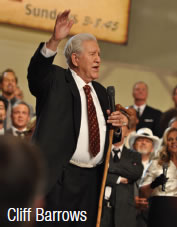 delightful breakfast with Lillie Knauls, whom I hadn't seen in years. I got to meet William Lee Golden of the Oak Ridge Boys, and it was great hearing them perform. I loved being in the band with Ben, Kevin, John, Jeff, Gordon and Greg, and I loved playing along on some wonderful arrangements of great old classics like "Down To the River To Pray" and "How Marvelous."
I think a high point for everybody was watching and listening to Cliff Barrows and George Beverly Shea have a great time as they shared stories and sang a duet together. It was evident to us beginners that when it comes to singing the gospel, there's nothing like the tried and true. They are both matchless role models of servanthood, deep and lasting friendship, singleness of purpose, and loving the One of whom they sing."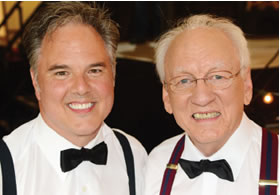 WESLEY PRITCHARD said:
[Pictured Right - with Ben Speer]
One of the things that I loved about the taping was, oddly enough, the rain. We all were on stage wondering what to do next and one of my heroes, Joe Moscheo, one of the Imperials' original members went to the piano and along with Jim Murray, Woody Wright and myself, sang some of the old Imperials' songs. It was a dream come true for me singing with those guys. We all remembered the arrangements like we had sung them so many years ago. We sang until Bill called us down and we had to start the second part of the 26-mile marathon called a Gaither Video! I have been so blessed to sing alongside a lot of my heroes—Jake Hess, George Younce and so many others. It was just the icing on the cake for me.
Being there with Cliff Barrows, George Bev and so many more... Thank you so much Lord for your continued blessings to me!"