This week has been a big one for
Joey + Rory
and their family, with lots of blessings to celebrate. And in spite of Joey's battle with cancer, they are determined to hold on to every blessing they can.
On Friday, February 12th, they released the album
Hymns That Are Important to Us
, a project which Joey struggled valiantly to record between cancer treatments back in the fall. The songs are some of her favorites, and she hopes they will encourage others as they have encouraged her.
February 14 marked their 14th Valentine's Day together, as well as the anniversary of their very first date. Rory posted a tender photo sharing a gentle kiss with his beloved bride, with the caption, "Happy Valentine's Day, my love."
On his blog, he wistfully shared how he would love to celebrate the day. "I want to take her back to where our lives first began together, and relive this beautiful journey that God has taken us on. From that first song she heard me sing at the Bluebird cafe, to the last one we sang together as we stood on stage and took our final bow. To the songs that she will leave behind here on earth and the ones she will soon sing for eternity to our sweet Lord in that heavenly choir up yonder." Since Joey is now unable to leave her bed, Rory instead prepared a sweet video sharing moments from their lives together.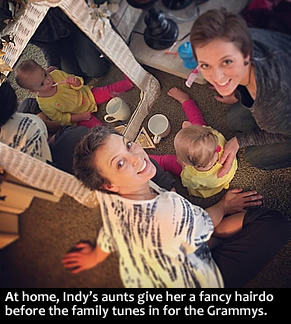 The Grammy Awards took place on the 15th, and Joey + Rory were nominated for Best Country Vocal Duo/Group for "If I Needed You." Though the award went to Little Big Town instead, they were honored to be nominated. Joey surprised Rory with a plane ticket to Los Angeles, so he could fly from Indiana to attend the ceremony, but he wouldn't leave his fragile wife's side.
"I can't leave her. I won't. I have done many foolish things and made lots of mistakes in my life, but this isn't going to be one of them," Rory posted.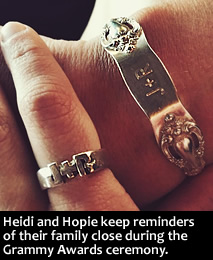 Rory's adult daughters, Heidi and Hopie, along with his cousin and manager, Aaron Carnahan, represented the family at the festivities, and the girls brought along a little bit of home. Joey had recently passed along some of her favorite jewelry to her stepdaughters, and Heidi posted a photo showing the cherished pieces they chose to wear to the awards ceremony.
Tomorrow (Wednesday the 17th), Joey and Rory will celebrate the second birthday of their little girl, Indiana. Joey didn't know if she would be around to see Indy's birthday, but she prayed that she would.
They are planning a "Gruffalo" party, inspired by Indy's favorite book. Her highchair will be placed next to Joey's bed, Rory wrote, "so she can watch our little one eat her cupcake and rip the wrapping paper off her gifts. But Joey is very fragile right now, and so with all of these plans we have, we will need to adjust for what my wife needs."
Joey has been under hospice care now for four months, and it appears that their time together is short. But for millions of people following this journey, the powerful love and tenacious faith that Joey and Rory are living out before the world will certainly have an impact greater than either of them could ever have imagined.
For Rory's complete blog post and more photos and updates, visit
thislifeilive.com
.
Photos shared from This Life I Live and Instagram.