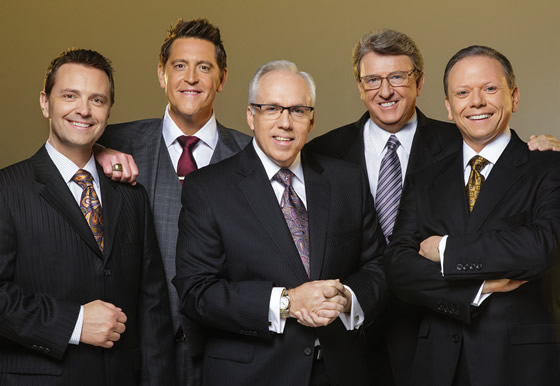 [ L-R: Scott Fowler, Ernie Haase, Mark Trammell, Danny Funderburk and Gerald Wolfe]
If you were a big fan of the Cathedrals, you'll be thrilled to learn about the Cathedrals Family Reunion, where former Cathedrals members and current groups birthed out of the legendary quartet will convene to sing, laugh and reminisce with fans. We chatted with Ernie Haase, Gerald Wolfe, Scott Fowler, Mark Trammell and Landon Beene to find out more about this landmark event, which will be held November 8-9, 2013, in Fort Worth, Texas.
How the Cathedrals Reunion originated:
I remember standing at Anthony's funeral with Roger Bennett, and he said "Man, I thought this would be me; I never thought I'd be standing here." And I said "We need to all get together," and then we never got to before he died the next year. Then we did the Lari Goss tribute last year, and we realized that we owed it to ourselves to set aside a weekend to have a "family reunion."
(Ernie)
How this will differ from a regular concert experience:
Fans will have an influence on what we will do there. They can visit our Facebook page —
facebook.com/formerCathedrals
— and submit songs that they'd like for us to perform. They can also submit their own memorabilia to be on display at the event, and we plan to have a small "museum" set up on location where people can enjoy viewing photos and memorabilia. We also plan to have the last Cathedrals tour bus parked outside the venue, so fans will have a chance to walk through it.
(Landon)
Hilarious Cathedrals moment:
My favorite prank was when Kirk Talley hid a bullfrog in George Younce's bunk one night. I didn't know George could move that fast— it was amazing to watch! And he wouldn't get back on the bus.
(Gerald)
George said, "Y'all are gonna find that dad-blamed frog. I'm not getting back on the bus, and it ain't movin' till we get the frog off."
(Mark)
What endeared the Cathedrals to their fans:
Their approachability; when you left a concert, you felt like you knew every member of the group. The singing was great, of course, but it was the personality that made them loved, I believe.
(Gerald)
Glen and George taught us that you sing to the people, not at the people. When you sing to the people, you connect with them.
(Mark)
Whenever people talk to me about George (Younce), it's never "he was such a great singer" or "such a sharp dresser." It's "he hugged me; he prayed with me. He looked me in the eye and gave me a 20-dollar bill."
(Ernie)
When we sang for a smaller audience, to put the people at ease, George would say, "Look, I know there are not a lot of people here; the house is not full. But God didn't call us to sing to full houses; He called us to sing, and you're going to hear us sing tonight." On those occasions, if our typical concert was two-and-a-half hours, we would do three hours that night. He wanted to make sure those folks knew that we were not going to shortchange them. And they got 110 percent that night.
(Scott)
For more information visit cathedralsfamilyreunion.com.