I'm not your average 13-year-old.
My parents homeschool my older sister Katie and me, and I'm starring in a young, Christian Indiana Jones-type TV series which we are fi lming as a family as my father's job takes him around the globe.
In each of my 30-minute adventures of
Samuel L. Collins and The Search for Biblical Truths
, I'm tasked with solving "a case" of three top-secret clues to discover new biblical truths. Thank goodness my leather satchel is equipped with my high-tech watch to receive clues, my Caesar cipher decoder, my hand-held GPS and, of course, my Bible.
My mother writes the scripts. I heard her telling a friend, "Six to 12 year olds need a role model; an actual boy dealing with reallife challenges from a biblical perspective."
Talk about pressure; that role model is me!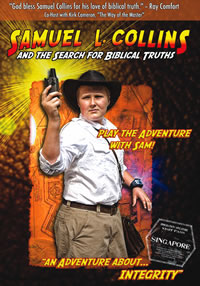 We're offering dozens of prizes like DVDs, T-shirts, and ciphers for children who can fi gure out the clues through our website SearchForBiblicalTruths.com. And guess what? The Grand Prize is $10,000 cash. Now they'll have some extra motivation to learn the Bible!
So far, I've gotten to film in the exotic settings of Singapore, Bali, Indonesia and Berlin, Germany. And believe me. They don't look or taste or sound anything like my hometown of Tampa, Florida.
In Bali, I walked through a seafood market filled with tanks of octopus, eels and squids. Yuck! In Berlin, I walked silently and reflectively between the two parts of the Berlin Wall. And in the bustling shopping mecca of Singapore, I solved my last biblical clue about integrity as I was lifted 541 feet into the air by the Singapore Flyer, the tallest Giant Observation Wheel in the world!
No matter where we film, my greatest desire would be that my DVDs would help kids see that the Bible has the right answers for whatever their situation. Because He lives, He changes everything. Just ask Bill Gaither!