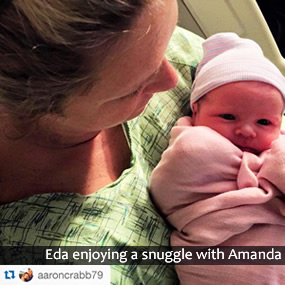 Homecoming friends
Aaron and Amanda Crabb
welcomed precious
Eda
(pronounced 'Etta')
Beth Crabb
to their family. The bouncing baby girl was born Thursday, October 29, and she weighed in at 8 lbs., 2 oz. She was warmly greeted by siblings Eli, Eva and Ean, as well as many other family members who visited, including Jason Crabb, Terah Crabb Penhollow, Kelly Bowling and others.
Not long after Eda's arrival, Amanda posted, "Thank you so much for all the congratulations. We truly do love each of you and have felt your love and prayers today. This whole pregnancy hasn't been without its challenges and therefore today was no exception ... I will say that in-spite of all the challenges and scares of today, God has blessed us with a beautiful healthy baby girl."
Aaron Crabb is the twin brother to the Gaither Vocal Band's Adam Crabb. He and Amanda founded and continue to lead
Restoring Hope Church
in Hendersonville, Tennessee.