The recent journey of husband and wife team Aaron and Amanda Crabb can be summed up in two words: "birth" and "restore." The couple has experienced several "births" over the last two years — the planting of a church, the release of a new album, and the joyful arrival of their fourth child, Eda Beth, born last October.
So where does "restore" come in? Well, Restoring Hope is the name of the church the Crabbs planted about two years ago in Hendersonville, Tennessee, a calling which has ushered in enormous transformation for this family. Aaron had practically grown up onstage as part of the Grammy-nominated Crabb Family, and he and Amanda have released four notable projects as a duo, but starting a church was something different altogether—and yet, they both knew that's where God was leading. "God calls us to be obedient to His word. Sometimes it's to the uncomfortable places that He'll push us and propel us into His destiny," Aaron explains. Amanda adds, "That's the place He can really use you and His glory is revealed because it's not us. It's not in our capability to do this, and so God is 100 percent in control and He gets all the glory."
An added blessing is that siblings Eli, Eva, Ean and baby Eda have adapted beautifully to all the changes, says Amanda. "They love it as much as we do. They watch Mom and Dad pray for people and meet people's needs, and they're so patient and understanding. Sometimes they will come right up and pray with us. That's the awesome thing; it's a family calling."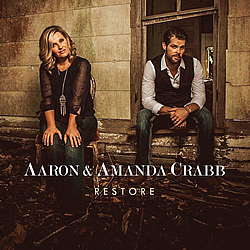 Aaron and Amanda's just-released album,
Restore
— their first in three years, following the Dove-nominated
Mercy
— also reflects their mission. Produced by Aaron, this 13-song collection has a modern country flavor and overflows with themes of restoration and deliverance. "I am driven to inspirational songs, songs that can relate to people in their everyday lives, the personal things they go through," says Aaron. "A message and a melody can sometimes do what a sermon can't."
The title track, written by Amanda, is a stirring prayer which reveals her needs and doubts, then articulates a loving response from the Father. And "Back Together" brings a healing message that runs deep for the Crabbs. "Aaron and I both came from broken homes," shares Amanda. "When [songwriter Kenna West] sent this song, we listened to it and bawled like babies." Aaron adds, "I love that that it talks about how God can take broken pieces and put them back together better than it ever was. That's the kind of God we serve."
Amanda sings lead on the album's opener, "Time Flies," a sweet, nostalgic tune accompanied by rolling guitar. "It's one of those songs that just brings perspective in the crazy, busy, mean world that we live in, reminding us to take in every moment that we have because we won't get them back."
The Ralph Stanley-penned classic "Two Coats," recorded earlier as straight-up bluegrass by the Crabb Family, is reimagined here as a soulful, down-home stomper featuring Aaron on lead, accompanied by his twin brother Adam (from GVB!) on harmonica and their sister Terah on background vocals.
Another family tie is found in "Kingdom Come," for which Aaron and Amanda's 9-year-old daughter Eva wrote the worshipful bridge. And "Your Blood" could easily take root in churches everywhere, as it has for the congregation of Restoring Hope after the Crabbs led the soaring praise song during the church's first Sunday meeting.
Truly, the entire album is a fitting soundtrack for the couple's ministry at the church, which has grown out of what God has done in their own lives. "We have watched God heal broken homes, broken marriages and financial issues," Amanda reflects. "We could sit here all day and tell what God has done already in and through the life of this church."
Aaron continues, "People are coming in off the street who don't even go to our church; they'll come for help and in need. It's been an incredible journey so far."
As Aaron and Amanda continue down the path of raising their family, touching hearts with their music, and seeing lives changed, they know that no matter what the future may bring, God will always be there to restore hope.