Did You Know?
When you are driving up State Road 9 North toward Bill and Gloria's hometown of Alexandria, Ind., you will see cornfields, barns, probably some horses or cows grazing; you will see quaint country homes, local businesses and, depending on the time of year, you might see some handmade signs in neighbors' yards that say "Tomatoes and Corn" or "Puppies for Sale." But now, thanks to some new signs the town has erected, you know you're in the right place when you see a permanent sign that says, "Welcome to Alexandria, Home of Bill and Gloria Gaither!" Then, just a little further in, you will pass the water tower in the center of town that says, "City of Alexandria, Home of the Gaithers."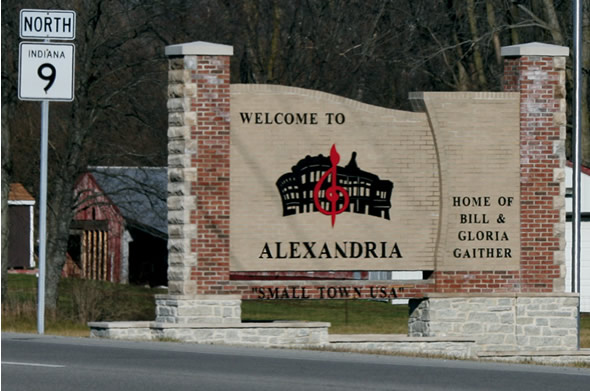 This rural community is pleased that Bill and Gloria have stuck around to call this sweet little place their home. Despite numerous opportunities to relocate to Nashville, Tenn., where so much of their business takes place, Bill and Gloria chose to raise their family and put down their roots in this farming community where Bill was raised.
According to Bill and Gloria, there is something pretty special about being surrounded by people who knew them before they wrote "Because He Lives" or owned a tour bus. And yes, they still make music and that tour bus is still ticking a lot of miles each year. And they always know they're home when these new landmarks welcome them back from every trip. Clearly, the gratitude is mutual.