When it comes to cross-generational influence, few mainstream music duos bridge the gaps as adeptly as Amy Grant and Vince Gill — or "Amy and Vince," as they're known amongst Nashville's "it" couples.
(See also: Tim and Faith, Keith and Nicole, Carrie and Mike…)
Before Grant and Gill wed in 2000, each artist carved a unique niche while rising to award-winning notoriety within their respective genres: Gill with his bluegrass-infused country guitar licks and sweetly soaring tenor vocal, Grant as a baby-faced pioneer of contemporary Christian music whose unpretentiously smooth voice vaulted her to pop stardom as well. As achievements go, the numbers are staggering. Since his start in the 1970s as lead singer of the band Pure Prairie League, Gill has seen more than 40 singles from his 20-plus studio albums land on Billboard's country charts, with more than 26 million albums sold. He's the two-time CMA Entertainer of the Year, five-time Male Vocalist of the Year and a 2007 inductee into the Country Music Hall of Fame. Grant, meanwhile, is also a multiple award honoree whose records have sold 30 million copies — and who, you might recall, sang with Bill Gaither for a stint in the 1980s. Yet even as Grant has amassed six Grammy and 22 Dove (GMA) awards while Gill has racked up 20 Grammy and 18 CMA trophies, the two have remained true to their deep musical roots and nurtured a desire to fan the flames of traditional tunes for younger generations. Perhaps the most notable expression of this is Grant's trio of hymn albums that bear Gill's stamp conceptually, instrumentally and vocally.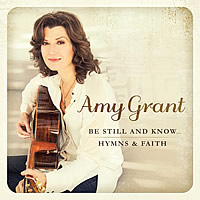 The latest project, Be Still And Know ... Hymns & Faith, is a 15-cut collection that includes such stalwart tunes as "Power in the Blood," "Rock of Ages" ( featuring Gill's vocal) and "Softly and Tenderly." In separate conversations with each artist, Gloria Gaither explored the duo's distinctive perspectives on faith, musicianship, parenting — now grandparenting — and the songs that stir them most.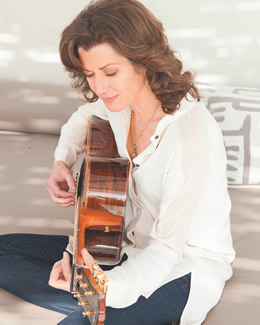 GLORIA:
This issue, we're talking a lot about cross-generational faith — what got passed on to us, and how we hope to pass things on to our kids. When I read your thoughts about your latest album, I loved one of the things you said about when you were growing up — how kids and parents and grandparents could stand around the piano at family gatherings and everybody knew the songs. It was natural; everybody would just float toward the piano and would know the songs.
AMY:
Yeah, and we actually did them
a cappella
. We didn't even float to the piano.
GLORIA:
(Laughs)
When we had a campfire when our kids were teenagers, everybody knew "Twist and Shout," so our "devotional" around the campfire was "Twist and Shout," because we all knew it and we could sing harmony. But do you feel one of the reasons that you wanted to do — and re-do — this project … was there something in you that said, "We've got to find a way to sing our faith?"
AMY:
I think this compulsion of mine to record hymns comes from … well, in 2002 when I had my first hymns recording, my mother, who'd been hearing my stuff since the mid-'70s, said, " is is my favorite thing you've ever done." So I always think about that, even though she's been gone for years now. I think I just record them first for myself, because they're so helpful. And I think that if something is helpful to you, it just naturally pulls other people.
GLORIA:
OK, now let me stop you there. Why did
these
songs that you chose, and probably 50 others that you had to walk away from because they wouldn't fit — what was helpful? What do you mean — what in your life, in your circumstances, your kids' circumstances, your marriage — why do they speak?
AMY:
Well, the truth is simply put, and different songs sing about different things. I've said this a lot of times — I don't remember one sermon from childhood … not one. Really even, hardly from last month. But hymns, and even newer songs … learning hymns is really how I understood God. "Power in the Blood" is the hymn that we just recorded, and to me, it feels so much more profound at 54 than it ever felt when I was a teenager.
GLORIA:
But you hid it in your heart then … you learned the tune, you learned the incredible, well-written poetry. When you look at hymns, they're so well written. They're whole sentences, whole ideas.
AMY:
Yeah.
GLORIA:
It's like when people say, "I don't make my kids memorize the Bible because they don't understand it." But life happens, and when the bad stuff —or the good stuff — comes along, the hymn or scripture is already there.
AMY:
Yeah, I grew up in a family where singing hymns was part of our cultural tradition and part of our family tradition.
And another thing about singing hymns — especially the church that I started going to when I was a teenager — there were two aisles, so three sections going straight down, but then there were sides of the sections that faced in … and then other churches I've gone to, there were balconies like a horseshoe so people can look at each other. That's what I love about hymn singing, that you're supposed to look at each other, eyes wide open. You're singing to each other, you're reminding each other. It's a totally different experience from what we call worship music now. Because worship music — you sort of feel like you're invading somebody's…
GLORIA:
Somebody else's privacy…
AMY:
If you look 'em in the eye while you're singing, "I love you, Lord," you feel weird finding somebody and making contact. But the nature of hymns is so interactive, you know, you're singing to each other. In the church I grew up in, there was a lot of call and response—the men would sing something and the women would sing something.
Part of the reason I love recording these hymns is that all of the faces that I loved, that I sang with when I was a kid, are gone. So it's a way for me to remember my grandparents, my mom. My dad's still here in a manner, but I just want to keep all of that alive inside of me. I don't know if these songs — I don't know if anybody 20 or 25 would even give a flip, you know what I mean? I do think every generation has its own music…
GLORIA:
But there was a discussion in our car one time. Everyone liked a different style of music: Benjy liked rock 'n' roll, Suzanne liked rhythm and blues, Amy was in ballet and loved Tchaikovsky. Bill came from Southern Gospel, and nobody even asked me what I loved, which was '60s … But I never got to hear my music — they'd turn mine off and turn on theirs!
We went to a rather liturgical church that sang a lot of classic hymns and even older things. And they said, "We love laying down our preferences for an hour on Sunday so that we're at a table with believers forever." Which is kind of the concept of the Eucharist. When we partake of the Lord's body, every believer, no matter when they lived, is at the table.
And those hymns you're talking about weren't hymns of your generation, and they weren't even hymns of your mother's generation, most of them.
AMY:
No, it's my great-grandmother's, and the craziest thing happened recently that reminded me of that. A man named Allen Rosenthal somehow contacted my niece and my sister Carol, and sent this letter to my sisters and to me. In the letter he tells the story of how he had sat next to a man named Walter Ziffer at a dinner where Walter was being honored — he's in his 80s.
Walter Ziffer was in a concentration camp during World War II from the time he was 14 to 18 — he was from Czechoslovakia — and Vanderbilt University had done an entire magazine issue on World War II concentration camp survivors who had gone to school at Vanderbilt. In their article about Ziffer, he said that when he was 18, he was fearful of everyone, and he came to Vanderbilt and joined the program. One of the first semesters that he was there, a young man in his class was Burton Grant. Of course, just to see my dad's name, I was thrilled. And my dad was going to med school in Memphis, and he asked Walter if he would like to move into the place that he and my mom had been staying — a guest room at my grandmother's house. Walter moved in with my grandmother for four years. He was Jewish, and it said that he was so impacted by her, he named his first child for her. Her middle name was Zell, so that wasn't an easy one — Zell Ziffer. And, he became a Church of Christ minister for 25 years. When I read that, the first thing I thought was, "It was their singing."
I emailed him and said, "I'm Burton and Gloria's youngest daughter; can I come see you?" So we've just communicated a little bit. It's something from the past, just reaching out … what I realize was he heard the singing, because it's good news and it's memorable.
GLORIA:
And what a generational heritage… If I didn't know you, I would say … that voice from your grandmother — that now is talking to you in an article that's not even about you or gospel music or anything you do, or religion, even — but the power of that voice renews for you something so true that it changed a man's life … totally changed his direction. You can just
be
— I think we're called more to be than do. You don't know the legacy you're creating … you don't start out saying, "OK, I'm gonna build this great legacy and leave this for people coming after me." No. But you do sing the songs, and the songs shape your mind; they stay with your mind. And some of your songs will do that for your great-grandchildren. Every songwriter's dream is, "Lord, could I write five songs — could I write one, even — that will be so universally true that it will outlive me and all my progeny?"
AMY:
Yes.
GLORIA:
The interesting thing you said about looking each other in the eye … what are the definitions of a hymn? It has to be sung corporately. It has to be simple enough in harmonies and transcend generation of stylistic thought. They are corporately sung for the reason of reminding each other who God is, so we have to look at each other and say, "Here is God — we're losing sight of the God that we serve. Here He is." A gospel song is horizontal, but we call a lot of those hymns. I looked at the list of songs on your album; most of them are gospel songs. They are personal testimony songs that say, "Here's how I know." So, a hymn reminds us who God is and what His qualities are. But then a gospel song is the horizontal saying, "Here's how I know — here's how this intersected with my life."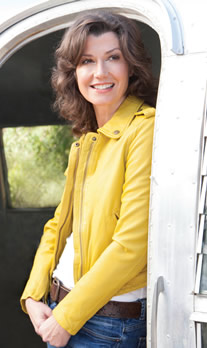 AMY:
In my mind, the hymns are just everything that's in Him, that He does.
GLORIA:
Both of those have survived, so my question is, with the list that you have, why did those survive and why did you choose them? Is it related a lot to your experience — your family singing them?
AMY:
Well, I still sing hymns all the time, by myself, a lot.
GLORIA:
You do in public, too — you wind them in and end up singing a verse of this or a chorus of that.
AMY:
Yes, right. I didn't really over-think the selection. I was just turning through a hymnal, and Vince — a lot of these are not familiar to him. He didn't grow up in church all that much or around a hymn tradition, to speak of. But we were just sitting in the hallway, and I'd say, "Hey, what about this one?" And he had his guitar. And I would sing through different ones, and he would be inspired to do something musical. I love all of them — they don't occur to me as one being more precious than another, because they all have their timeliness for something. Every one is just a piece of the story.
GLORIA:
Tell me about your kids and the songs you recorded, or other songs — who are they currently listening to? What do you think is speaking into them, and is there any time when their music comes back to speak to you?
AMY:
In all fairness, I don't know that I could speak intelligently about what my older kids are listening to. I think probably, like most people in their generation, they have very eclectic musical tastes. A lot of times, they're just listening to the first verse and chorus, and then they're gone to another song, because their attention span is shorter … I find that's true of Corrina. She likes just a little of everything — R&B, bluegrass, worship songs, Aretha Franklin … just a little of everything.
Once my kids got to a certain age, I never really asked them to listen to a record I had made. When they were younger, they were around because they'd be in the studio — they were coloring at my feet, you know. But now, to me, the music that I make … if anybody from my children down will ever listen to it, I think it will be way down the road. Years ago, I think I asked — it sounds so weird to say this, because not that many people make recordings — but I think I gave them each a copy of something, and I don't know if they ever even listened to it.
(Laughs)
And I thought, I'm not going to get my feelings hurt about this. My father wrote medical journals; I didn't read them, you know?
GLORIA:
(Laughs)
AMY:
And also … I just wanted to be Mom for them. You know, Gloria, I was so worried about my children … will they understand what intimacy in a relationship is like? And I'm not talking sexual; I'm just talking about emotional intimacy. Will it be possible for this generation to understand what that is? And then, something clicked in me — I guess I just relaxed. Vince said, "You would make a great hall monitor," and I said, "Well, I don't want to be the hall monitor." So I thought, I'm going to stop observing to judge or measure, and I want to observe to understand and learn. And all of a sudden, I had a totally different feeling about their skill set, their sense of balance.
I look at music that way, too. I felt like the hymn tradition was galvanizing for the church body. You could go from one side of the country to another and feel like,
I'm a part of this community
. And they have other things to connect them now.
That's why I said I make the music because it's a lifeline for me. I don't mean it in a selfish way, but really the opposite — for me, it's like sharing a great recipe. "Oh, this is not that hard to do, and it's not intimidating, and it's so tasty!"
I was on a trip where I'd invited my kids — it's been a long time since we'd all done something together — on President's weekend. We were together … well, the four that I had birthed, not my stepdaughter, and my prayer going up that weekend was, "God, help my older kids to widen the circle and to make memories with Corrina." Because she's so much younger. So that first night, we were staying in just a little two-story apartment, and I thought, just get out of the way. And my room was downstairs, and they're all up there telling stories. And I thought,
man, I remember a time when I was the one creating the fun, I was the one…
GLORIA:
…making all the memories.
AMY:
But now, the one thing they all have in common is
me
. They need to be able to freely discuss their lives. And I was downstairs, and it made me so sad, because it was the first vacation we'd ever had like that — Vince wasn't there, it was just me and the kids, and some of their friends … boyfriends, girlfriends, high-school friends. There were 10 of us there, and I was the only one in my generation.
And in that quiet, I had my guitar and picked it up and started playing. And I played all these songs like one that I thought I'd written for my niece, one I thought I'd written about my mother … and in this joyful, weeping, cathartic rush, I realized that God had given me all those songs first …
GLORIA:
For you.
AMY:
For me. Because He knew the way I was wired, I would need that foothold, and that handhold, and that comfort. So that's why, with these hymns — I know they help me every day.
GLORIA:
Those phrases just come to your mind…
AMY:
Yes! And so, it's like a great new exercise or a great new recipe. I keep re-packaging hymns, going, "I know you think you've heard this before, but they still work." And you know, everything is always happening, all at once. It's all in there. But this is really a beautiful, transitional time for our family. We just had our first grandchild — Wyatt, Jenny's son — and I think that's why all this stuff is really kind of simmering on the front burner.
GLORIA:
You'll be singing to him. "Grandma, sing the tater chip song!
What a tater chip, what a joy divine…
" The cross-generational thing is always worth the effort, I think. Just the gatherings, to be in the same place, and then to hear you downstairs singing to your guitar while they're having funny discussions about Grandma's silly habits and our mother's crazy things. My kids have a game they play. It's "I'll tell you the Mommy title, and you tell me the real name of the movie." Because I never can remember titles. They'll say, "Creek Down the Middle."
AMY:
A River Runs through It
. Yeah.
(Laughs)
GLORIA:
I get the concept, but never the title. But even that humor passing down is such an embrace of love and appreciation, I think.
AMY:
Oh my goodness, yes. You know, my sisters and I discussed my mother endlessly, and I think that's what I'm coming to realize — that it's my time now. I don't know why I just thought of this, but I want to show you this book. I think the best thing I can … what will make my children curious about my passions later is if — as I live my life through highs and lows — if I live in a way that is vibrant and meaningful for myself, then I think they'll learn. And maybe years down the road, maybe when they're older than I am, they might feel like sifting through some of the layers.
You know, of course, as any of us would say, our most important legacy is our spiritual legacy, especially for our children. So for my 50th birthday, my children compiled this — I'm sure it was Millie's idea — a book of photos of us and each of them wrote about "us." And looking through I notice,
what conspicuous Bible absence! Or anything spiritual. (Laughs)
I read this and thought,
OK, whoa!
GLORIA:
But you know what is not missing? The fruits of the Spirit.
(reading)
"She is kind. She puts me at ease. She makes the best omelets." I think that is the fruit of the Spirit.
AMY:
But it's interesting when you think about what your children are getting, and you go,
hmm…
GLORIA:
"She is honest…" "She sings like an angel. I love that she raised us around music." Every single one — you've sung something into their soul! "The grace with which you accept failure…" — now, how much is that worth, mister? Wow.
AMY:
Isn't that sweet? And this wouldn't have happened without the organization of Millie. And go figure — she's my one child that has said, maybe once in 10 years, "I love you." But I'm sure she'd be changing my diaper if I ever need one.
You know what's so funny? One time, somebody asked me, "If you could have dinner with five people, who would they be?" And without hesitation I said, "My five children, 50 years from now." I mean, long after I'm gone, I'd just like to know who they became.
GLORIA:
Well, the fun you're about to start is watching them be parents. That has just been the most amazing thing for me to watch, and I love the day that both my girls called me and said, "Mom, how did you do this?"
AMY:
Gosh, isn't that great?
GLORIA:
They're all so unique.
AMY:
You just can't figure 'em out; just love 'em. They're just their own people.
GLORIA:
I was just reading an amazing book — it's called
The Wisdom Way of Knowing
, and she goes back to ancient wisdom and discusses the five "ways," and one of them is the chant — which isn't a part of our typical Protestant tradition. But she tells a story of a monastery that always went into this chapel and they did the Gregorian chants every day, usually like four or five times. And in this stone building, they resonate, and say their chants over and over and everyone takes a tone. They have done it for centuries, and then someone said, "Is what we're doing still relevant?" And one of the suggestions was that they get rid of the chant. It was taking up a lot of the day; they couldn't see that it was helping others. So they did, and over time, they started getting calls from the monastery that the monks were sick. is guy has an infection, this one is in deep depression, this one has had a cold forever. They went from doctor to doctor, and finally, a doctor came in and started questioning them: "When did this start? When did everyone start getting sick?" Long story short, he said, "I'd like to reinstate the chant, the Gregorian singing, for a time." So they did, and in just a matter of weeks, most of their infections cleared up and they got o medications and so forth. And of course, you go back to quantum physics and the string theory — if we really are made of vibrating sound waves, and when we're sick, we're out of tune with ourselves. What is the universal tuning fork? Whatever the original sound was, is what we must be tuned to.
So I started reading that, and I've been really critical in my own spirit about songs that don't say anything. We go to church; we roll our eyes back and put our hands in the air, and we don't even know David's story, let alone our own story. We're not looking anybody in the eye; we're not sharing our story. So I've been critical about what are these kids going to hold on to? When life hits them, where are the hymns, where are these things?
After I read this … it's dawning on me; what if, inadvertently, they don't even know it — what if this generation is reinstating the Gregorian chants? What if they're going into church with their … you know, they know two chords, and that's my critical assessment of whatever this music is that's current. And it's the Holy Spirit speaking to me and saying, "No, they're reinstating something so ancient, you won't even get it." They are singing in three or four tones, and three or four chords, and three or four words, the ancient setup, that will in turn re-tune the spirit.
What if?
Are these kids, without even knowing it, re-tuning their spirit to some universal tone?
AMY:
That's beautiful, yeah. I love that thought, and I love the transition in your head, which is: Observe it to understand; observe it to learn. What was energetic and new for me and my generation has already been done. And quite honestly, I don't have the kind of energy to try to figure out what the next thing is. So, I'm so glad I just get to be a cheerleader, an observer, a witness to whatever's going to happen next…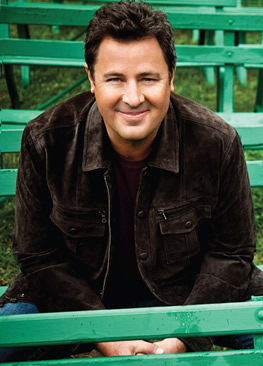 GLORIA:
This issue is on cross-generational faith — and we have a lot of that in the Homecoming circle—three-generation listeners and three-generation artists. It tends to be family groups, and three generations have grown up on a bus someplace or at concerts or a bluegrass setting or something. And that's how we all have traditionally gotten our faith; we've got to have a ground zero somewhere. And if it didn't come from our parents or grandparents — where does the young generation get its whole value structure, its reverence for life, its belief in God, respect for other human beings … So my question to Amy — and I know your answer will be different — she grew up singing with her sisters, and her parents or grandparents sang. She grew up in a church setting and now she's doing these hymns. What is your background? Why this hymns album? Did you have a voice in the ones that were picked, or were these all new to you?
VINCE:
For me, this project — the fact that I got to share it with Amy was the greatest gift of all — but my hymn knowledge was probably "How Great Thou Art" and that was about it. My grandmother played it on the piano when I was a tiny boy; that's kind of my first conscious memory of music. But then that all went away, and there was no real church life for me as a child. So all that stuff kind of wound up in my life more in my teenage years, because I started playing bluegrass. There was always such a great gospel element to the bluegrass festivals, and everybody always did their gospel show on Sunday.
When we were going through this project, Amy would say, "Do you know this hymn?" and I'd go "Nope" … "How about this one?" "Nope." I think what made it pretty neat was the fact that I got to drive all of it musically to probably a more original place than any of them could have. We'd get into one, and I'd say, "Amy, we could do it like this…" She'd say, "My great-grandmother would roll over in her grave … it sounds like an R&B tune!"
GLORIA:
Yeah, but your great-granddaughter might not.
VINCE:
Exactly right! To me, all songs are folk songs, you know?
GLORIA:
All the ones that live are.
VINCE:
So for this record, I'd point something toward just a feel. And some of these tunes that would have that typical church rhythm chorus — that was all foreign to me — so I would go the polar opposite with a lot of them. It was really such a gift for me, because I got to discover the great old hymns more from a modern slant musically than maybe they originally were.
GLORIA:
Let me ask you a question that came up in our conversation; will any of your children listen to this CD?
VINCE:
Well, gosh, I don't know. There hasn't been historically a lot.
(Laughs)
I can't speak so much for Amy's kids, but … I mean, my oldest knows my music because she comes out and works with us from time to time.
GLORIA:
And she's an artist too, right?
VINCE:
Yeah, exactly. And then my youngest has sung on a couple records. But I think for the most part, they really love their own thing, and we're more Mom and Dad than we are musicians in their lives. I don't really know if they have a real deep connection or knowledge of the music we've made.
GLORIA:
What song — maybe there's just one — or is there a group of songs that if you got around a piano or picked up a guitar at a campsite, you would sing with your kids? Is there anything? I'm sure your kids would know a lot of the big country classics.
VINCE:
Our kids would all run for their lives!
(laughs)
I don't know. I don't think anybody would ever get tired of Beatles songs, you know? But I've spent 40 years of my life, now, doing my own music. I'm not as versed in all the old music that maybe I once was. Plus being a creative mind, I've got thousands of songs spinning around in my head, and if you've got all those in there, they're gonna take the place of something else that you might have remembered! There's only so much memory bank in my brain, for sure! But you don't want to sit around and say, "Hey kids, listen to this new song I just wrote!" You know, that's really more for Amy and me. I love playing her new ideas for songs, and seeing one of us get choked up over something that's kinda meaningful or what have you…
GLORIA:
Well, that's kind of our gauge of whether it's any good or not — when we sing it in our family room, does it move us? If it moves us, maybe it will move somebody else.
VINCE:
And what's interesting for me, when I do make it to a church setting, I'm always moved by the songs. That's always been a real fascinating thing to me, in that here I am, someone who sings for a living, and I get in a church and I'm as mute as a mouse when the congregation starts singing. I
can't
just cut loose, because there's something about it that's too emotional to me, you know? And I always find myself being quite still, just singing very, very softly.
(Laughs)
Maybe that's because I spend my life having all the attention, in a sense. So it's kind of neat to just be part of the flock.
GLORIA:
We love that, too. Was there a hymn on this album that spoke to you more than others?
VINCE:
Well, sweet Amy has this capacity, with the sound of her voice, that draws you in to every word she ever sings. I could name all of them, and some I liked better than others, but it just was … I've always been captivated by the sound of her voice.
GLORIA:
Me too. There's a simplicity, I guess; there is no pretense to her voice, or to her, either.
VINCE:
I tell her all the time … she always kind of beats herself up, "well, I can't do all those runs, and I can't…." And I say, "Man, you don't get it. Johnny Cash couldn't either. But when his voice came through those speakers, it commanded that you listen to him. It had something in it."
GLORIA:
Yes, she has that, always has. But even now, when I listen to her as an adult and as a parent of grown children, you can't hide that. Her voice is so naked, that this new piece of her is in that sound.
VINCE:
Yeah, I'll tell you a neat story. When her mom was alive and we did that first record, she came to me and she said, "You've made my daughter sound better than I've ever heard her." She made those pop records; you know, in pop, the vocals are never really front and center…
GLORIA:
Yeah, they bury it in the instruments.
VINCE:
…and it's all kind of linear, so I said, "Mom, all I did was turn her up a little bit!"
GLORIA:
As a family, what draws you and your children … when you get together in the house, or on vacation or Christmas or whenever. What is the common denominator? What draws you together?
VINCE:
You know, I think all the kids love retelling stories where they're either at the brunt of the humor or the point of the story. I think that's true for all of us, that stories, selfishly, are more interesting if they're about you!
GLORIA:
That's absolutely true. I love the scripture where the disciples ask Jesus, "Why do you tell stories?" And His answer was, "To get you ready for the truth." So that is probably center for most families. I know you have your first grandchild now, right?
VINCE:
Yeah.
GLORIA:
That will be interesting; watching your kids parent is a trip. It's the greatest thing.
VINCE:
It's really neat; it's the most peaceful thing I've ever seen and felt, really. There's just such a calm and a different, deeper kind of love that goes on. There's not any angst or worry in it, you know? Because I was afraid when I was a brand-new father — scared to death. I walked out of there when Jenny was born almost 33 years ago, and they handed me the baby and said, "There you go." And I said, "Wait a minute — you're not going with us?"
(Laughs)
My grandma used to say, "The instructions come with it."
But these days, we're pretty fragmented. Everybody's off on their own path, and … it's always going to be a holiday or a tragedy or something that pulls everybody back into the same fold.
GLORIA:
I have a feeling when you rock this grandbaby, you'll be pulling up things, maybe to sing or to tell, that will give your child — your children — permission to come home.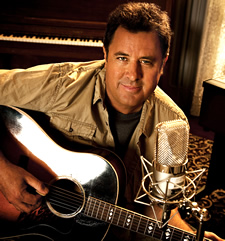 VINCE:
With me, already, when the baby's sitting around, I'll grab a guitar and start playing, and he just is completely transfixed. Jenny's got a couple of videos of him moving his hands—his left hand looks like he's trying to make chords, and his right hand is strumming.
… I think about my family, my mom and dad, and music was kind of always that great connector for all of us, a great jumping-in point. "Have you heard this yet? Have you heard that yet? What are you listening to?"
GLORIA:
Music will be the bridge you'll cross many times now, as you go forward…
VINCE:
Well, honestly, it's interesting, because we both play music for our livelihood and all that … I think for the kids, there's a way that they equate music with us being
gone
. So maybe it's not … if it's a different family, where everybody's in it just for the love and enjoyment of it, it might be a different environment. When we're doing it all the time, I don't know that that's going to be the thing, like "Hey, let's gather around and sing."
GLORIA:
Do you think they think that you want a kind of perfection they can't deliver? That you're so tuned to having it right?
VINCE:
That could be, that very well could be. My daughter, I helped her make a record, and I had to be real careful how I chose to encourage and say "try this, try that" without making her struggle with all that. And even Amy too, you know … there's gotta be some kid gloves involved, because it's somebody you dearly love and you don't want to wound people that you're crazy about. You don't want to wound anybody, but even still, you're a lot freer with five guys in a room. But when it's your bride, crawl in bed with her and see how it goes…
(laughing)
GLORIA:
Tell me about it! When you sleep with your critic — that is hard! We've done it for 52 years, so you can take courage.
(Both laugh)
VINCE:
But it's such a blessing for me to get to lift up the people that I love dearest, you know?
GLORIA:
Vince, thank you so much. Talking with you and then with what Amy and I talked about, it's really beautiful to see that you have come from two totally different perspectives and have met in different ways on this hymn album.
VINCE:
It winds up being, to me … music is where I see democracy at its purest. You know, I certainly don't feel that our leaders sometimes do this.
(Laughs)
It's everybody in a room with a common goal, to make the best music you can. That's pretty enlightening.
GLORIA:
That's a pretty great life goal, isn't it?
VINCE:
Yeah, it sure is.