In May, a slew of artists joined the Nashville Choir and a full orchestra at the magnificent Schermerhorn Symphony Center for a once-in-a-lifetime event honoring the songs of Bill and Gloria Gaither. "A Lifetime Tribute to the Songs of Bill and Gloria" featured a variety of artists performing many of the Gaithers' most popular songs.
In addition to the Nashville Choir, performers also included Sheila Walsh, Gaither Vocal Band (Michael English, Wes Hampton, David Phelps, Mark Lowry and, standing in for Bill, Gene McDonald), Gordon Mote, Russ Taff, Buddy Greene, Joy Gardner, Steve Green, Michael W. Smith, Sandi Patty, Larnelle Harris, the Isaacs, Solveig Leithaug, Charlotte Ritchie, Settles Connection and Voices of Lee. Voice of Joy, a choral group from Norway, participated with the Nashville Choir.

This premier Christian event, held on the anniversary of the 2010 Nashville flood, was a wall-to-wall sellout. Members of the audience came from more than 30 states and Canada. Gloria remarked, "Most people have to wait until their funeral to have something like this!"
"I was raised on the music of Bill and Gloria Gaither and over the years have been blessed to work with them," says John E. Coates, founder and director of the Nashville Choir. "All of us at the Nashville Choir are honored to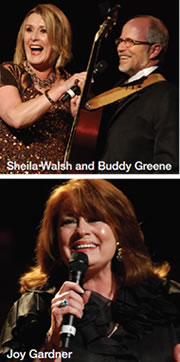 be able to present such a tribute to true legends of gospel music."
"The impact that Bill and Gloria's music has had on the church in our generation is astounding," notes Dan Posthuma, who co-produced the concert with Ronn Huff.
At the request of the Gaithers, proceeds from the evening benefi ted the Gospel Music Trust Fund and the Nashville Choir's work with the homeless, Hope For Nashville. Ticket holders were greeted in the entrance foyer with booths representing different ministries in the Nashville area, all dedicated to caring for Nashville's homeless, marginalized and hurting people by showing the love of Christ.
The title sponsor for the night was LifeWay Christian Resources. The headline sponsor was EMI Christian Music Group, and presenting sponsors were Majestic Productions, Thomas Nelson and Sheila and Barry Walsh.
Many of the Gaithers' real-life lyrics were born out of their everyday lives as full-time schoolteachers. Bill and Gloria have partnered to write more than 700 songs, including such time-honored classics as "Because He Lives," "He Touched Me," "Let's Just Praise the Lord," "Something Beautiful" and "The King is Coming."
For more articles featuring Bill & Gloria Gaither, click here.