In her 14th recording from a career spanning more than 30 years, Allison Speer delivers a powerhouse project entitled, Abandon. The title is taken from the song by the same title that says, "I'm gonna live, I'm gonna laugh, I'm gonna love with abandon." This talented singer and storyteller took time to share why she is excited about Abandon and what listeners can expect.

Deb: Allison, I really appreciate you taking time to speak with us, and I'm looking forward to hearing about this new album. I saw that Gordon Mote produced it; has he produced an album for you before?
Allison: No, he never had for me, but he was magnificent. I hope I never have to do another record without Gordon Mote. He just, he knew what I did prior to this record, and he said, "I would love to hear you doing more of this." Of course, Gordon is a performer, and he knows the people that he sings to. He loves them. He adores them, and he wants to provide great music for them.

He pegged my personality. I'm a little country, but I'm a little classical, but I'm a little bit pop. He wrapped it all up into a neat little package that made sense.

Deb: I'm not surprised to hear that, and I'm glad it was such a good experience. OK, now tell me about a couple of your favorite songs from the project. I saw that you co-wrote a couple of them….
Allison: Yes, I did. One of my favorite ones to sing is one that I wrote called "In the Meantime." I wrote that song because I was in the midst of a very desperate crisis. I thought, who can I turn to in Scripture? Job was the first one who popped into my mind.

As I began to read the words of Job, and the words of God to Job, I realized the Lord is my sustainer and provider. He's the lifter of my head. I really found a place of brokenness and gratefulness that I'd never been before.

Deb: I'm sure a lot of people can relate to that.
Allison: Yes, we all go through crisis at some point. God doesn't tell us that he's going to get rid of the crisis. In fact, He tells us when we follow Him, crisis is probably going to be our companion. But He's our companion as well, and he has overcome all the trouble. He gives us victory in the walk through the valley. I wanted to sing that to myself; that's why I wrote that.

The other favorite of mine is Psalm 23; I adore singing Scripture. Caleb Collins wrote that melody, and it's so beautiful. It has three different musical movements in it, like a classical piece would. It's a lovely, lovely musical setting for that psalm. I sing that one with great gusto.

Deb: Now for that one, what's the musical accompaniment like? Is there an orchestral sort of track?
Allison: Yes, it's orchestral, and there are even hints of "Bohemian Rhapsody" from Queen in there.

Deb: Oh, wow.
Allison: The Lee Singers from Lee University put choir background vocals on that for me. The gentleman who arranged that said, "You know what? This might be kind of one of those cool places where we can pull that element of 'Bohemian Rhapsody,' that kind of classical part singing." It's got just a tinge of it in there. People who weren't fans of Queen won't recognize it, but people who were will say, "Oh, that's Queen there."

Deb: I'll have to listen for that!
Allison:
Yeah, it's pretty cool.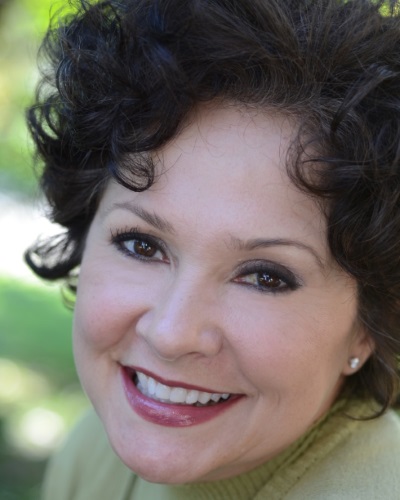 Deb:
I saw that you had a number of great background vocalists on there, too.
Allison: Yeah, you know Gordon's wife is a marvelous singer. So she did some background singing, and Gordon's kids and some of their friends put some backgrounds on. Then the Lee Singers did two numbers for me. And we had Russell Terrell, who does background vocals for all kinds of stars. He can be a [vocal] chameleon; he morphs into sounding just like you, but on a different part. Gordon is great friends with him and asked him to sing on the record. I really felt grateful about that.

Deb: Yes, I knew Russell from college, and he really is an excellent singer. Now, thinking about the message of this album…. What do you hope your listeners take away when they hear it?
Allison: Happy, happy, happy. I chose the songs with the help of Gordon and my husband, Brian. They really guided me into what was happy and encouraging. We in the church have to always be reminded that our joy is our strength. We are to be identified by our love of one another and our love shown to the world.

Deb: That's a beautiful message, and one that is certainly needed in times like these. Now, what else is coming up this year that you are excited about?
Allison: Well, we have a trip to Sweden coming up. I don't go out of the country very much, but when I do it has to be a special occasion, so I'm going to go to Sweden and sing for some dear friends over there.

Deb: Will that be in a church, or at some other type of venue?
Allison: I think it will be in several churches over there. My friends are going to go with me and help carry me to and from, and make sure I have a hot dog every now and then. Then this spring, I'm concentrating on doing a new Christmas record.

Deb: Oh, nice!
Allison: I want to write all new Christmas songs. I may do one or two traditional hymns that I adore for Christmas, but I'm not going to put stuff like "Jingle Bells" on there. It's going to be brand-new Christian stuff from these marvelous people we have in Nashville, who are writing these amazing songs.

Deb: Keep us posted, because I'd like to follow up on that.
Allison: Well, thank you. I will do that.

Deb: And I know you're on your way to your next commitment, so we'll stop here. Thank you for your time today!
Allison: Thank you!