My first question for Allison Speer, after watching her very humorous new DVD, was: "Were you born funny?" Without missing a beat, Allison was off and running! It went something like this:
"I was 67 pounds at birth. I was born on the first, second and third of April. My mom passed out when I was born and woke up three hours later and asked, 'Is my girl normal?' The doctor said, 'Well, no, she isn't normal. She is 67 pounds and already talking. She said she wants a milkshake and bigger diapers.'"
Now, jump back in time 15 years with me, when Gloria, Joy, Peg and I were doing our "Friends Through Thick & Thin" speaking tour. At a large event at First Nazarene Church in Nashville, Tenn., we found ourselves sharing the stage with Allison Speer, who was providing the music, and acting as emcee as well.
When she introduced me (the comedic relief in our foursome), she pointed out our shared kinship. Me, a hillbilly from West Virginia; she, a hillbilly from Kentucky. Then, with great flourish, she presented me with my very own Spam key. A Spam key on a silver chain, no less! (If, by chance, you don't know about Spam keys, ask your grandmother!)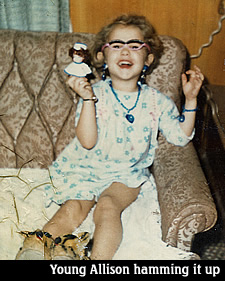 After that night, any time Allison's name was mentioned, one of us would invariably say, "That girl is funny!"
Jump to now, as we celebrate the release of Allison's DVD,
Woo-Hoo, What a Ride!
When we sat down together, I reminded her of the Spam key and she burst out laughing! "That Spam key was my grandmother's personal key! She used Spam at least six times a week. She ate the Spam, and used the goo in the bottom of the can as face cream, window cleaner and hair conditioner!" We both laugh hysterically and I point out that we have something else in common. We laugh at our own jokes!
"When did you begin to know you could put 'em in the floor with your humor?" I asked, "And how does it fit into your career path as a gospel singer?"
I pour us some coffee, and Allison moves to the edge of her chair, eager to answer. I make a note that she is pretty much eager about everything. Another thing we have in common.
"I love singing to the people of God! And as a communicator, you have to break down some walls between you and your audience before you can connect!"
"Humor," she continues, "allows us to unite and become a unified body. It shows our humanity."
Allison began telling funny stories about her granny, her redneck nephews and other home folks during her concerts years ago. She has studied and honed her craft well, paying close attention to fellow comedians Mark Lowry, Ken Davis and Taylor Mason, to name a few. At the mention of Taylor Mason, Allison is quick to suggest Paco the Pig, Taylor's popular sidekick, as a replacement for Mark in the Vocal Band. "Well, he
can
sing!" she adds, when she sees the question mark on my forehead.
Allison's mood turns wistful and she points out that these three comics all are deep spiritual beings, who just happen to have a gift that allows them to see the strange. "I pray for that sort of insight," she says.
Allison's partner in crime is her husband, Brian. She claims she wasn't funny until she met him.
Before Brian and Allison met, Brian was working as controller at a record label, and one of the producers asked him if he thought Allison should be signed. Brian said a firm no, that it would be a bad investment — that she would just get married and have kids, and leave the road. Now the two spend their days and nights together "making each other belly-laugh!" And creating this
Woo-Hoo
night of comedy. It's a joint venture between Brian, the technical genius, and Allison, the entertainer. It's stories, and crazy songs and, believe it or not, all those Kentucky kinfolks she pokes fun at are sitting right there on the first row — clappin' and grinnin' and cheerin' and yes, belly-laughin'!
As any good interviewer would do, I asked the final question: "Anything else you would like
Homecoming
readers to know?"
There is! Allison wants you to know how her life has been changed, not just by ministering to the church here on our own soil, but by traveling to Bosnia, Russia and the Philippines with Christian relief organizations. Through these experiences, she has been moved beyond her wildest expectations to a deeper communion with God the Father, and an intense desire and resolve to banish complacency.
Another thing she would like to see in print is this: She loves the Homecoming bunch. "It's so surreal to me to perform next to Russ Taff; he and the Imperials are the reason I fell in love with Christian music in my teens. Russ is considerably older than me."
"Say that!" she says, with a twinkle in her eyes. "Say Russ is a lot older than me!"