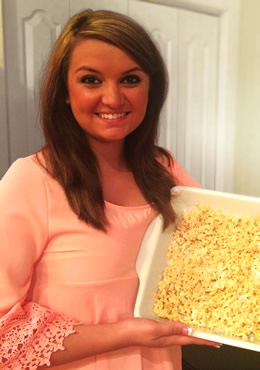 OK, most of my friends and family know I'm not the best cook in the world since I was raised on the road. So, I constantly have to find easy recipes that I can start off with before moving on to bigger and better things. Personally, one of my favorite snacks just happens to be one of the simplest recipes you can make — homemade Rice Krispie treats. My grandmother used to make them all the time when we were kids and I could have eaten the whole pan. Just follow this simple recipe, and you too can have your very own Rice Krispie Treats in a jiffy.
Rice Krispie Treats
Ingredients
• 3 tablespoons butter
• 1 package (10 oz., about 40) JET-PUFFED marshmallows OR 4 cups JET-PUFFED mini marshmallows
• 6 cups Kellogg's Rice Krispies® cereal


Directions
1. In large saucepan, melt butter over low heat. Add marshmallows and stir until completely melted. Remove from heat.
2. Add Kellogg's Rice Krispies cereal. Stir until well coated.
3. Using buttered spatula or wax paper, evenly press mixture into 13 x 9 x 2-inch pan coated with cooking spray. Cool. Cut into 2-inch squares. Best if served the same day.
Note:
For more fun with Rice Krispie treats you can add some of your favorite cereal like Fruity Pebbles, or all you chocolate lovers out there may want to add chocolate chips to melt in. Be creative and make it your own!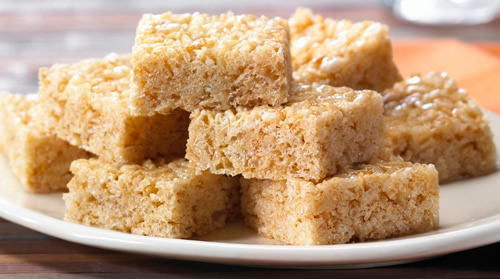 And here are a few more
fun ideas I found on Pinterest.com:
• Create "sandwiches" by flattening treats with a rolling pin and adding your favorite filling between two of them: melted chocolate, peanut butter, caramel, Nutella—even ice cream!
• Make cookies and cream treats by mixing Oreo cookie pieces in, then topping with melted white chocolate and more crumbled Oreos.
• For treat "pops," insert popsicle sticks into treats, dip treats halfway into chocolate and then add sprinkles.