Another Nelon has been bitten by the acting bug!
Kelly Nelon Clark
has appeared in several film and TV roles over the last few years, and now her daughter
Amber Nelon Thompson
has taken on a role in an upcoming faith-based movie. She is currently in the midst of filming for Silver Lining Entertainment's
A Question of Faith
, which depicts a culturally diverse community struggling to unite following a tragic car accident. Prayer and forgiveness are important themes in this inspiring story penned by Terrence "Ty" Manns and directed by Kevan Otto.
Starring in
A Question of Faith
are Richard T. Jones (
CHiPs, Godzill
a) and C. Thomas Howell (
The Amazing Spiderman
). Along with Thompson, the supporting cast includes Kim Fields, (
The Facts of Life
), CCM artist Jaci Velasquez (
Chasing Papi
), T.C. Stallings (
War Room
), GregAlan Williams (OWN
Greenleaf
), Renee O'Connor (
Xena: Warrior Princess
), Donna Biscoe (OWN
Greenleaf
) and Karen Valero (
Orange Is the New Black
).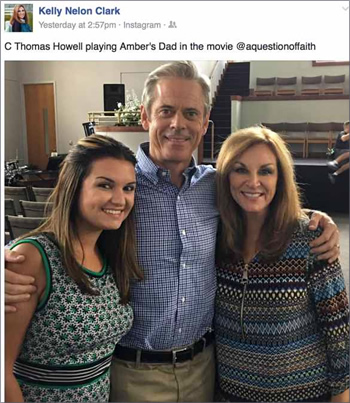 A Question of Faith
's compelling plot centers around the lives of three families from different cultures. The Newmans are in a tug of war between career and family priorities; the Danielsons are struggling to hold on to their faith in the midst of adversity, and the Hernandez family is on a quest for forgiveness. More connected than they know, the families' lives become further intertwined through prayer following a tragedy.
Principal photography has begun in Atlanta for the film, which is set to release in 2017.
Related Links:

Kelly Nelon Clark Takes on First Lead Film Role
Amber Nelon Thompson Releases Just Sing