When it comes to the genre known as contemporary Christian music, the one artist who truly needs no introduction is Amy Grant. (But we'd like to take a moment to introduce her anyway!) Her friendship with the Gaithers goes back many years, and she recently blessed the Homecoming community by joining the fun for the Women of Homecoming taping. Grant also happens to be one of the most accomplished, universally admired, humble and gracious women we know. The Nashville native has sold more than 30 million records, charted 10 top-40 hit songs, received numerous Grammy and Dove awards, and been honored with a star on the Hollywood Walk of Fame … just for starters. Her best-known songs include "El Shaddai," "Sing Your Praise To the Lord," "Baby Baby" and "That's What Love Is For." After a 10-year recording hiatus — in which her children's busy lives kept Grant and her husband, country-music star Vince Gill, hopping — she released a new album earlier this year.
How Mercy Looks From Here
is dedicated to Grant's late mother, Gloria, who went to be with the Lord two years ago after a lengthy battle with dementia. The record features a number of wonderful songs, including "Our Time Is Now," a reflection on the brevity of life on earth and the importance of savoring each moment with loved ones. In a wide-ranging conversation, Bill Gaither spoke with Grant about family, friendship and the joy of making music that matters.
BILL GAITHER:
Amy, we're so thankful to have you here in this issue of the magazine. And thank you for doing the
Women of Homecoming
taping with us. That was a sweet thing for you to do, and everybody loved you, and it was a beautiful spirit, I thought.
AMY GRANT:
That was a great day, oh my goodness. I wish I could've stayed for the whole day — such a beautiful, family, wonderful, encouraging atmosphere.
BILL:
There are many songs on your new project that are so moving to me, and great thoughts. As on the song, "Golden" where you are talking about, "…You matter, you are important." And it seems like you have spent a lot of your life telling people, "I don't care who you are, where you come from." There's an old gospel song that says, "Little is much when God is in it. Labor not for wealth or fame." I love the song for the same message — that everybody is a player, everybody has a bit.
AMY:
Yeah. Significance, that's the difference, you know? As a mom, I'm always thinking, What can I say to my children that might have some bearing on how they live their lives? And truth be told, they would hear nothing I would say. A lot of times, when your kids are a certain age, somebody else needs to say it. When any of us feel that we matter, that we're significant, it makes us — our choices — change. They change instantly. You just go from being the skid mark in the road to,
I'm a player in this game? I'm part of the epic story? Me?
BILL:
You remember in the movie,
The Help
, where the maid got on her knees when she was leaving the house, and she knew that the little chubby child would need support. I about shouted in the middle of that movie, when she said to that girl, "Now repeat after me again, 'You is smart. You is kind. You is important.'" That's what I say to my little chubby granddaughter, Mia. "Mia, repeat after Grandpa, 'You're smart. You're kind.'" And she says, "I'm a-potent." But in your song, "Golden," I love those lines, that "You are loved. You are golden. You matter."
I also love your song, "Better Not to Know." That was an interesting perspective. I can remember one time my dad saying, "If we knew before we came out of the womb everything that was going to happen, we'd never come out." True?
AMY:
That presents an interesting picture!
BILL:
No, I think I'll just stay here floating around in this warm water!
AMY:
I get tickled every time I go to a baby shower for first-time parents, and oh, the deliberation about the color of the nursery, and all the outfits, and I kinda just go "mmm-hmm, oh yeah, those are big decisions! That kept me up! Wait until you get the phone call from the police at 2:00 in the morning to come pick up your child! You're not gonna care what they have on!"
BILL:
Do you also go to weddings and hear wedding vows of young kids looking in each other's eyes and promising all of those wonderful things? Gloria and I usually sit back there and say, "They don't have a clue, do they, how tough this is gonna be!"
AMY:
Yeah. It certainly is. You're right. I guess that's how everything is.
BILL:
You know, one of the first songs I can remember you singing was, "I Have Decided" and I think of the line, "gonna live like a believer … being good is just a fable…" And here you are, many years later, singing, "Don't try so hard. Don't try so hard." Boy, I'm not a theologian, but I don't think we ever really grasp how amazing His grace is, and to fall back in it. I loved the song you did on the video, and it was a wonderful moment. "Don't try so hard." And you delivered it—just a great Amy Grant line! God gives you grace, and you can't earn it. Don't think that you're not worth it, because you are. Now you're living out your mother's commission: "Go sing about the things that matter."
AMY:
Yeah. Nothing makes me smile more than hearing you say that. I'm grateful for her, more grateful every day. I see how the things that she taught me were — when the wiring was just getting set up in my head—the way I saw myself, and the way I saw other people, so much of that was just a reflection of her, and I'm really grateful for that. I was talking recently to some young mothers, and I said, "I'm grateful my mother was not a screamer." And you just can't help it. If your mother was a screamer, that first impulse is to scream when you grow up. And so many times, I'll go, "Mom, I'm so glad that you were this." I'm so glad that my first, that basic template that I was shaped by, was a woman who was constantly being changed by God. Because my mom, she had a tough childhood. When she was 2, her mom and dad divorced, and that wasn't happening much in 1933. Her mom needed to find work, and moved out of state, and she went to live for years with a very quiet aunt and uncle on a farm. And so, that sense of belonging ... She would tell me, you know, "belonging to Jesus, feeling loved and important, and vital to Him—I learned that because I didn't feel I belonged anywhere."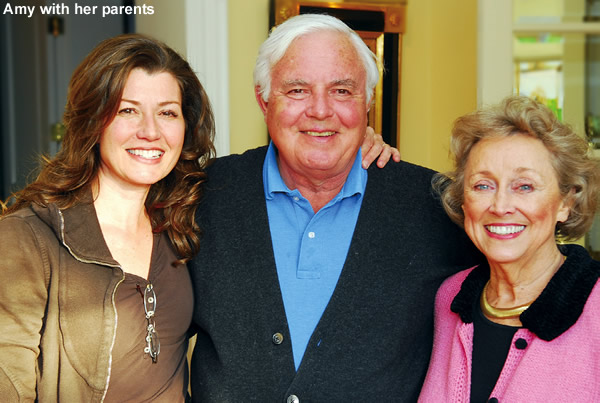 BILL:
You're blessed.
AMY:
I am blessed.
BILL:
You talk about tone of voice. In the last 10 years, Gloria and I have done an exercise, because we had some counseling to help us do this. They said your voice tone is very, very important. All of our arguments are always on priorities and how we're raising kids. And so if I call or she calls with something, we've learned to say, "OK, let's just hang up and approach this with more time." And even the voice tone can make a difference in a disagreement. Do you experience that, Amy, or is that just crazy people like Gloria and me?
AMY:
Oh gosh, no. I always say, because it's a second marriage for both Vince and me, we learned a lot of really hard, good lessons the hard way. And one of them is that you cannot take back things that you say. And so that's really been the biggest one for us. One time, I had made the stupidest decision and I had not consulted him. And he had to leave the house, and I'm calling his phone, and he's not answering. I didn't realize that he couldn't hear it, and he did not respond. Then he came back to the house, but he was in the studio with other people, so we actually didn't even get to talk about it. The next morning he had to leave at 5:00 a.m., for a flight. And he woke me up with a kiss, and said, "I adore you. I need you. I love you." And he left. And in my sleepy state, I said to myself,
He knows I'm right!
And then right behind that I went,
You're immature, and he's being the bigger one.
And it was really not until he backed off and just said, "I love you," that I was able to sit there and look at my own stew that I had just concocted. And by the time we talked, I said, "I was so wrong. I'll never do that again." But it was interesting to me — as long as there was a fight in it, I couldn't see my wrongdoing. And when he completely pulled back and just said, "I love you," and there was no fight in him at all, then I just went, "I am an idiot!"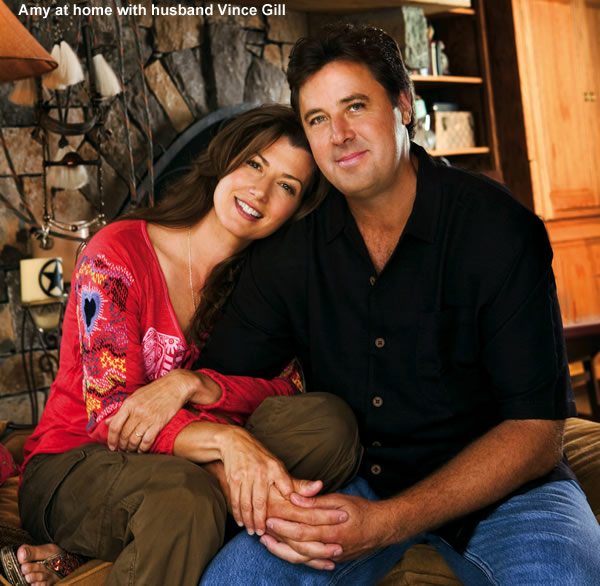 BILL:
You know, one of the songs we sang at the women's taping was one I definitely wanted to do, not just because women need it, but men need it. I think one of the greatest old spirituals ever written was the song, "It's me, it's me, oh Lord, standing in the need of prayer. Not my father, not my brother, not my husband, but it's me, oh Lord." Boy, when that happens, that's beautiful. And we had a lot of fun recording it. And when we got to the line, "And it's not my husband," Joyce Martin said, "I'm not singing that, 'cuz he does need it!" But just the honesty in the room was wonderful. One of the new songs you did on the taping had the line, "Time is an illusion, time is a curse." It's been said in a lot of different ways—we either live in the past, or we live in the future. Very few people live in the now. And you say, "Time is illusion, time is a curse, time is all these things and worse; but our time is now, our time is now, let's sing before our time runs out." That's good theology, Amy Grant. As a preacher said, "That'll preach!" Your capacity to enjoy whatever eternity is gonna be, is gonna be your ability to hollow out a space for the good things, the things that count, here in life, and here in forever. So, I love the song.
AMY:
Thank you. When I think about that song and the line, "Time is a curse," I think about my father — a beautiful, kind, compassionate man, who is in the ravages of dementia — and time has not been very friendly to him. And my father is singing on the song, which drives the message home even harder. And all the participants on that song really drive the message home. My father is singing, and my children are singing — that was their birthday present to me. And Carole King, who's inspired me my whole life — she's singing. And it's just all these different pictures of people at different times in their lives. But it is such a great reminder … we have only this moment that we're in right now. And I think the ability to be present—nobody does that constantly. We have to keep reminding each other that it's now, don't miss it, open your eyes right now. Because the tendency is to wander away from the moment, either because it seems empty, or boring, or painful, or not what we thought it would be. But it's being fully present that brings value to the moment.
BILL:
You know, my dad was a great help to me. I would be really absorbed with a problem, just day and night, trying to figure out, "Now what am I going to do?" And I can remember him saying one time, "Oh Bill, it's probably not as bad as you think it is," and he'd pause for a little bit and say, "And it's probably not as good as you thought it was either."
AMY:
That's wisdom.
BILL:
Well, you know what? That's the reason I thank God for the old people in my life, because they've been there, and they're wise. I remember Jake Hess, the old lead singer of the Statesmen. One time I was worried about some bad publicity or something and he said, "I don't think it will hurt." And he waited a little bit and then said, "It might help a little bit!" And you had several songs about perspective on the project
How Mercy Looks from Here
. You sang that song on "The View." How did they respond to that?
AMY:
You know, Whoopi Goldberg has always just been so kind and embracing … really her response is what I remember. Just "Thank you, I love what you have to say."
BILL:
You know why? It's because of your spirit. I noticed on your bio, that the same day you went over to "Fox & Friends" too, right? Only Amy Grant can do that and do it with grace and class.
AMY:
Oh, well — you know. It's the music. I've always counted on music to bring people together. Sometimes, people have asked, "What are you going to say? What's your opinion on this? What's your vote on that?" And I've said, "You know, my opinion, it matters a little bit to me, but really it's inconsequential in the big picture."
BILL:
You're exactly right. I think John F. Kennedy is credited with this quote, and it's a good one, "There are more things that unite us than those things that divide us." And when you talk about perspective, grace, forgiveness, reconciliation, I mean that's a lot of work that you can do — that's more than enough work than you can do in one evening! Amy, I want to thank you again for being a part of our
Women of Homecoming
taping and this issue. Your new album and what you shared on our video speak such wonderful messages to all of us.
AMY:
Well, thanks Bill! I always love talking to you.
BILL:
Amy, you are a delight!