Vocalist Jody McBrayer is perhaps best known for his 12-year tenure with the Christian group Avalon, during which the group experienced phenomenal success. McBrayer made the very tough decision to step away from the group and his career in 2007, due to some health problems and other personal issues. Thankfully, he is back now, touring both as a soloist and as a member of the exciting new trio, Cana's Voice, with TaRanda Greene and Doug Anderson. Here, he talks with
Homecoming Magazine
about his music, his family, and our Heavenly Father who gives second chances.
Homecoming Magazine:
Jody, thanks for taking time to talk with me today, and we are excited to hear about the fun things going on with you and Cana's Voice! First, would you tell me a little about your background?
Jody McBrayer:
Well, I grew up in Tampa, Florida. I went to Liberty University in Lynchburg, Virginia. When I left to go to college, I really never went home. I just started singing full-time and traveling with a group at Liberty. Then, out of Liberty, I went with a group called Truth and traveled with Truth for a few years. I moved to Nashville to be in the group Avalon. That's where I met my wife, Stephanie. We met in church; I'll never forget. They tell you to turn around and shake somebody's hand and tell them you're glad they're here. I turned around and she was sitting behind me and she had the most beautiful eyes I had ever seen. I'm sitting in the car with her now.
Homecoming:
Well, it's a good thing you are saying nice things!
Jody:
We went on our first date, I think, the next weekend. I was a big spender; I took her to O'Charley's. It was her birthday.
Homecoming:
I like O'Charley's! Nothing wrong with that.
Jody:
No, we had a great time. We've been married 18 years this past March and it's been paradise. It has been a roller-coaster of ups and downs, but there is no question in my heart and my mind that I married the woman that God wanted me to be with and she is my match in every way.
Homecoming:
You have one daughter, Sarah. Is that right?
Jody:
We do. We have one daughter. Her name is Sarah-Clayton and we call her both names. It's hyphenated, like a good Southern girl. She's 10. She'll be 11 in two weeks, going on about 20.
Homecoming:
That makes sense. Well, OK ... let's talk about Cana's Voice a little bit. Did you know TaRanda and Doug very well before all this happened?
Jody:
I did not, I have to be honest. I knew Landon Beene, and I knew his family. We had met on a couple of different occasions and we were all friends on Facebook and stuff like that. That's how the connection happened, through Landon. He sent me a message one day and said, "Hey, would you ever be interested in being in another group?" This was after I had taken almost.... Well, at that point, I hadn't been in a group in nine years. I said, "No, not really." He said, "Well, hey. I'm coming into town with TaRanda and we'd love to take you to dinner and get to know you better and talk about my vision."
I went to dinner with them and I remember leaving dinner thinking, "Well, shoot. I actually like these people." The vision that he had was something that was really echoing in my heart ... something I wanted to do. Then I met Doug a couple of weeks later at Wayne Haun's house, along with Landon and TaRanda. The three of us [myself, Doug and TaRanda] had a great time. We sat under the piano and when I say sat under the piano, we literally were lying under the piano singing songs. It just became a night of worship. We just worshipped together, singing some old Gaither tunes ... The first song we ever sang together was "Oh, For a Thousand Tongues." I started singing the lead on that and they added parts and we've never turned back.
Homecoming:
That's awesome. Well, how is your health these days? I read about the situation that caused you to step away for a while.
Jody:
Yeah. It's OK. It's something that I will live with the rest of my life; there's not really a cure for what I have. I have a degenerative muscle disease. I have hypertrophic cardiomyopathy, but there is also a genetic disorder involved that affects the heart muscle. I had a great doctor who got me into a clinical trial at Vanderbilt, so I did that for six months, then took some time off and then did it for another round. They really think that it played an integral part in it not spreading more than it has. Typically, when people have what I have, it tends to get progressively worse and mine hasn't. There hasn't really been a change up to this point. I tend to believe that God really healed me of it. There was an experience that I had a couple of years ago when I was on the road. I traveled with Benny Hinn for a few years. Do you know who Benny Hinn is?
Homecoming:
Yes, I do.
Jody:
I traveled with him, singing and leading worship for him. I just had in incredible supernatural experience with the Lord one night with people praying over me and I really believe that God healed me at that point or at least stopped it from spreading at that point.
Homecoming:
Well, He certainly can.
Jody:
Yeah, I'm good. I take medication every day and I'm supposed to take better care of myself. I was doing really well until the last five or six months and the schedule got crazy and hectic again, but we're going good.
Homecoming:
Good deal. To talk a little more about that, Doug told me how he sort of took it for granted when everything was going really well with Signature Sound and then he went through some stuff, too ... different from your experiences, as you know. He just talked about how much more he appreciates his solo career now, as well as his opportunities with Cana's Voice. I'd like to know how your perspective has changed since you were a bright-eyed singer at the beginning, and how you have seen God's hand in that.
Jody:
Well, to be honest, I think I always knew that God was part of it. I grew up in a Christian home, and my father was an ordained Baptist pastor. My dad was a great guy and always speaking spiritual truth into my life; he was just an amazing example. That was always there, but I don't know that it was a priority for me when I was younger and when I signed with Avalon. I think it was more about getting a record deal and having the opportunity to make music and live out my dream.
Now, here I am 45 years old and my wife will probably chuckle when I say this, but we have definitely lived some life, especially over the last 10 years. You can't go through certain circumstances and certain things in life without coming through the other end realizing that there is a God and He is faithful and He sustains you. Now, I don't even look at the charts anymore. I don't even think about, "Oh, how many records are we selling?" It's really just about the opportunities that I get to tell my story and maybe, in turn, help some people who are struggling.
Homecoming:
That is great. I figure that for all of you, those difficult experiences have helped you to relate more to the people in your audience, who are going through all kinds of things. OK, so Doug says he is the country boy of the group, and I would say TaRanda is probably more of the Southern Gospel. Would you say you bring more of a pop sound to the blend?
Jody:
Probably so. Yeah.
Homecoming:
That's awesome that each one of you brings your own unique sound and style. Would you say Cana's Voice fits more into contemporary or Southern Gospel or just kind of a blend?
Jody:
What would you say Cana's Voice is, Stephanie?

Stephanie:
I'd think it's a blend because when I think of Southern Gospel, I think of something totally different.
Jody:
Yeah, I would agree with that. Have you had the chance to hear the record at all yet?
Homecoming:
I have heard just a little bit so far, but what I heard sounds great!
Jody:
Well, thank you. I think if you listen to it, it's very eclectic. We have different styles on there and it kind of fits who we are. I don't know that you can put a brand on us, and we're OK with that. If somebody wants to call us a Southern Gospel trio, then great. Call us that, but I don't know that that's exactly what we are. We're not a pop trio, either. Probably just ... adult contemporary, but I think all of us are just in it to make the best music we possibly can, whatever style that might be. I think all of us love all different styles of music.
Homecoming:
It's so neat, too, that you all three have such strong lead voices but are able to blend.
Jody:
Oh, sure. I think that comes from all of us having group experience, too; Doug with Signature Sound and of course, TaRanda singing with the Greenes for all those years and then me with Avalon for 12 years. We love singing harmony; I think that's another thing that compels us to one another. There's strength in numbers.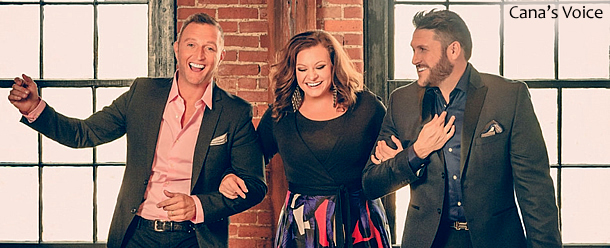 Homecoming:
Tell us about a few of your favorite songs from the project.
Jody:
Well, there are two songs that specifically stand out to me that I love. I love "Hello Fear," and I always say that we put the song on the record for my wife. Everybody has different fears that they struggle with and fear can be crippling, if we let it. For a lot of people and I think even for my wife at some times in her life, certain things she fears or is afraid of can be crippling for her.
I love that song just because it's like an actual letter. It's like we're singing a letter that we've written to fear and it's like we're standing up in its face and saying, "Look, you've had this special place in my life for too long and it's done. We're done. No more." Then it goes on to talk about grace and how we never realized how much grace we were really given. I love that song.
And I love "Jesus Never Fails" just because of the history behind it. I sang it with Truth for a couple of years when I was in that group. Now, we've given that song new life and it's so relevant for the season that we're in right now with how unsure things are in our government and our world. It's nice to know that regardless of how chaotic this world may seem and our country may seem, Jesus is constant and never fails and that we can trust that.
Homecoming
: Yes, so true.... Now, in addition to performing with Cana's Voice, you're still busy with your solo appearances too, right?
Jody:
Yes, ma'am. I had a record that came out at the end of February, so I'm trying to do as many solo dates as I can in promotion of that. I can go on these solo dates but then come together with Cana's Voice and it's still something substantial.
Homecoming:
I hear your solo album has been very well received....
Jody:
Yes! It's been great. The title is
Keep Breathing
and the title cut and just the whole concept of the record is borne out of where I was really three years ago. I was diagnosed with clinical depression three years ago, which is not unusual for people who have heart disease, but I also just experienced some personal setbacks trying to really figure out career-wise where I was supposed to be.
I remember going and meeting for lunch with my former manager from Avalon ... this was probably in 2012. I said to him, "Hey, what do you think the chances are of me making music again?" He looked me right in the eyes and said, "You don't have any more chances. You're chances have come and gone and they've moved on to other things." He was just being honest. He passed away two years ago, but that, for me, was like sticking a pin in me and popping a bubble. I just thought, "Okay, I'm finished and God's through with me and my ministry's done."
Homecoming:
In the natural world that might be true, but what God does is different.
Jody:
Well, of course, and we know that God's time table and God's plan unfolds regardless of what man's opinions are. That's something that I've had to learn, too. I can say all day long that I feel this way or I feel that way. My wife and I will say to each other sometimes, "Those are feelings. Those don't have anything to do with what God is doing or how He's working, so don't let your feelings get in the way of what He really wants to do." I had to take control of that part of my life. I went and got some help and talked to a great counselor. That "Keep Breathing" mantra came out of that and I was able to find my way back.
I'm not saying that I don't still deal with things. We all do, and I think life is a constant struggle. We live in the valley so that when we do get the mountaintops, we can appreciate those moments. That's what I think we have to keep in mind. I just think that we have a responsibility on this earth. We're given the gift of life and breath. We're given the gift of a beating heart, which I don't take for granted. With that, we have a responsibility with that gift to keep breathing and to focus on being the best that we can be for Christ.
Whatever our calling is; whatever gift we think He's given us, our whole purpose is to give that back. I do try every day. Like I said, I'm human ... I'm not perfect and I don't claim to be, and I don't think I ever will be. That's why I'm grateful for grace and for the blood. The one thing I do know now for sure is that for the rest of my life, I will serve Him in some capacity, whether it be my voice until He takes my voice away, and then however He sees fit. I have to; it's who I was created to be.
Homecoming:
It sounds like what you've put your identity in has changed.
Jody:
Yeah, that's probably a really great way to put it. I used to put my identity in my voice and who I was as an artist, and that's just not it at all. Now I strive to make sure my identity is who I am in Christ and who He has called me to be as a person.
Homecoming:
Well, that sounds good. I look forward to hearing more from you and from Cana's Voice, and I appreciate your time today!