Beloved actor Andy Griffith has died at the age of 86, after being rushed to a North Carolina hospital from his Roanoke Island home the morning of Tuesday, July 3, 2012. Details regarding the cause of death have not yet been released.
Andrew Samuel "Andy" Griffith was an actor, director, producer, Grammy Award-winning Southern Gospel singer and writer. He was a talented vocalist and trombone player, who started out with musical ambitions before discovering acting and performed in several student operettas during his years at the University of North Carolina at Chapel Hill.
After college, one of his early jobs was doing comedic monologues on the radio. His monologue "What It Was, Was Football," told from the perspective of a rural backwoodsman trying to figure out what's happening in a football game, was a hit for Griffith, reaching number nine on the charts in 1954. He was also active on Broadway in the '50s, starring in
No Time for Sergeants
(which earned him a Tony nomination) and
Destry Rides Again
. Griffith later reprised his role in the film version of
No Time for Sergeants
, during which he met and co-starred with Don Knotts, beginning a lifelong friendship. Griffith's first film role was in 1957, when he portrayed a manipulative and power-hungry drifter in
A Face in the Crowd
, alongside Patricia Neal. However, he was best known for his television portrayal of Sheriff Andy Taylor, co-starring again with pal Don Knotts in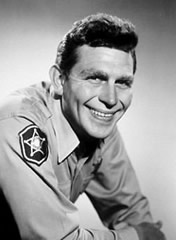 the iconic small-town comedy, "The Andy Griffith Show," from 1960 through 1968.
Throughout the 1970s and early '80s, Griffith appeared in numerous television shows, miniseries and films, none of which had the widespread success of "The Andy Griffith Show." In the mid-'80s, he suffered for a while from leg paralysis due to Guillain-Barré syndrome and spent a while in rehabilitation from that condition. Then, in 1986, Griffith returned to television as the title character of curmudgeonly country lawyer Ben Matlock in the long-running legal drama "Matlock," which became a ratings powerhouse on Tuesday nights. Griffith won a People's Choice Award in 1987 for his work on the series and helped to direct, produce and write the show during part of its successful run.
He also made many character appearances on other popular shows throughout the years, including "Gomer Pyle," "The Mod Squad," "Hawaii Five-O," "The Doris Day Show," "Here's Lucy," "The Bionic Woman," "Fantasy Island," "Dawson's Creek" and others. He also reprised his role of Ben Matlock on "Diagnosis: Murder" in 1997.
The actor continued to develop his musical gifts as well, recording several albums of Christian hymns for Sparrow Records. The most successful of these was
I Love to Tell the Story: 25 Timeless Hymns
, released in 1996, for which the singer received a Grammy Award for Best Southern, Country or Bluegrass Gospel Album in 1997. In 1999, Griffith was inducted into the Country Gospel Music Hall of Fame, and in 2007, he was inducted into the Christian Music Hall of Fame and Museum.
Co-star Ron Howard, who famously played Opie Taylor on "The Andy Griffith Show," expressed public condolences on Twitter, saying
"His pursuit of excellence and the joy he took in creating served generations and shaped my life. I'm forever grateful. RIP Andy."