We became acquainted with Ann Voskamp through her very first book, One Thousand Gifts, which zoomed up the bestseller lists of USA Today and Amazon and made a home on the New York Times l ist for more than a year. This Canadian farmer's wife sees the glorious in the mundane, sharing it through both pen and camera lens. She homeschools her six children and says that when the kids and the washing machine sleep, "I wash my real dirt down with words and the Word." A speaker with the Women of Faith team and an advocate for Compassion International, Ann also writes for Dayspring's incourage.me and other sites and shares her everyday experiences at her blog, aholyexperience.com. Appearing in multiple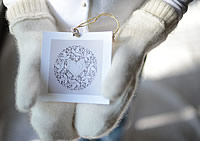 magazines, on television and radio and drawing a Facebook following of more than 70,000, she was nonetheless stunned in 2012 to land on the cover of Christianity Today as one of 50 highly influential women within Christian culture. Gloria finds common ground with this fellow truth-seeker as they discuss Ann's new book, The Greatest Gift.
GLORIA GAITHER:
I'm one of those people who reads something then gives it away to a hundred people, telling them they have to read this book. We all fell in love with the beauty of your first book,
One Thousand Gifts
. Your writing is just lovely. I love the way you see things and the way you say things. What in your growing up taught you to see the everyday wonders of life? And what got you writing about them?
ANN VOSKAMP:
That's such a good question, Gloria. I think there are a couple of things. Growing up on a farm and being very grounded in God's creation all of the time was part of that. There were so many walks in the woods, so many weeks in the winter of cutting that wood. There was so much work on the farm, and it was my time to commune with Jesus and to talk to Jesus and to see that He was present right where I was all of the time.
In my late teens, I started playing around with a little point-and-shoot camera. I think slowing down enough to see all those little details with that camera was me learning to slow down and see the glory of God filling the earth wherever I was. I think those two things helped.
GLORIA:
You write like a photographer.
ANN:
I think like a photographer. Now, I have no training at all as a photographer. I'm just playing around. I'm just looking for light and how God's light plays off of creation, so I don't technically know what I'm doing at all. But when I first started blogging, I had this entire category called "Freeze Frame." It was freeze-framing life; it was settling into a moment and trying to tell what that moment was like. For me, photography was learning how to see. Writing for me is looking at something that seems everyday, just from a different perspective. So photography helped me to take the scales from my eyes and see God's calming grace every day where I am.
GLORIA:
You're a word photographer!
ANN:
I've never thought of it that way, but maybe that is what it is.
GLORIA:
Your educational background is intriguing. You were a psychology and education major. Did you prepare to be a teacher or counselor?
ANN:
Yes, I was taking a concurrent education program, so I was taking child psychology and education at the same time at university. I thought I was going to go on to be a teacher, but the longer I was there, I was really intrigued with how children learned and what was the best way for us to convey knowledge to children. I became very interested in curriculum development, so homeschooling was all a fluid experience. I loved reading all of the time. When I was little, I thought a librarian's job was getting to read books. That's what I really wanted to be.
GLORIA:
Yeah, don't you wish.
ANN:
I got so bummed out when I realized librarians didn't get to read all of the books. So getting to homeschool was perfect for me in so many ways. I got to learn and discover and be curious about God's world with my kids and read aloud to my kids all of the time, so I could be excited about words with them. Then the curriculum development ... how do we go ahead and best take the knowledge of God's created world and understand that? That's really where I was headed.
GLORIA:
With six kids and a farm and a homeschool, when do you write?
ANN:
That's a very good question. Actually for this little Christmas book, I would get up every morning at 3:30.
GLORIA:
Oh, I don't wanna know that!
ANN:
Exactly! But I found that was the best rhythm. With
One Thousand Gifts
, I would write late into the evening and early morning hours. But I really found, now that I'm getting older, that it was better for me to go to bed early and then get up really early while everybody was still quiet. But actually, Darrell gets up with the kids and they go to the barn twice a week at 4:30 and the rest of the week, they're up at 5:30 and 6:00. But if I get up at 3:30, I know I can write in the quiet. It's a good time. You can't get distracted by anything online. Facebook and Twitter are really quiet at that time. You can't get distracted, so I go to the writing cabin. I have these double barn doors in the writing cabin, and you can see the stars still. It's just me and Jesus writing out there—real, real quiet. So that's the way: to get up at 2:30 or 3:30 in the morning and write until about 9:00.
GLORIA:
That's interesting. But your mind is so fresh, and I think you're giving God the best.
ANN:
I really felt when I was writing at night, I'd be so tired, I was just dragging. It wasn't giving God the best. That's a much better rhythm for me to do it like that.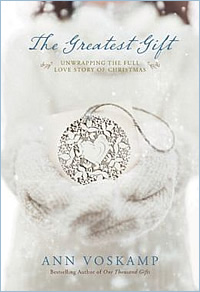 GLORIA:
This new book,
The Greatest Gift
, is a book of insights leading up to Christmas. I would call it an Advent pilgrimage through the root of Jesus. It's the lineage of Jesus and the characters of the drama of the Messiah. How did you come up with the idea?
ANN:
We've been doing a "Jesse Tree" as a family for a decade. It was another homeschooling mom from Pennsylvania who talked to me about it. I had found other resources a long time ago that would give you the readings from Genesis all the way through Advent to Jesus' birth by Christmas Day. It became the absolute highlight of my children's year, because it was the whole pageantry and majesty of the story — not just from Matthew or Luke — but that you would go right back to Genesis — and it was the momentum and the love of God coming to you right from the beginning. It was also a great way to get an overview of the Old Testament moving into the New Testament every year. My kids looked so forward to it. Over the years, I have written three Jesse tree devotionals for kids, but this is the first time I've written one strictly for adults. I wanted weary moms and dads, lonely singles, widowers and widows to again step into the same wonder that we have at Christmas. So many moms and dads pour out for the children to have a wonderful Christmas, but they get to Christmas Day and they haven't really been captivated or awed and deeply moved before the love of God. I wanted adults to step into this love story that's been coming to them from the beginning. Right from Genesis, God has been whispering that the Messiah is coming, Jesus is coming to save us. I wanted really to unwrap the beauty of Scripture again. I have an appetite for God's Word and how exquisite and deep and rich it is. I wanted every single day's readings from December 1 to December 25, for when you're weary and overwhelmed — and for so many women especially, Christmas feels like something they have to produce. We can feel like such failures, especially in an age of Pinterest. I wanted them to be able to come and pick up this book every day and know again in the marrow of their bones the deep grace of Christ, that He comes and does it all for us. That Christmas is a time to enter into His rest and His sufficiency. I want it to be a gift for the reader every single day through Advent.
GLORIA:
I love that because in so much of our worship right now and in our Christian walk, we just see the punch line rather than the story. I think we do the same with worship music. We use David's punch lines, but we don't know what he paid for them.
ANN:
Yes, Gloria! It's the context. When we understand the full story of it, then it does have meaning.
GLORIA:
You suggest literally making a Jesse tree — and I'm quoting here from your book — "sewn or painted, cut out of felt or quilted, hung from the fridge, a wall, a door, a window, a small evergreen tree in a vase, a cluster of red dogwood branches in some kind of a pot, a pot of hemlock, pine, spruce, sticks or holly." You suggest something so tangible…
ANN:
I suggest something tangible because I want you to see it when you walk in the front door. I want you to see it when you're carrying in the groceries and you're overwhelmed and your calendar is full of a million things to do. The ornaments are free to download from the website, so you can go ahead and cut those out. What I'm doing with mine is cutting them out and using them as a bookmark for each day. When I start in December, I've got all of these bookmarks in my book that are the ornaments. So when I read every day, I take that bookmark which is the ornament and hang it up. I think it's the way to constantly be remembering
what is Christmas. What is Advent really about?
That Jesus is coming right from the very beginning to save us from the fall, right there in Genesis.
I think what we've experienced here in our home doing this Jesse tree for the last 10 years — we go ahead and decorate the base of the tree, but the only ornaments we add to at least one of the trees in the house are the Jesse tree ornaments. When people come over, they say, "Oh, these are really interesting ornaments. What's this about?" Then our kids get so excited and say, "Let me tell you the story of Jesus right from Genesis." It's this wonderful witnessing tool and a way to share the gospel with people coming into the house — a way to share the gospel during Advent. So it's not just for us to see the story but also to share it with the people in our home.
GLORIA:
That's wonderful. I think from the Renaissance until now, we've been such literalists. We've not learned to embrace the mystery. If we can explain God, it's not God.
ANN:
I love that, Gloria.
GLORIA:
I think we all need symbol and metaphor. There is no word for what this transcendent, experiential God who pierced the membrane of the cosmos to implant a seed in a young girl. The incarnation is the biggest thing for us to wrap our minds around.
ANN:
My mom lives alone. Christmas can be a really lonely time for her. She sees the family and us with all of the kids and when she goes home, it's so quiet for her. She's been doing the Jesse tree, and it is her special time alone with the Lord. When reading those Old Testament stories, she's seeing that God was in the midst of all of these stories. And in her own story, God's hand is upon it. He's weaving all of the details in her life to make her more like Jesus. It's been a big comfort for her each year to know that Christmas is for her, too. It's not just December 25, but it's coming all through Advent, so that she feels wrapped in the mystery and beauty and wonder of Christ's coming to this earth and God incarnated for her. So yes, it's a way for us to testify and also enter into that mystery.
GLORIA:
You're the most quotable author I've ever read.
ANN:
Oh, I don't know about that.
[Laughs]
GLORIA:
You write in sound bites. You're a distiller of ideas.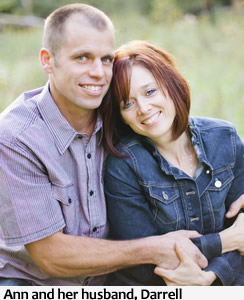 ANN:
I don't self-identify as a writer at all, a blogger maybe. Maybe more as a translator. I see myself in Scripture and literature maybe like C.S. Lewis and Chesterton and Edwards. Modern people don't enter into it the same way, so maybe I am distilling and translating ideas into words we can understand and approach it again.
GLORIA:
You're kind of blogging the cosmos!
ANN:
I like your metaphors!
GLORIA:
One of my favorite paragraphs in the book — and I love this image, because my favorite scripture is "in Him we live and move and have our being"—
ANN:
I'm wearing a bracelet right now that says "within." I want to remember that I am with Christ and in Christ and everything is from Him and to Him and for Him.
GLORIA:
Yes! I love this quote where you're talking about the name of God. "Breathe easy into the questions." I love that because we often have to learn, as Rilke said, to love the questions and one day we will live ourselves into the answers. And you say, "Breathe easy into the questions the name of God, Yahweh, inhale, exhale. It's the sound of your breathing. There is our miraculous answer. As long as you are breathing, He is always your miraculous answer." I love that you tell us that we have to breathe God. We don't have to go find Him. He hasn't gone anywhere. He's here. He's there. He's always around. Our children, no matter how far they get mentally or spiritually or emotionally or physically in another country — in Him we live and move and have our being. We can trust that the embryonic fluid of God is completely around them.
ANN:
It's completely around us. I was thinking this morning that all fear is the lie that God's love ends, that there's somewhere you can go and God's love wouldn't be there. I would get to the place that God would run out and I can't trust that He's always going to be around me or my children or whatever situation we face.
Sometimes it's painful. It's not going to be easy that He's refining me and shaping me to be more like Jesus. But in every situation, His love is carrying us to make us more like Christ. I can completely, entirely trust everything that is happening — that nothing is beyond His sovereign control. Nothing comes into my life unless it's filtered through those fingers of love. I pray with
The Greatest Gift
, that these words might usher us into the truth that God is around us everywhere. It's like Jacob saying, "God was in this place and I was not aware of it." It's the awareness that Christ is here and He's taking all of these threads, all these moments, and weaving them into a tapestry for His honor and His glory. It might not be for my comfort or my ease, but I can completely trust that He's being glorified in this and I am being refined to be made beautiful by Christ.
GLORIA:
I love that. Do you still keep a journal? Because I have a feeling that some of the things that I'm reading — I love what you're saying about awareness and I'd think you'd have to keep writing down "a thousand gifts" the rest of your life.
ANN:
I do. Actually our dinner table has eight drawers around the table, one for each of us. You can push your chair back and pull your drawer out. Each of us has our own Bible and our own journal in our drawer so we can read Scripture after every meal. I have the
One Thousand Gifts
journal and my husband and two of my kids do, too.
[Laughs]
So at lunchtime when I pull out my Bible to read after lunch, I'll ask my kids, "What are our gifts today?" When we start jotting them down, I just can't ever stop. He pours Himself out all of the time in all of the blessings through His Word, through our interactions throughout the day. He keeps blessing us. It's such a gift and a privilege to bless Him again with our thanksgiving. What I can bring into His courts is my praise. Sometimes it's a sacrifice for us. Sometimes it's a hard gift, but I've realized that unless I count the hard things as gifts, I've miscounted. God can redeem anything. If I won't give Him thanks for everything, I'm saying He can't redeem everything. So yes, we keep counting the gifts.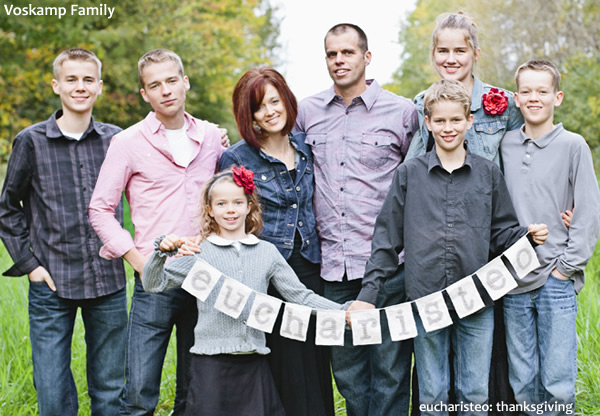 We had a message yesterday on Facebook, and I read it to my husband this morning. A woman started writing out her gift list to the Lord, and she said she had written down 7,000 things that she's grateful for. But the wonderful thing was that she realized as she was writing down all of the ways that God loved her, she accepted the Lord as her Savior. She came to a saving knowledge of Jesus Christ. That's what it comes down to, Gloria. He loved us when we didn't love Him, so we come to understand that He is loving us all of the time. Love is the only thing that ever changed any of us. He sacrificed Himself for us while we were still sinners. So for someone giving thanks to realize He loves me so much I want to give my life to Him— that's the ultimate.
GLORIA:
Don't you think conversion is just waking up to how much you're loved?
ANN:
Yes, Gloria. I don't think I've ever heard someone so succinctly and beautifully express it as you did right there.
GLORIA:
Your writing gives us that awareness. It is the ladder to the rest of our lives.
ANN:
I think in this day and age, it is so challenging. There is so much pressure to keep going. The rat race makes us push, push. We think God's goodness and mercy follows us all the days of our lives, but that word "follows" is not this placid following. It's an urgent running and passionately chasing and pursuing us. If we would just slow down, instead of being overwhelmed, God's grace would overwhelm us. We write about the things that we struggle with the most. For me, I have to go ahead and keep preaching His gospel back to myself all of the time.
GLORIA:
I love that sentence from your book, where you say, "Behold Him and be held." I love that.
ANN:
I think at Christmas, we think about beholding God coming for us. He comes as a babe. He doesn't want to intimidate us or scare us. He wants us to come close. But He also wants us to know that He holds us. We have this yearning for home for our Father to hold us. So I hope this Christmas that we not only behold the babe, but that God holds us.