Known for their breathtaking instrumental virtuosity and shimmering layered vocals, the
Annie Moses Band
is a family act made up of six siblings, with their parents Bill and Robin spearheading the lyrics and arrangements. Annie Wolaver serves as the lead vocalist and violin player, Alex Wolaver accompanies on vocals and violin, Benjamin Wolaver on the cello, Camille Wolaver plays the harp and keyboard, Gretchen Wolaver performs the violin and mandolin and Jeremiah Wolaver handles the classical and electric guitar.
Though they are not specifically a gospel group, the Annie Moses Band shares a strong legacy not only of their love for music, but also their love for God. They are quick to credit Him with the glory for their family's creative abilities, and they emphasize the importance of faith.
The band soars to new heights in their upcoming release,
Pilgrims & Prodigals
. The two-disc CD/DVD set is a collection of songs that explores the timeless themes of roaming and redemption and will be available nationwide on September 25. Collectively, they developed 13 diverse tracks blending the captivating styles of classical, jazz, folk and even a frisson of Celtic thrown in for good measure. And if you've ever seen the band perform, you'll be looking forward to the DVD included in the package. "Video is very important to us, because what we do as the Annie Moses Band is very visual," explains Annie. "By including the live concert DVD with the album, people can see us performing and playing each song on the album."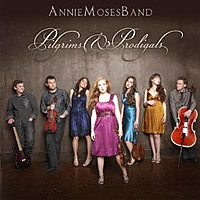 Eight songs on the album were written or co-written by members of the group. Five other tunes are inventive re-imaginings of familiar standards, including "Poor Wayfaring Pilgrim" and "Girl of Constant Sorrow." The project's two pop cover songs – "Love Song" (Elton John) and "I Got a Name" (Jim Croce) – take on unexpected new life.
Recording in the heart of Music City, Alex Wolaver teamed up with award-winning producer Michael Omartian (Christopher Cross, Michael Bolton, Amy Grant) to produce the new project that was originally envisioned nearly a decade ago. "Pilgrims & Prodigals" is based on the idea that everyone in the world is going somewhere," observes Alex, who for the first time shares lead vocalist duties with his sister Annie. "We're all on a personal journey. We are all either someone who's finding our way back home or we're someone who's running away from home. Every song on this album tells one of those two stories."

The band will also be seen on PBS stations around the U.S. starting in October in their brand new "Pilgrims & Prodigals" public television concert that will air throughout the fall.
For a limited time, you can gain access to an exclusive online streaming version of
Pilgrims & Prodigals
by pre-ordering the album on iTunes. For more information, visit
anniemosesband.com.
News source: Rogers & Cowan
Take a look at the Annie Moses Band performing in concert
and discussing their family's legacy of faith and music: