AMERICA, THE BEAUTIFUL

The
Annie Moses Band
pays tribute to our nation on their latest release.
It was the final Praise Gathering, Bill and Gloria Gaither's annual beloved three-day conference, which has often been dubbed America's premier Christian teaching and concert event. The Indianapolis arena was filled to capacity with more than 10,000 people, and a very young Annie Moses Band took the stage following the siblings' inaugural tour.
"We were surrounded by other wonderful artists and just a packed house of rabid fans. What a highlight that was at that moment!" reflects eldest sibling Annie Wolaver Dupre.
The performance proved to be one in a long line of memorable events for the Annie Moses Band, comprised of Annie, Alex, Benjamin, Camille, Gretchen and Jeremiah Wolaver. The group has appeared at Carnegie Hall and the Grand Ole Opry House, among other coveted stages. "I see a metamorphosis of what's happened with my siblings and the music that we make," remarks Annie, adding that she's watched her younger siblings transform into adults and brilliant musicians in their own right. "That's what you want … to feel like you're moving on to something better and brighter."
Annie adds that as they've grown up, the group has also managed to discover their musical sweet spot — a blend of Americana, bluegrass and classical. "I think we're pretty savvy now in knowing the things that are really in [our] pocket and what [we] want to be and represent," Annie says. "For us, we want to make music that is true, so we tell all kinds of stories in our music."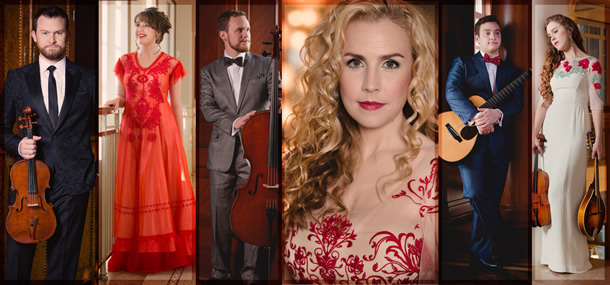 For their latest project,
American Rhapsody
(Warner Classics), the Annie Moses Band narrates the stories of the people who shaped our nation—from the pilgrims to the Founding Fathers—with unique takes on iconic classics like Gershwin's "Rhapsody in Blue," "Shenandoah" and "Hard Times Come Again No More," along with a selection of originals.
"We are taking a snapshot into a moment in time," Annie shares. "We wanted it to be representative of just the whole scope of the American story."
While the ensemble has been touring the country in support of
American Rhapsody
this fall, the group will debut a brand-new special on PBS this December called "The Art of a Love Song." The special was taped at Nashville's Grand Ole Opry House with the Annie Moses Band covering songs from the period of the Great American Songbook through the '70s. It also features 60 students from their annual Fine Arts Summer Academy, an educational camp founded 13 years ago by the family.
The group may have years of experience and maturity at this stage in their career, but the siblings remain true to their high standards of integrity, whether performing love songs onstage or paying homage to America's history on tape.
"When people come to see Annie Moses Band, I think they come to see us because they understand an inherent promise," Annie concludes, "and that is they're going to come and hear something creative [and] highly excellent, but life-giving… Through the breadth of what we offer in terms of our instrumentation and our background, we can expand the scope of what people can imagine."
For more info, visit
anniemosesband.com
.