Our dear friend, former Homecoming pianist Anthony Burger, was known for his remarkable God-given talent, his friendliness and sense of humor, among other things. He also had a great love for the delicious fried apricot pies prepared by his mother, Jean Burger. Here, we share a reprint from our Jan/Feb 2004 issue, in which Anthony graciously shared the delicious recipe.

ANTHONY BURGER's Mom's Fried Apricot Pies

My favorite treat in the world is my mother's fried apricot pies. When I was really young — about 16 years old — I started traveling with The Kingsmen Quartet. I only made it home occasionally; but when I did, Mom would fix her delicious pies especially for me. Funny thing is, she would hide them and I was the only one who knew where they were.
The minute I walked into the house, I would look to see if she had hidden the pies. They were always waiting there just for me. When I would come out eating them — usually with a great big grin on my face — I would have uncles begging me to tell them where the pies where. They'd sometimes offer me up to a dollar just to disclose the secret location. But I would never ever divulge that information, and I would never let anybody share the pies. They were all mine!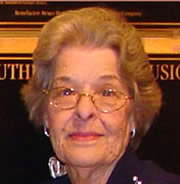 Mom still hides the pies to this day — and I still know exactly where to look for them. When I asked her to submit her special recipe to
Homecoming Magazine
the first thing she said was, "Recipe? You've got to be kidding. I don't have a recipe — I just throw it together!" She wanted me to let everyone know her recipe measurements are "approximate."
Fried Apricot Pies
Ingredients
FILLING:
• 1 package Sun Maid apricots
• 2 cups water
• ⅔ cup sugar
CRUST:
• 3 cups flour
• 1 cup Crisco shortening
• ¼ cup ice water
• ½ cup melted butter
Directions
Prepare filling by covering apricots with water and cooking down approx. 20 minutes. Mix in sugar. Cover and refrigerate overnight.
For crust, make a very thin, pie-type crust. Cut shortening into flour, then use your hands to work ice water in gradually. Knead until dough is right consistency. Roll dough out until thin. Using a small to medium saucer, press out circles of dough.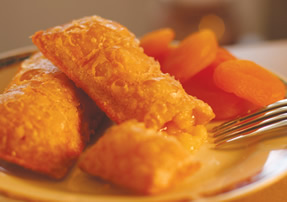 Spoon 1 heaping TBSP of fruit filling into center of circle. Fold over. Press together and edge with fork. Using electric skillet for even heating, fry in Crisco oil until light golden-brown. Remove and apply melted butter with brush.
Yields approximately 12
Enjoy!