Acclaimed singer-songwriter Ashley Cleveland said she'd never write a book. In fact, it took years of prodding from both her husband and a wise, trusted friend for Cleveland to even begin to entertain the idea. Although her albums and live concerts alike are built around the art of storytelling, the idea of writing a book seemed daunting. An avid reader, she was afraid she could never live up to the standards of the great writers she admired.
Then, one afternoon, the Grammy winner went for a walk and opened herself up to the possibility of putting her story down on paper. "At the very end of the walk, the first line of the first chapter popped into my head, and so for me, that was an entry place," she shares. At first, Cleveland's plan was to simply start writing and see what happened. "I had this first line, and I wrote a chapter," she explains. "From there, with a good deal of hemming and hawing and complaining and throwing up my hands, I just kept going. Every time I thought I would stall out and quit, another opportunity would present itself out of the blue."
At 56, Cleveland has found a comfortable rhythm to life, and she says writing her memoir reinvigorated her. "It was not completely outside my wheelhouse, but it certainly was a challenge, and it took me to new places as a writer I wasn't entirely sure I could navigate," she admits. "I got excited about trying new things again."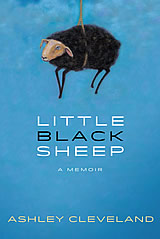 Little Black Sheep
(David C. Cook) outlines Cleveland's tumultuous life from childhood, paved with abuse, addiction, brokenness and, ultimately, transformation. Although she knew it would be a memoir, she says, "I didn't really know what the book was about until I was done with it." The writing process, which took nearly two years from first line to completion, with Cleveland writing intermittently, proved cathartic for the songwriter. She discovered a newfound respect for her father, with whom she shared a rocky relationship.
"Writing this book, I completely fell for my dad again in a great way. I just loved him, and I saw him from a different angle. Instead of being the child who so longed to connect with her dad and never could, and instead of being the dad who would just say the meanest things … I saw him as a deep man who couldn't access those waters and was just trying to live in the society he was born into to the best of his ability, and I just had such compassion for him," she confesses. "I walked away from writing so grateful that he was my father and that I had lived the life I'd lived. That was quite unanticipated."
Writing her debut book was such an enlightening process for Cleveland, she is already planning a follow-up. As for readers who pick up Little Black Sheep, her wishes are simple. "I hope they'll come to Jesus," she says. "You really can't come to Jesus and not be revolutionized — because you can't be in His presence and not begin to experience some level of transformation. For me, He has satisfied my wildest, deepest longings, so why wouldn't I want that for other people?"