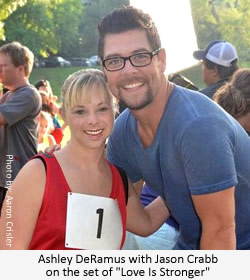 Ashley DeRamus
is an amazing young lady whom you should know. She has Down syndrome and has, with help from her supportive family, begun a
foundation
to increase awareness about people with special needs and enlighten others about the positive contributions they make. She has also spoken before the United Nations, won dozens of medals for swimming and, with her mom, started a
fashion line
especially for the needs of women with Down syndrome. We wrote about Ashley in our Jan/Feb 2013 issue of
Homecoming
after she appeared in
Jason Crabb
's video,
"Love is Stronger"
(in which she can be seen wearing some of her own designs!) Ashley took time to answer a few more questions for us, and we know you'll enjoy getting to know this inspiring young woman.
HOMECOMING MAGAZINE: We saw you at the 2013 National Quartet Convention and snapped this photo of you with Michael English. Are you a Southern Gospel music fan? Who are your favorite groups or artists?
ASHLEY DeRAMUS:
I am a huge Gospel Music fan! I listen to just about every group but Jason Crabb is, of course, one of my many favorites. I have loved Gospel music all my life. I began attending the summer concerts at Inspiration Park in Bryson City, N.C. when I was 5 years old, and my Dad and I began attending other concerts such as Crabbfest and the Gatlinburg Gathering through the years. Over the years I have owned all the Gaither Homecoming videos. As they wore out, I replaced them with DVDs. I still have a complete collection and know all the words to all the songs.
I was asked if I could learn the Canadian National Anthem to sing at a special event and shocked everyone when I said I already knew it from watching the Gaither Toronto Homecoming video. Bill and Gloria Gaither are my gospel music heroes. My biggest dream is to one day have the chance to be on the stage at a Gaither Homecoming.
HOMECOMING:
How did you and Jason Crabb meet?
ASHLEY:
I first met Jason when the Crabb family came to our church in North Carolina to do a concert, and I got the opportunity to spend the day with them while they set up. During the concert that night Jason let me sing "Through the Fire" with him. We have been friends ever since.
HOMECOMING:
What was it like being in the "Love is Stronger" video?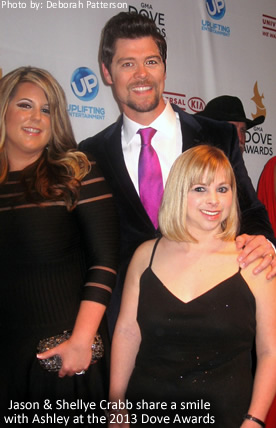 ASHLEY:
It was a dream come true for me — it changed my life! It gave me the chance to show people who view the video how loving and accepting Down Syndrome children are. It also showed that people with special needs can do anything they put their minds to doing. All we need is to be given a chance to try. I also realized that I love to act.
I also love our country and our military, and it was an honor to work with Jack Morgan, a real-life veteran and hero. I want everyone to realize that people with special needs can be informed voters and support our country. I have been on a quest to say the pledge in all 50 states and am currently up to 23. I believe this video proves that "Love is Stronger" and supports my motto, "Don't let anyone tell you what you can't do; show them what you
can
do!" Did I mention I now love to act?
HOMECOMING: Is there anything else exciting coming up for you that you would like to tell us?
ASHLEY:
My foundation, the Ashley DeRamus Foundation, keeps me busy every month with speaking engagements, Buddy Walks, charity events and personal appearances. We just took a gospel music cruise with the Hoppers, the Whisnants, Ivan Parker, Jeff & Sheri Easter, Michael English, the Talleys, Tribute Quartet, and Karen Peck & New River. I got to sing on stage with most of the performers. What a thrill!!
In January 2014, I will be bringing 100 people with special needs to the Crabb Family Reunion concert in Birmingham, Alabama. We will attend the concert and have a meet & greet time with the Crabb Family. I am very excited to introduce everyone to the Crabbs. (
Read more about this special event and a special offer from Ashley here!)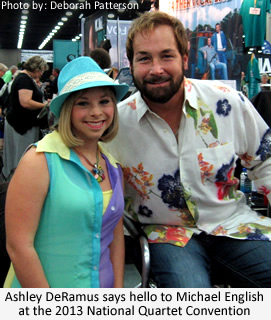 In February I will be speaking in Houston, Texas, at the You/Trisomy 21 Conference. I will also be attending the Winter Gospel Music Convention in Bradenton, Florida. In March, I will be speaking at Auburn University at the Alabama Transition Conference. On March 21, I will be attending World Down Syndrome Day at the United Nations in New York City.
I stay pretty busy but love every minute of it! Meeting people and spreading the message of hope to those with Down Syndrome is what drives me every day.
HOMECOMING: You have done many things that inspire others; who or what is an inspiration to you?
ASHLEY:
2013 has been a big year for me and my foundation. I was named one of the six most inspirational entrepreneurs in the world with special needs by Disney's
Babble.com
. This was a huge honor for me. I want to live up to this honor and be an inspiration to others with special needs to live out their dreams.
The biggest inspiration in my life is the babies at the Bell Center for Early Intervention in Birmingham, Ala., where I work. They are adorable and such a blessing to me. I raise money for scholarships to the Bell Center through donations to my foundation. I like to encourage the parents to keep working with their babies and give them a chance. I want the parents to teach their babies to try new things in life and not let anyone put limits on them. That's what my Mom did for me!