HOMECOMING: Tell us about your latest book, A Walk One Winter Night.
AL ANDREWS:
A few years ago, a singer friend asked me to write a story to introduce a new song he'd written for an upcoming Christmas concert. After I said yes, I stressed out, realizing I'd agreed to 1) write a story in 10 days and 2) read it in front of a huge crowd of 1500 people.
To calm myself down, I took a walk. I walked past a nativity scene in a neighbor's yard and paused to look at it. Looking at the characters, I realized something. They were all perfect and pristine, and seemed distant and untouchable to me. I couldn't relate to them at all, as
my
life was messy.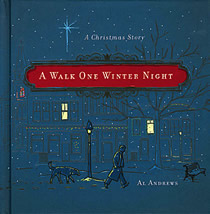 When I got home from my walk, I sat down at my computer and wrote a story about a stressed-out guy who took a walk one night and came across a nativity scene.
I won't give the story away, but what happens changes him forever.
HOMECOMING: Tell us about three books you love.
AL ANDREWS:
1)
Jayber Crow
by Wendell Berry. It's a wonderfully rich and deeply engaging novel by my favorite storyteller.
2)
Love Does
by Bob Goff. A whimsical and challenging book on what it means to "do" the Gospel rather than just talk about it.
3)
Owl Moon
by Jane Yolen. Probably one of the most poetic and beautifully illustrated children's books I've read.
HOMECOMING: What ignites your passion to live out Christ's commission to "love our neighbor as ourselves," and how do you respond?
AL ANDREWS:
I'm the director of a nonprofit called Porter's Call, a ministry of counsel, support and encouragement to recording artists. We believe that artists need a place to be off stage, to be someone other than a celebrity, and to deal with the issues they face. At Porter's Call, we provide that safe place, at no charge. We're blessed to be able to say that since our beginning, over 1000 different artists from every genre have come through our doors. Our website is
porterscall.com
.
I also have a side project called "Improbable Philanthropy." Having written a children's book,
The Boy, the Kite, and the Wind
, my goal is to sell as many as I can and give 100 percent of the net profits to charities. (It can be purchased on Amazon.) Visit
itsalandrews.com
for more information.