Tell us about your most recent book, The Noticer Returns.
It had been five years since I'd seen Jones, the old man who changed my life so long ago. As the story unfolds, Jones once again changes lives with his unique gift of "noticing the little things that make a big difference." Along the way, families are reunited, financial opportunities are created and the citizens of Fairhope, Ala., are left with powerfully simple solutions to everyday problems we all face.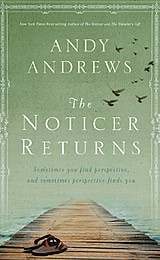 Jones delivers perspective about the importance of manners, reveals purpose in the life of an Alzheimer's patient and calms the fears of a husband about death and what comes after, as the man experiences an excruciating loss. Once again, the old man — Jones — reaches into our heads with curious advice like, "You can't always believe everything you think" and before long, we realize that the reason for
The Noticer Returns
is to lead us to answers for which people have been searching for centuries.
Tell us about three books that you love.
I love
Team of Rivals
by Doris Kearns Godwin, the awesome true story of how Abraham Lincoln forged an alliance with his enemies and moved our nation ahead.
20,000 Days and Counting
by Robert D. Smith is one of the most important books I've ever read … so much so that I asked to write a foreword for it. The book takes about 90 minutes to read and after doing so, your life will never be the same. My final choice would be
The Eagle Has Landed
by Jack Higgins. It's simply one of the best stories ever told and delivered by a master storyteller.
Your faith has been a journey. What have you discovered on this road that makes you wiser?
I have learned that it is OK to be different. In fact, if we are to become what God intended, compared to today's worldview, "different" is necessary. It is curious to me that everybody wants to make a difference … but nobody wants to be different. The truth is that one doesn't work without the other!