Anne Graham Lotz talked with Homecoming Magazine about her most recent book, Wounded By God's People.
Tell us about your most recent book, Wounded By God's People.
Almost everyone I know has been wounded to one degree or another. It doesn't matter if a person is young or old, rich or poor, intelligent or ignorant, healthy or infirm, educated or illiterate. We've all experienced wounds. While some are superficial and others are destructively deep, all wounds hurt. If left to their natural course, they can fester into deep bitterness, resentment and anger that infect other seemingly unrelated aspects of our lives. Maybe that's one reason the Bible has so much to say about wounds. And the wounded. And the wounders. Throughout Scripture, we feel the pain, we hear the cries, we see the revenge. Often we observe the wounded becoming wounders with the cycle being repeated from person to person, and generation to generation. But throughout the gripping narratives, God's love is contrasted with the pain — like sunlight emerging in silver streaks from behind a blackened cloud ... because God's love not only comforts and redeems, it heals.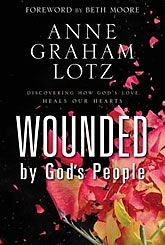 So… If you are among those who have been so deeply hurt that you have confused God's imperfect people with God and perhaps have even run away from Him as a result,
…If you are one who is guilty of wounding and offending others in God's name, only to find yourself wounded as a result, robbed of your own peace and joy,
…If you are caught up in a generational cycle of pain that has convinced you there is no way out…
Whatever your hurts may be, my new book is for you. My prayer is that it will raise you up out of the pit into a fresh encounter with God; lead you to reclaim the joy and peace of God's presence; remove the sting and searing pain as God's blessings begin to flow and enlarge your vision of God's purpose for your life that is greater than you thought.
Tell us about three books that you love.
The Bible. The Bible. The Bible.
Three books that have ministered to me personally in the past year:
The Red Sea Rules
by Robert Morgan;
Loyalty
by Bob Sorge;
The Forgotten Blessing
by Aaron Fruh.
As we celebrate "the women we come from," tell us about a woman who helped shape, change and inspire you to be the person you are today.
Women in Scripture, such as Hagar, have been mentors to me and helped shape my character and faith. But a more contemporary woman, outside of my own family, would be Miss A. Wetherell Johnson, founder of Bible Study Fellowship. Miss Johnson taught me how to dissect the Scripture so that I could discover the hidden treasure in its depths. Her love for Jesus was passionate, emotional and backed by total commitment. She was very gifted at imparting not just head knowledge of Scripture, but the application of Scripture that results in a life of obedience and greater fruitfulness.