Homecoming Magazine talks with author Becca Stevens.
HOMECOMING: Tell us about your upcoming book, Letters From The Farm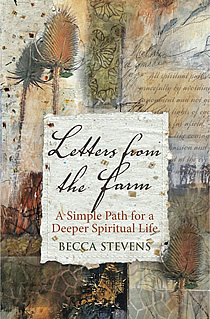 BECCA STEVENS:
In
Letters from the Farm
I'm writing to friends who desire a simpler and deeper path. They are letters in which I am sharing things I have learned from mentors, 20 years of justice work, and trying to glimpse at the voice of my interior life. It's the closest I have come in my writing to talk about how to avoid the disillusionment and distraction of ego on the spiritual path. Although I wrote it with pastors, priests and seminarians in mind, I think it will appeal to anyone who wants to follow the road signs of courage, humility and compassion on their journey.
HOMECOMING: Tell us about three books you love.
BECCA STEVENS:
I loved Dorothy Day's selected writings about 30 years ago. It influenced how I understood the intersection of justice and charity. Her story is graceful and told with great humility. I recently reread
The Old Man and the Sea
by Hemingway while I was in the Florida Keys. I loved it because the story carries you far away and allows you to reflect without force. I also have loved the book
A Wrinkle in Time
by Madeleine L'Engle. It was my favorite children's book because it was about courage and faith in the midst of pretty dire circumstances.
HOMECOMING: Now that you look back over your life, what did you hang on to too long that you wish you had let go, and what did you let go of that you wish you'd held on to?
BECCA STEVENS:
In my life, reflection has not been about regret, it's been about gratitude. I could have hung onto things longer than I did. I could have lost things much quicker than I did. I'm so grateful for all the things I was able to forgive and let go of. I'm so grateful to all the people who forgave me for things I let go of too soon. Looking in the rear-view mirror and seeing gratitude offers us a clearer vision for what lies ahead.