Cara C. Putman
graduated high school at 16, college at 20, and completed her law degree at 27. An award-winning author of 17 books with more on the way, she is active in women's ministry, practices law and is a second-generation homeschooling mom. She lives with her husband and four children in Indiana.
HOMECOMING: Tell us about your most recent book, Shadowed by Grace.
CARA:
Shadowed by Grace
grew out of my love for WWII and the story of an elite group of Monuments Men as they worked their way up the boot of Italy. But more than that, it's the story of a woman on a search for her earthly father. In the process she might just reconnect with her heavenly Father and find love — all in the midst of WWII, saving priceless art and experiencing Italy.
HOMECOMING: Tell us about three books you love.
CARA:
This is always a challenging question because I read A LOT. Recently I've been reading
The Butterfly and the Violin
, a beautiful debut novel from Kristy Cambron set in contemporary time and WWII with an art tie. It releases this summer and is very well done. I am in the middle of
All In
by Mark Batterson. His books always challenge me to dream bigger and serve God with all that I am. Only one more? Hmmm. Another novel I just finished and thoroughly enjoyed was Susan Meissner's
The Girl in the Glass
. It is another contemporary/historical blend that made me want to weep when it ended because it was over. I also wanted to book the next flight to Florence to experience that beautiful city for myself! It didn't hurt that I was starting to write
Shadowed by Grace
as I read her story.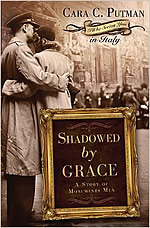 HOMECOMING: Is there someone you know and love who has served or is currently serving? Tell us about this hero in your midst.
CARA:
My father was a Huey pilot in Vietnam and again in Desert Storm. I was only 16 when his National Guard unit was called to active duty in 1990. My father loved serving his country as a pilot and instilled in each of us kids a deep love for our country. It also made me so aware of the impact of those tours on the families left behind. My mom is as much a hero because she kept everything going while he was gone. One reason many of my novels are set during WWII is to honor those who served then and help make us aware of the sacrifices asked of our military.

You can connect with Cara online at:
Facebook: facebook.com/caraputman
Twitter: twitter.com/cara_putman
Pinterest: pinterest.com/caraputman
Goodreads: goodreads.com/CaraPutman