Homecoming talks with author, Debbie Macomber...
HOMECOMING: Tell us about your latest book, Last One Home.
DEBBIE MACOMBER :
My latest book is about a woman named Kathy who made a mistake when she was 18 years old. She got pregnant and ran away with a boy to get married because her parents didn't want her to marry him. It was a disaster from beginning to end, but she's finally making her way home — and she has a daughter. The title is significant because it's about her making a home for her daughter as she is also building a home working with Habitat for Humanity. So it's a book about connection, as she is reconnecting with her family. It's a book about forgiveness — forgiveness of others and forgiveness of herself. And it's about the home that we build that's more than just the structure.
HOMECOMING: Tell us about three books that you love.
DEBBIE :
Three years ago I read a book by William Kent Krueger called
Ordinary Grace
, and I so loved this book that I've probably bought 10 copies of it and given it to friends and family. It's just a beautiful coming-of-age story. The second book is called
Wonder
, by R.J. Palacio, and it's about a young boy — actually I read it for my grandkids — they had mentioned it and I thought
well, I'm going to read this book!
My grandson has read it 100 times — he loves it that much. It's about a boy who is badly deformed at birth — he has no ears and his eyes are where his cheekbone is. It begins as he's going to school, a public school for the first time—in fifth grade. It's being made into a movie — it's just such a beautiful book. The last one is something I just finished reading called
The Boys in the Boat
by Daniel James Brown. It's about the 1936 Olympic rowing team from Washington State—where I'm from!—so that's what enticed me to read it. It is really one of the most beautifully written books I've read in a very long time. This man, Daniel James Brown, is a master with word pictures. It's been on the bestseller lists for more than a year and it just keeps gaining, because once you've read it you're so overwhelmed that you just want to tell people about it.
HOMECOMING: What do you know now that you wish you knew then? What would you want to tell your 21-year-old self?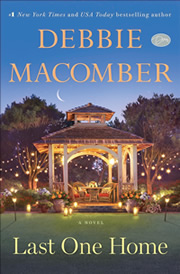 DEBBIE:
What I know now that I wish I knew then is I wish I had gotten up earlier in the morning! I don't say that lightly. I have found now that if I take an hour to myself in the morning and set my day — write in my journal, read my Bible, just do things that get my day in order — that if I could do that before the kids got up and I needed to get my husband to work, I would have a much better day.
And what would I tell my 21-year-old self ? "Don't be afraid to go after your dreams." I'm dyslexic and I didn't learn to read until I was 10 years old. And I always dreamed of being an author, but I kept telling myself,
you can't spell, you didn't get good grades in English, you don't have it! You're never going to be able to do that.
I had a whole list of reasons and justifications for why I couldn't be an author, why I could never write a book. And then there was a death in our family, a cousin who I had grown up with and was very close to and only a couple of months apart in age. He died of leukemia. And it was as if God was saying to me, you cannot put off your dreams. So that's how I became a writer.