Homecoming Magazine
talks with author John Eldredge.
HOMECOMING: Tell us about your upcoming book, Moving Mountains.
JOHN ELDREDGE:
I am very, very excited about this book and its power to change people's lives. Prayer is the greatest secret weapon God has given His people. But the problem is, most of us have a pretty mixed story when it comes to prayer. Sometimes it seems like prayer works, but a lot of times it doesn't. I've spent a lot of years learning to pray; it is the most important part of my life. This book is a very practical "tutorial" on how prayer works, and how to develop a more effective prayer life.
HOMECOMING: Tell us about three books you love.
ELDREDGE:
Only three? I love George MacDonald's book,
Unspoken Sermons
. MacDonald was a 19th century pastor, writer and poet. C.S. Lewis called him his spiritual mentor, and he said of MacDonald, "I have never written a book in which I did not quote from him." The same holds true for me. I read from
Unspoken Sermons
every year. I also love Tolkien's
The Lord of the Rings
. Our age has gone very cynical about the heroic — we doubt that heroic deeds are even possible anymore. Tolkien instills in us the sense of living in a "larger story" (as Christians do) and inspires great deeds. A.W. Tozer is another one of my favorite authors. The man knew God — deeply. I love his book
The Pursuit of God
.
HOMECOMING: Do you recall a time when your spirit was depleted? What gave you new life — a "reboot," so to speak? And more generally, what is your go-to way to refresh your body, mind and spirit on a regular basis?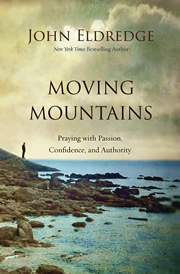 ELDREDGE:
Last summer I was very, very spent from years of intense ministry. Frankly, I was burnt toast. I took some time away to "restore my soul." One of the most effective things Jesus had me do was to "do nothing" three times a day. (It was Dallas Willard who said, "The soul needs an opportunity to do nothing.")
I don't mean prayer, or scripture meditation. I mean simply stillness. Being still restores the soul. Practicing stillness even for five minutes a day will refresh you in ways you didn't believe were possible.
In addition to stillness, I use a few other means of "restoration," such as worship. After my morning prayers, I will crank up worship in our house. It changes the mood; it changes your perspective on the day. Really, I'm also a huge believer in getting outside. When David said in Psalm 23 that God restored his soul, he specifically named meadows and streams, meaning nature. God restores us through the natural world. So I will take walk outside when I need refreshment, at least every other day.