Homecoming Magazine talks with author Lee Strobel.
HOMECOMING: Tell us about your latest book, The Case For Grace
LEE STROBEL:
The Case for Grace
explores how God revolutionizes the lives of people through redemption and transformation. It's a very personal book that tells the story of my journey from atheism to Christianity, including details I've never shared before. Then it explores different facets of God's grace through a series of amazing stories about an orphan, a disgraced pastor, a homeless man, a mass murderer, a prodigal, a drug addict and a professor. Each story illuminates a different aspect of the wonder and glory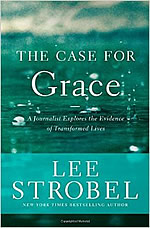 of grace. My hope is that the book will encourage Christians and also become a resource that they can give away to their spiritually curious friends. I'm especially excited that we're also offering editions for children and for students, to help young people celebrate the beauty of grace.
Grace is unique to Christianity. Other world religions put adherents on a treadmill to try to earn their way to salvation, but forgiveness and eternal life are a pure gift in Christianity, thanks to the atoning work of Jesus on the cross. I want readers to take in a deep breath of hope and joy as they read the book, celebrating the fact that God is still in the people-changing business.
HOMECOMING: Tell us about three books you love.
LEE STROBEL:
Just three? That's hard for an author! But I especially love the new book
Beloved Dust
, written by my son, Dr. Kyle Strobel, and his friend, Jamin Goggin. They write eloquently and practically about how we can strengthen our relationship with Jesus. Then there's
That's Where God Is
, a children's book written by my daughter, Alison Morrow, and her husband, Dan. It's a story we can read to our children or grandchildren about how we can see the evidence of God all through our lives. The grandfather character is based on me — even though he's bald in the drawings! Finally, I love the classic C.S. Lewis book
Mere Christianity
, for its profound yet straightforward discussion about faith.
HOMECOMING: How do you turn your heart God-ward, and how does that worship change you?
LEE STROBEL:
I find I'm drawn closer and closer to God as I feed both my mind and my heart. For example, my study of the cosmos — especially the origin of the universe and the way it's incredibly fine-tuned for life — leaves me awestruck and makes Psalm 102:25 spring alive: "In the beginning, you laid the foundations of the earth and the heavens are the work of your hands." My study of Christian apologetics, or evidence for the truth of Christianity, enriches my worship time after time.
And my heart toward God is expanded as I spend time with my four grandchildren and help them understand, in the simplest terms, how Jesus loves them. Their innocent enthusiasm for God warms me by reminding me that the Kingdom belongs to such as these. Relating to these precious children helps prevent me from becoming too intellectual in my faith by making me focus on the basics—love, grace, hope, joy and so forth — and that makes my personal worship of God more heartfelt. My hope is that I will continue to grow in knowledge, and never stop growing in love.