Homecoming Magazine talks with author Liz Curtis Higgs.
HOMECOMING: Tell us about your upcoming book, It's Good to Be Queen
LIZ CURTIS HIGGS:
The queen of Sheba claims less than a dozen verses in 1 Kings 10, but what a story, brimming with surprises. She's not at all what Hollywood has shown us — a sultry vamp, batting her eyes at King Solomon. Instead, this ancient queen turns out to be a remarkable role model for modern women.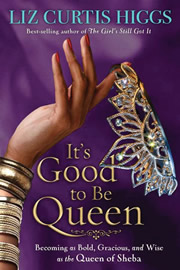 Sheba was bold, journeying for two long months across the Arabian Desert to test the wisdom of Solomon. She was open, pouring out everything that weighed on her heart when she spoke with the king. A seeker of truth, Sheba was also generous, willing to be humbled, and quick to encourage others. I'm telling you, the sister is impressive. And wait until you find out what happened when this pagan queen encountered Solomon's God! Of the 30 women of the Bible I've written about so far — from really bad girls to mostly good ones — the powerful, wealthy and courageous queen of Sheba wins the prize for the most fascinating of them all.
HOMECOMING: Tell us about three books you love.
LIZ CURTIS HIGGS:
I first read
A Wrinkle in Time
by Madeleine L'Engle the year it was published, 1963, and many times since. She had me from the opening line — "It was a dark and stormy night" — and swept me into Meg's story in mere paragraphs.
Mere Christianity
by C.S. Lewis is a favorite of many believers, and no wonder. Page by page, Lewis strips us of our pride and points us to the One who is over all and through all and in all.
Redeeming Love
by novelist Francine Rivers is a modern classic, a retelling of the story of Gomer from the book of Hosea, set in nineteenth-century California. A million readers have found hope and redemption in this moving story, and I'm one of them.
HOMECOMING: Many great songs are also prayers. Is there a song that you find yourself "praying" over and over in your life?
LIZ CURTIS HIGGS:
On the many days when I need to be still before the Lord, I'll sing "When I Survey the Wondrous Cross." The depth of emotion in Isaac Watts' writing puts me in a prayerful place, as I'm reminded of the Lord's great sacrifice and my unending gratitude.