Tell us about your most recent book.
Tell us about your most recent book.
You'll Get Through This: Hope and Help for Your Turbulent Times
is written for people who are passing through a difficult time. It is centered around the story of Joseph. We remember his tale well. He begins in a pit, lands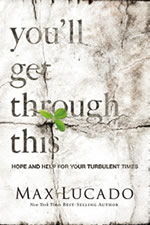 in a prison, but ends up in a palace. And at the end of the story we see that God redeemed the story of Joseph and intended good in spite of what man did. He has a track record of redeeming the broken, of making good from those who intended evil.
I'll be sharing this message at churches and several Women of Faith conferences across the United States this fall.
Books you love...
The Singer
by Calvin Miller.
Killing Giants, Pulling Thorns
by Charles Swindoll is a coffee table book that someone gave to me my first week in ministry. And I thought "A pastor could write like that?!?" Chuck was so honest and creative. In
Peculiar Treasures
, author Frederick Buechner profiles the Bible's most holy and profane people — and one whale. He brings moments from scripture to life in a way that makes readers realize that many of these legendary figures are not who we thought they were. But they are — in their human dreams, ambitions, and imperfections — very much like us.
What is your best advice for how to face and embrace loss?
I think Genesis 50:20 is undoubtedly a place to turn. In their most desperate time of need Joseph's brothers approached him for help. He could have refused to help those same ones who had thrown him into a pit 20 years before. Instead he says, "As for you, you meant evil against me, but God meant it for good." The word "meant" in Hebrew means "weave." So Joseph was saying, "You wove evil against me but God is re-weaving it for His good." Whatever evil you are facing — divorce, job dismissal, or something else — God, as he showed through the story of Joseph, will use it and re-weave it for good.