Homecoming Magazine
talks with author, Rob Bell, to find out more about his latest book,
How To Be HERE
, and more...
Tell us about your latest book, How to Be Here.
I hit my head water-skiing in the summer of 2000 and got a concussion, which meant that I needed to be given a tour of my own life. I asked my wife how we met and she showed me around our house and I was introduced to our kids. It was stunning— I saw my life from outside my life and I was so overwhelmed with gratitude that the experience stayed with me. The concussion symptoms wore off after a week, but it left me wanting to live like that all the time—but without the hitting the head part! Ha ha. So, this book is me telling what I've learned over the past 15 years about how to live in the present moment with joy and gratitude.
Who are three of your favorite authors?
I love Christopher Moore (his book Lamb:
The Gospel According to Biff
is incredible) and Dave Eggers (Who names their first book
A Heartbreaking Work of Staggering Genius
?), and I think Ann Patchett is a wizard with stories and words.
What books are currently on your reading pile?
I just finished
I'm Dying Up Here
, which is about stand-up comedy in West Hollywood in the '70s — that's where I live. I'm reading this massive tome
SPQR
about the Roman Empire, and I just finished Shantaram about that fella who escaped from prison in Australia and made his way to the slums of India. And I just read Kim Gordon's memoir,
Girl in a Band
.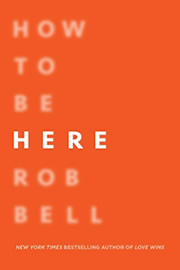 What book do you think everyone should read?
The Divine Conspiracy
by Dallas Willard, particularly chapter three on the God-bathed world. So insanely good, that one.
What in your life has taught you to notice TODAY, to live in the moment, and to give yourself for things that last forever?
My kids. They are so fascinating and funny and mysterious and clever. They're like a constant reminder that nothing is more interesting than this moment that we're in right now ... which, right now, means finishing this interview and making dinner and watching sports and going swimming and walking the dog and listening to music and laughing. Lots and lots of laughing….