Tell us about your most recent book, The Storm Inside.
We all face storms in life. Every woman I know is somewhere on the continuum between everyday chaos and crisis. It can be as simple and frustrating as trying to find your car keys to receiving a devastating diagnosis from the doctor. We are either sensing a storm approaching, we're in the middle of a storm or we find ourselves in the aftermath. But storms are not necessarily the bad news. Storms show us what we really believe. It's my prayer through this book, Bible study and DVD curriculum to share with my sisters in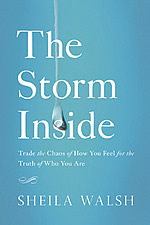 Christ how to trade the chaos of what we feel for the truth of who we are.
Tell us about three books that you love.
I grew up loving books. As a child my favorite book was
The Fairy Tales of Hans Christian Anderson
. In my 20s, my favorite book was
Hinds Feet on High Places
by Hannah Hurnard. Now, one of my favorite books is
Telling the Truth: The Gospel as Comedy, Tragedy and Fairy Tale
by Frederick Buechner. We find the mercy and grace of God in all of life — the parts that appear to be working and those that seem irrevocably broken. The truth is that life is at times unbearably difficult but that God is always outrageously good.
Other than family, who has been an unsung hero in your life?
Ruth Bell Graham left an indelible print of grace on my soul. She was known to all who loved her as kind and brilliant and very funny, yet she was the kind of woman who chose to remain in the background most of the time. I met her during the first crusade that I sang at in Wembley Stadium, London, England. After I spent a month in a psychiatric hospital diagnosed with clinical depression, Ruth was one of the first to reach out in love. To me she was a safe harbor. I stayed with her in their lovely home in Montreat, N.C., for a few days when Dr. Graham was out of town. We sat by the fi re and read to each other, talking long into the night. I will never forget the wisdom and strength she poured into my thirsty, broken soul. She will always be a hero to me.
Watch the trailer for
The Storm Inside Small Group Bible Study
by Sheila Walsh...