Like everyone, the Homecoming Friends strive to live balanced lives. But when your life includes being on the road a good portion of the year, that struggle can be even more difficult. Here are some of the ways these artists have managed to keep centered and growing…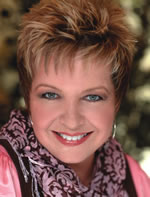 Sheri Easter
Eight years ago, my sweet mama was diagnosed with Parkinson's disease plus Lewy Body dementia. The disease is degenerative. Her health has continued to decline to the point where we have to do everything for her. It's heartbreaking. I spent a lot of time in prayer for help in the home, because I questioned how I was supposed to be a good daughter and continue to be everything else God had called me to be. As an artist, my travels keep me on the road 100,000 miles each year and if anyone understands this sacrifice, it is my mama, who spent 58 years traveling and singing gospel music. Three years later, I gave birth to my baby girl, Maura. I was 42 and she was a wonderful "surprise." I gasped when I found out, but trusted that God was still at work. Then, two years after her birth, I was diagnosed with breast cancer. That's when I started to feel the pressure of "too much on my plate." I was a part-time caregiver to my mama, a mama to my baby girl and on top of that, I began the fight of my life with breast cancer. I can't tell you how many times I quoted the saying to myself, "God will never put on me more than I can handle." I jokingly affirmed that He trusted me way too much. I resolved to do my very best with everything life had handed me. I took good care of myself, eating right, exercising and resting when I needed. I scheduled Mama's bedtime for 8:30 each night when we are at home, and we hired help for the rest of the time. I made certain that Maura was a priority and then, when she reached pre-school age, I enrolled her three days each week, so that I could have an office day, appointments day and laundry day. I believe the key to balance is first, a really good schedule, one that is realistic and operates smoothly. Second, when the schedule is altered, a flexible spirit is necessary, along with trustworthy friends who can help you bear the burden. Third, bathe your life in prayer and pay close attention to your priorities; they can quickly get out of order. Whenever I'm feeling like I'm losing my balance, I get a big hug from someone I love or take a walk outdoors to simply breathe and clear my head—and a bubble bath never hurts!
As an artist who truly cares about the people who care about her music, I've always struggled with how much of my private life should be available for public viewing. By nature, I'm an open book. As a child, I grew up balancing public and private life because of my mama's singing career, so although it's nothing new to me, it still requires constant decision making on my part. A few years ago, as difficult as it was, I began to say "no." I said no to certain business opportunities so that my children could continue to attend public school. We have a wonderful school system, the one from which I graduated in 1981, and I wanted my children to have that experience. We made the decision to only work weekends. It was hard and it meant that fewer dates were available, but God always provided. When each of my three children were born, their faces were immediately shared with our audience, and when I battled breast cancer in 2008, I blogged about the entire experience because I felt the fans had invested so much in my life that I wanted them to know about my journey. The beautiful thing about sharing with the public is the love and prayers they often send—like having a really big extended family to help you through your struggles. On the other hand, I'm a person who values privacy and puts her family first in everything. I'm really big on traditions and I go the extra mile to have our sacred family moments. I never hesitate to make tough choices when it comes to family. We're blessed that the majority of folks we sing to respect our privacy and protect it. They seem to understand the need to say "no" to the things that rob you of what is truly important.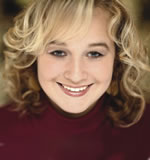 Morgan Easter
It's definitely hard juggling public school and traveling. We have an agreement with the school that if I keep my grades up I can miss as much as I need. It's definitely hard. Not only with keeping up with my work, but also not being able to participate in "normal" high-school things. Every time I'm home, I try to go to a football game, baseball game or a tennis game. I also participate in our Girls' Trio, and we actually just won Region and we're about to go to State! It's fun getting to do the teen thing and the work thing. It is definitely hard, but it is totally worth the effort!
I'm in the public eye, but I try to keep things like my Facebook pretty personal. It's hard because I don't want to ever hurt anyone's feelings, but a normal teenager would be told not to accept requests from people you don't know personally for safety reasons. It's a juggling act sometimes. My mama always taught me that you only have one reputation, and I'm trying my best to protect mine. I'm actually known as "the good girl" at school, and I thank the Lord for that nickname everyday. Yeah, it's hard having to watch everything you do, but I wouldn't trade it for the world because it's helping me be a better person.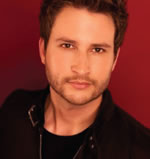 Jeff Hawes
Well, since I joined Karen Peck and New River, my life has certainly changed. I went from teaching William Shakespeare in my English classes to singing on stage with William Gaither! You can imagine that my daily routine has been somewhat altered.
In the little town of Flat Rock, Ala., everybody knows everyone's business, and when I joined the one and only Karen Peck and New River, rumors went flying. Thanks to social media networks like Facebook, I was able to set the story straight and gather in many supporters and prayer warriors. At times, I do feel like Hannah Montana. On the weekends I travel by tour bus, sing all across the nation, wear crazy stage clothes, sign autographs and make pictures with fans. During the week, I travel in my Honda Accord, sing in the shower, wear a t-shirt, jeans and a cap and work in the yard. Wow!
Everyone in my hometown is so supportive and encouraging, and they help keep me grounded and level-headed. I always give an update of what's happening in my life when I attend my home church; they have to be "in the know," as they call it. Just the other day, I was eating at the only restaurant we have in town, Backwoods BBQ, and several people came over to encourage me and give me a hug. What a difference a hug makes! To some people, it might seem crazy or irritating, but to me, I'm honored that they are willing to come over and see about me. To me, it's like I'm living all of their dreams, and that is a huge joy.
When I am home, I enjoy eating my mom's cooking, working in the yard, attending church, and just hanging out with my friends. Speaking of friends, I went from having about 300 Facebook friends to now having over 3,000. I find it shocking that they want to consider me a friend. I am nothing special, I just sing for Someone who is!
When I'm on the bus, it is just like an extension of my family at home. Karen, Susan, Rickey and the whole gang have become my closest friends. I share pretty much everything with them, and at times— such as the death of my grandmother— they are right there for me, praying me through the storm. I guess you could say that Jesus is the key ingredient to juggling career, family, faith and friendships.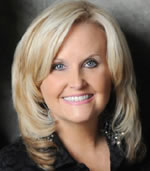 Karen Peck
It is easier to balance everything when our schedule is consistent. However, when we get busier than usual, life gets very hectic and out of balance. Balancing my sleeping patterns has definitely been an issue. After long trips, mail piles up, office work stacks up, housework and laundry gets completely out of hand. When these things start overwhelming me, I have a backup plan. I start delegating gifted, organized people to help me get back on track! With that said, my greatest challenge of balancing my home life and road life would be homeschooling. I started homeschooling my son Matthew when he was in the second grade. Even though we were using a DVD program, I found myself extremely stressed in motivating him to do his work. A couple of years later, I began homeschooling my daughter Kari as well. When we were home, it was much easier. However, when we were on the bus, many times it was a circus! There were so many distractions on the bus. I prayed constantly for God to give me the strength and courage to motivate my children to learn. It was tough, on the bus, for me to go to bed late and get up early the next morning to do school, but I had to do it for my kids. Now a few years later, they are older and know what they have to do. Matthew is a senior and Kari is in the eighth grade. They set their alarms, get up and get it done! It is still easier for them to do their work at home, since they have their own rooms and fewer distractions, but we are balancing homeschooling much better now...so far. Thank the good Lord.
Even though I love my job and I love being around people, sometimes my public life overshadows my private life. Having the office in my house makes it difficult to balance my private life. Over the years, I've realized that I can't answer every phone call and every email immediately. My family is more important to me than anything. I am very blessed to have a wonderful husband and two wonderful children who keep me grounded. Because they travel with me, they understand (most of the time) that sometimes it is diffi cult to separate the two. Those are the times when we just need to get away from it all. We love spending quality time together, but we also love our own individual private times of doing what we each want to do. Sometimes it is nice doing absolutely nothing! I thoroughly enjoy my privacy. I hope that I am always the same anywhere I go. I'm comfortable and secure with my relationship with Christ. I know that I'm not perfect and I make mistakes, but I love the Lord and I hope it shows through how I live my life. Sometimes I find myself shying away from talking too much about my faith to nonbelievers. However, I try to pray and watch for golden opportunities to slide in a word or two about the Lord. I've realized through the years that I can't make my nonbeliever friends turn to Christ, but I can be consistent with my life to the point that hopefully they will want to turn to Him. I try not to be judgmental but be the example that God wants me to be. They've always respected me, my music and my faith in the Lord.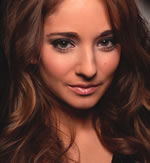 Lori Apple
We women have a tendency to take on all with a smile while on the inside, we desperately want to rest. Finding balance in my life hasn't always been easy. But learning how to prioritize and knowing when to say "no" has brought equilibrium to my world. I had a professor tell me there is no such thing as multitasking. When you are performing multiple tasks at once, you are not giving one hundred percent of yourself to each specific task. You are simply giving a percentage of yourself to each. Yes, you can walk and chew gum at the same time. However, if you are listening to a story while texting on your phone, and running over your to-do list in your head, you are not giving your full attention to each task. You are not completely present. That is why, during my graduate studies I chose to spend more time at my university than on a tour bus. I couldn't fully immerse myself in the process while wondering where I had to be the next night.
Achieving balance with my professional and personal life is all about consciously spending time with God, people and on things that enrich who I am. It's easy to get burned out on the monotony of life. But when I chose to put God first, family and friends second and career third, balance somehow found its way into my life.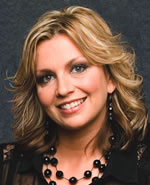 Sonya Isaacs Yeary
I've heard it said that if you choose to have a public career, you lose your rights to a private life. I don't know of anyone whose calling takes them into the public eye who necessarily agrees with that statement! It's funny, because I guess a lot of people feel they need to give you an opinion on everything you do. For example, I've tried different hairstyles, as most women do, and I find it humorous that some people feel it's their obligation to tell you that they don't like it, or it looked better blonde, or say, "Why'd you cut your pretty long hair off?" Sometimes they even get personal about your weight, or your love life, or whatever someone put on the Internet last week. One of the hardest things to learn is that usually, when someone makes a personal comment to you, it's because they care about you—and every little detail of your life. When you see it that way, you can let your guard down and laugh at those uncomfortable moments.
I do agree that when God calls us to a place of public service, we have to be very careful about the example we set for others. We may not always realize how closely someone is watching our lives, and although we are all human, we want to be as Christ-like as we can, one hundred percent of the time, whether in a concert setting, or running through Wal-mart at 11 p.m., to get some coffee creamer.
While it is nearly impossible to detach from your stage life while you're home, I find it so important to have a day of rest every week. Since we sing most Sundays, for me, Monday is often my "take it easy" day, and I enjoy it so much. I write songs midweek for Disney Publishing, and juggling that with weekend traveling, being newlywed, and expecting a baby can be challenging at times! I just try to pay attention to my body. If I feel exhausted, I try to rest. If I feel my spirit is low, I spend more time in prayer and devotions. It is a balancing act every day, but the Lord gives us the strength and help we need to fulfi ll His purpose in us.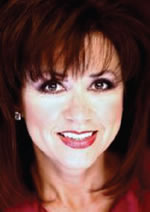 Candy Christmas
Being in full-time ministry can be difficult at times when trying to balance career, ministry responsibilities and family. Yet, I have found that by including my family in many aspects of my ministry, and having them play an active role in the ministry, it has helped draw us closer together. I have also made it a priority that when I go home at the end of the day, I turn off my cell phone so as to not be distracted, and I can focus on my family. On the rare weekends that I am home, all of my kids come stay with me and my husband, Kent. They bring their dogs with them, and we enjoy our time together. (At the end of the summer, I'll be able to include two new grandbabies coming to stay with us, too!) I always cook a big meal, and we spend the weekend eating, laughing and creating wonderful memories!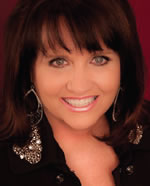 Susan Peck Jackson
How do I manage my road life and my home life? I have a wonderful and understanding family. My husband David and my son Joseph traveled with me for years. They experienced road life themselves. However, when I am gone by myself, they take care of the household chores. They make sure the house is in order when I come home. After being away from the kitchen table for days at time, I enjoy cooking family meals when I am home. We sit around the table and talk about what happened that day. Joseph is involved in sports at his school, so I am right there, supporting him and being a typical mom. I try to focus on my family and spend as much quality time as possible when I am home. God has truly blessed my life with David and Joseph.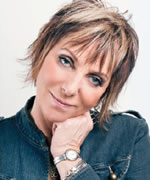 Lily Isaacs
I have been in gospel music ministry for over 30 years. I guess that makes my life pretty much all consumed with what I feel God has called me to do—minister through my music. I not only work on weekends with my family, but I also do all of our office work through the week! Having said that, I guess there is not much personal time. I do try to take a little me time every morning. I love mornings. It's a routine for me to get up, have coffee and sit in my sunroom. I read my Bible, then check my email, then sometimes do nothing but just sit and enjoy the sunshine of a new day. I do feel that it is very important to have a separate home life from work life! I think it's important to have a home church too. We in the ministry are always giving, giving, giving! When I get to attend my home church—Stanfield Church of God—I just sit back and take in all the music and especially the preaching. The folks at my church are very kind and sensitive to our needs during a service. Although our pastor always invites us to sing or share, it's never expected. This gives me a feeling of relaxation and comfort to enjoy someone else. I really need that, just to be ministered to and refuel. I also love to spend time with my grandchildren. When I have the opportunity to be with them, I drop everything I'm doing and just play! No matter if it's watching "iCarly" with the girls or going to a basketball game with the boys, I'm just Meemaw, Ma or Marney (all the "grandma" names they have given me). I consider being a grandmother a priority and savor every minute of it. Life moves so fast. I don't want to miss a thing. We have a new addition coming in July, and I can't wait! I'm excited to have Sonya and Jimmy's baby to help spoil! They might hate me for it, but that's what we grandparents are supposed to do. These two parts of my life keep me focused on the important things in life—my salvation and my family!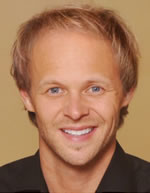 Jason Clark
One of my favorite definitions of the word "balance" is: habit of calm behavior, steadiness of mind and sound judgment.
Ironically, the week I'm writing this has been one of the most unpredictable, hectic, imbalanced weeks I can recall in some time.
My schedule is busy, just like any other person. I have many responsibilities with the Nelons, duties as a dad, roles as a husband and leader of our home. I have commitments to my church and other ministries outside of our own. I try to be a devoted friend. All of that to say this: balancing life is impossible by myself. My only hope, my only steadfastness, is the Lord and His Word. Without that fellowship divine, my life is shallow and shaken at best! I cling to Him, for without Him in me, I fail at everything that is important to Him and me.
As I'm writing this, I am following the wake of the tragic tsunami that has devastated Japan, which puts all of this into perspective. In the midst of the worst times, we can know that world events are not tangled, confused, or perplexing to God. He said, "I am God, and there is none like Me, declaring the end from the beginning" (Is. 46:9-10). He is never caught off guard.
Those unexpected demands upon us are nothing new to Him. God is in all and rules all. God is the dictator of destinies. He inspires the idea and purposes its end. He governs nature and the storms of our everyday life.
We must know that God is the same in the most hectic, imbalanced, frantic, busy season as in the hush of peace and tranquil, still waters.
He holds the waters of the earth in the hollow of His hand. He measures the span of the galaxies with the tips of His fingers. He has calculated the dust of the earth in His measure. This same God cares about you so much that He has numbered the hairs on your head.
He is our balance, He holds the scales of life, so take courage dear friends. He has appointed every appointment, every sorrow; every wave of suffering He's ordained. His time is perfectly in order, no matter how imbalanced and stormy it may seem to us. God's greatest gift to mankind is Christ in us, the hope of glory, and that is my balance.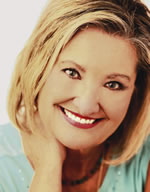 Ann Downing
I'll confess the lines are real blurry on this one for me. I'm not all that good at managing my time in order to keep things in a healthy balance.
One of the ways I deal with life on the road and life at home is that when I'm home, I'm really there. I go to church on Wednesday nights—prayer meeting and Bible study (I'm old-fashioned in that I love this format still) and try to stay in touch with my home area friends who know little about my "other life on the road." In fact, I've had some friends ask me, "Now what is it that you do that makes you need to travel so much?"
But when on the road, especially when speaking, I remember advice from one of my mentors, Florence Littauer. She stressed that from the time the wheels of the plane touch down until they lift off from the runway, you're there for those who invited you.
I hope I do a decent job of this.