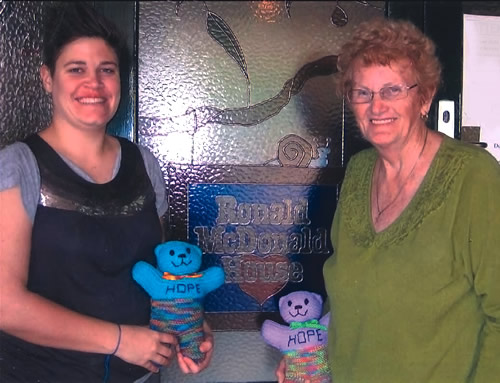 Frances and a friend take their Hope Bears to a Ronald McDonald House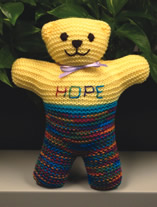 ... and sent one to us at the Homecoming Magazine office!
Australian Gaither fan Frances Robinson survived five heart attacks and a mild stroke at age 48. At 58, her arteries became blocked again, but while she waited weeks to have another test run, the arteries miraculously cleaned themselves. With a new lease on life, Frances founded Hope Bears Charity with a few friends, and she now runs 37 branches in three states of Australia, with around 7,000 volunteers. These volunteers knit cuddly and colorful Hope Bears from a pattern provided by the charity, which are then distributed to cancer patients at oncology centers and Ronald McDonald Houses.
Says Frances, "Our Signature Hope Bear is changing lives and giving hope to these wonderful cancer patients, who sometimes find themselves all alone, either through a death or their partner no longer able to cope." For more information about this inspiring charity, visit hopebearscharity. org.au. Frances has also enjoyed Gaither music for many years and wrote these kind words for Bill and Gloria:
"God has richly spiritually gifted you both, praise the Lord, and you revitalize millions of people around the world, including me, with your spirit-filled music. I find your music very spiritually filling, brightening my day, a Christian tonic to my soul. Every DVD and CD (and I've lots of them) never fail to amaze me with the beautiful voices of the elderly beside the younger ages singing."
— FRANCES ROBINSON
NSW, Australia