After a rocky start to his baseball aspirations and a long break to serve in World War II, Carl Erskine embarked on a storied Major League career. Not only did he dominate the pitcher's mound in the late 1940s and '50s — winning 122 games and helping propel the Brooklyn Dodgers into five World Series — but Erskine also played a pivotal role in a momentous and tumultuous societal shift: the integration of America's pastime led by the courageous, pioneering journey of his friend and teammate, Jackie Robinson. After he retired from baseball at age 32, Erskine, a native of Anderson, Ind., returned to the Hoosier State and focused on being a husband, father, coach, businessman, author and contributor to meaningful community causes. In a recent conversation, friend and fellow Indiana-son Bill Gaither spoke with Erskine about baseball, faith, family — highlighted by a tender love story that spans more than 71 years—the importance of giving back, the life-affirming efforts of the Special Olympics and the poignant parallel between the challenges Jackie Robinson faced and the struggles that one of Erskine's own precious children encountered along life's road.
BILL:
Hello, old friend. It is so good to be with you today. And I want to jump right in and ask about this new book you have called
The Parallel
.
CARL ERSKINE:
McGraw-Hill publishing company called me and said, "We need a book about Jackie Robinson, and we'd like you to write it." I said, "Well, I'm no author." "But we understand you had a special relationship with Jackie, and we'll help you." So I said, "I've got one request. I want to tell a parallel story." I have a son who's handicapped. I watched Jackie for nine seasons break down a lot of social barriers and change people's minds and hearts. But in the beginning, he wasn't accepted. It was a case of, "You don't belong here." But he changed all that.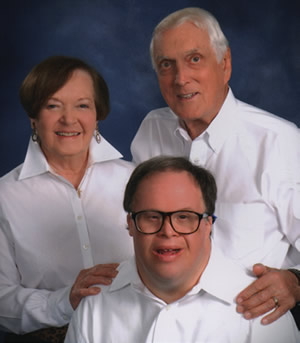 Then, lo and behold, I retired from baseball and went home, and my son Jimmy, my fourth child, was born Mongoloid — that's the medical term they used then — a very harsh term, reflecting how people saw people like that. And society wasn't any more ready for Jimmy than it was Jackie. My son's lived for over 50 years, and I see a very distinct parallel between his story and what Jackie faced.
So it's a leap, just like Jackie. When Jackie was on our team, we played in Atlanta in 1949, and we stayed on Peachtree Street in a big hotel. Jackie stayed in somebody's house — we didn't know where he was, but he couldn't stay with us — he was in a private home somewhere. The Klan picketed us at the hotel — those funny-looking guys out there in their suits and hats, circling around the bus and all that. So we go to the ballpark, and they wouldn't let a black fan buy a ticket. There's a levy behind right field that was filled with black fans to watch that game … they couldn't come in the ballpark.
Let's fast-forward from 1949 to the 2000s … go to Atlanta today — they've got a huge ballpark, Turner Field. When you go into Turner Field, there's a statue of a ball player, and it's a batter, a hitter. His name is Henry Aaron. He was just as black as Jackie, but he broke Babe Ruth's record, and 60-plus years later, he was a hero — he was a hero in Atlanta, the same city that refused a black fan to even buy a ticket. Now, let me tell you, that's a leap. And that's an indication of the impact that this experience with Jackie Robinson had, and how America had character enough to change. You know, I always admire somebody who takes a stand that I don't like, and I think is wrong, and maybe is wrong, but will change. We should admire somebody who has a change of heart and sees the good that they used to think was bad. So I appreciated that. When somebody says to Betty and me — incidentally, Betty — God love my little sweet wife.
BILL:
How many years?
CARL:
Met her when she was 14, in high school. This year, I gave her a valentine and I wrote on it "71 years." It's 71 years that we've been together; we've been married 65, but it was the 71st valentine I gave her. But when Jimmy was born, they wanted to institutionalize him; that was the best advice we got. Don't upset or interfere with your family life. In other words, this little guy doesn't fit; just put him off somewhere, and they'll take care of him. Here I am, a pro athlete. I had three healthy, good-looking kids, all athletic — two boys and a girl. They were on the teams and cheerleading and so forth — and here's Jimmy. Well, I didn't know how to deal with that. But Betty says, "Hey, I carried this little guy nine months. He's going home with us. Don't tell me we're not taking him home."
So I went home that day, and I got Danny, who was 12, Gary was 10 and Suzy was about 3. I sat them down on the davenport and I said, "Kids, you've got a new little brother. Now, he's got some problems. He won't do things as fast. He won't swim like you did, or he probably won't ride his bike as quick. You're going to have to help him." And, you know it turned out, that was the greatest speech I ever made, and my kids were so great with Jimmy. They treated him like a kid brother, tossed him around, took him with them, brought their friends home. And Jimmy — through Betty's courage, strength and being a good mother — we brought him home and kept him like any other youngster. We love Jimmy just like the rest of our kids, and never felt a stigma about being in public with him, talking about him.
BILL:
When did you start with the Special Olympics?
CARL:
Special Olympics came to Indiana in 1970. Betty had actually taken Jimmy to a couple practices, and she said, "Why don't you go get involved in this Special Olympics thing?" So I started going, and when the state meet came in June of 1970, I took Jimmy and four other boys. They were all handicapped in some way — mentally, physically or both. But I took five kids, and they didn't know how to stay between the lines in a race, they'd never heard a gun go off before, it was all brand new. But that was a beginning. Jimmy was age 10, and has competed in every year since; he's now been in 42 meets, I guess.
BILL:
Looks forward to it now, huh?
CARL:
Oh, yes. He became a swimmer, and he bowls, he plays in Special Olympics golf. They're all structured, so they do fit in a competitive level, but there's a huge lesson, Bill — it's biblical. There's a huge lesson in Special Olympics, and here's the way I see it and express it. There are special athletes on the end line and they're ready to run the 50-meter dash. There's a first place, second place, third place, and then on down to fifth or sixth place. Now they all participate in their own style — all kinds of styles. But in the end, the kid who's last is probably two or three minutes behind the field. And here's this kid, struggling down, who's trying to stay between the lines—he finally gets to the end line. That kid gets the biggest applause, and that's backwards — that's backwards! In the real Olympics, the guy who gets the silver medal apologizes, 'cause he didn't win. In Special Olympics, there's a recognition of getting the most out of what you've been given! And I think that's a great lesson of Special Olympics. It focuses on people where they are.
BILL:
Carl, you and I have talked many times about athletics and sports at its best is just a wonderful, inspiring, motivational thing. At its worst, it's really bad.
CARL:
You know what's worse, though? Not to compete at all. And that's where Special Olympics kind of breaks that rule. It lets people compete who never had the chance. As Mrs. Shriver used to say, "We took these folks out of the bleachers, out of the stands, and put them in the game." That's where we all want to be — in the game! Anyway, as I mentioned, I've been involved in Special Olympics Indiana for over 40 years. They have engaged Betty and me — asked us to be the heads of what they call the Carl and Betty Erskine Society. And it's to encourage people to put Special Olympics Indiana in their wills or leave a major gift, or donate.
BILL:
That's a great idea.
CARL:
So, that's the Carl and Betty Erskine Society, and that's in its early stages.
BILL:
Well, sign Gloria and me up!
CARL:
Oh, wow, we'd love to have you on the list. But there's not been a concerted, broad-based effort yet — it's in the works. The head of Special Olympics Indiana is Mike Furnish — he's a fine young man and he's got great passion for serving 11,000-plus special athletes in Indiana. Mike says, "When people give a gift to Special Olympics, I don't want to give them a certificate or another trophy. We've got to think of some kind of a gift to give these people."
I said, "You know, I'm no author, but I've got a story to tell." Well, when the publisher wanted a Jackie book, we ended up using a book called
What I Learned From Jackie Robinson
, which was a very appropriate title. Because I watched his handling of rejection, and how, when he tried to get a house outside New York City, there's a remonstrance. When we tried to get a group home in a neighborhood in Anderson, there was a remonstrance. I mean, there are a lot of parallels between Jackie and Jimmy. Well, I wanted to write that story.
BILL:
We are all afraid of the unknown, aren't we?
CARL:
I guess. But McGraw-Hill said, "OK, but we want to write about Jackie more." So they gave me one chapter in my book
What I Learned From Jackie Robinson
. The 14th chapter — the name of the chapter is "The Parallel." So when Mike Furnish, some years later now, says to me, "We need a gift," I said maybe I could write … not to duplicate the book, but I want to do chapter 14 in a small hardcover book. So, with Betty's help, we wrote
The Parallel
, and I donated the book to Special Olympics.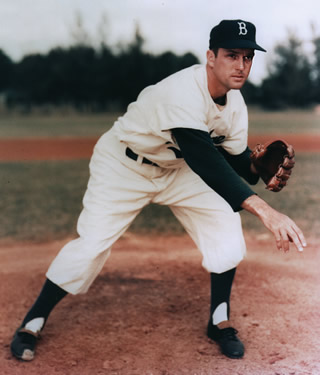 BILL:
While we're talking about her, you and Betty have had a good thing. Then you discovered that you could throw a ball better and faster and cleaner than a lot of people could from this little town of Anderson, but the beautiful part about Hoosiers here — I was very proud of the fact that you came back here where you started. We're all proud of you for that.
CARL:
Betty and I were sitting in church one Sunday, and I couldn't make up my mind. I had four kids and no job! I looked up and down the aisles in that old church, the old First Baptist church, and I thought, "You know, my mother brought me here when I was a kid. My folks were buried out of this church. I was married out of this church. My kids were baptized in this church." And I whispered to Betty, next to me, "I'm not leaving." And we did not leave.
BILL:
Hey, was Jimmy born here in Anderson, when you had to make that decision?
CARL:
It was 1960, yeah, that's when Jimmy was born. I've got a saying about that — Jimmy was born on April Fool's Day, and he's fooled everybody.
(Laughs)
He's been working for 14 years at Applebee's. I took him to work this morning; today, his job was cleaning and refilling all the saltshakers. There are 65 tables at Applebee's, so…
BILL:
Somebody has to do it! Carl, we have to find another time where you and Betty come up here for another game.
CARL:
Absolutely, yeah — we'd love to do that.
BILL:
Trouble is, though, when you go with you, you're like Star City. Everyone's coming up, "Carl, will you sign this? Can I get a picture?" There are not many athletes who have been retired for 50 years that people are still coming up to … not many artists either. You know, the older country artists, we were out eating with one of them, and someone came up and called him by name and said, "Man, I loved you and your singing. Can I get a picture with you?" He says, "Absolutely." Got done with the picture and sat back down, and the guy said, "I bet that happens a lot to you, doesn't it?" And he said, "Not nearly enough these days."
(laughs)
CARL:
Well, that's true. Here's a quick story… I went to this big dinner in New York, and there were about 2,000 people. It's called the BAT dinner — Baseball Assistance Team — it's a foundation. But they had a big reception, $500 a plate, and the players are supposed to mingle with all these guys who paid the big bucks. So I'm over there, and this guy comes up to me and says, "Oh, I can't believe I'm in the same room with you. I've followed your career…" and he goes through the whole thing. So 10 minutes later, he comes back. "Oh," he says, "I'm embarrassed here, but I just can't believe I'm standing here with you." And then, he goes away. Now they call us for dinner, and we have to go into this other dining room. So he comes back up and says, "Before you go, I mean, this is the chance of a lifetime — I know it'll never happen again. And I just gotta tell you, one more time, that you mean so much to me, and I'll never forget you. Clem, I'll never forget you." Clem was another pitcher on the team. So that'll put you right where you belong!
(laughs)
BILL:
Lately, we've been going to a few colleges The other day, a real pretty girl came up and said, " I just wanted to tell you that I enjoyed the show. Boy, if my grandmother just knew what I was doing…"
CARL
and
BILL:
(laughter)
BILL:
This has been great, Carl. And before we go, just one more time, what can readers do to get your book?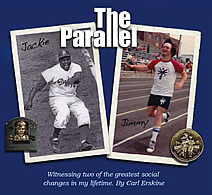 CARL:
Ah, yes. For a year, I agreed to let Special Olympics Indiana have it exclusively. Betty and I published the book ourselves and donated it to Special Olympics Indiana. So to get a book, you have to make a donation to Special Olympics Indiana. And they set a minimum of $50 for a donation. Now, if it's a parent or somebody who it would really be appropriate to own the book and have this story, the donation could be less. It could really encourage them. We wouldn't deny anybody getting a book. Or to buy books, go to the a website,
soindiana.org
, and click on "The Parallel."