Hello
Homecoming
readers! I'm back again, to talk about what else? Books! I think every time I've written for
Homecoming
I've talked about books, which is fine by me. I spend practically all my spare time reading. In fact, I actually just spent all of my babysitting money on a book which I finished in less than a week. (Not going to lie, I felt a little ripped off since I was penniless and had nothing to read.) In honor of this issue about childhood, I thought I would include some books meant for young adults.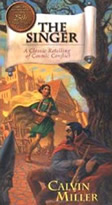 My most recent read is,
The Singer by Calvin Miller
. This book takes the story of Christ and gives it a new spin. He portrays Christ as a singer, born to sing God's song to the world. The Singer goes around singing and teaching His song to others and healing them of their pain. But His song is forbidden, and He must be punished by death for singing it. We all know the end of this story, but the way Miller writes moves you in a special way that is rare and beautiful. I actually stole this book from my dad. He got it for Christmas and had already read it, so it was just sitting in our library collecting dust when I picked it up. I was drawn to it by the cover, but was truly hooked by Miller's writing style. This story is written in poetry form, stanzas filling the pages in their neat little boxes. This beautiful story is a wonderful retelling of the greatest sacrifice made to us. Remember to keep a highlighter with you when you read though. I think I have a quote highlighted on almost every single page.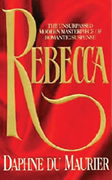 My next book is an old classic,
Rebecca
by Daphne du Maurier. This was the first book my English class had to read this year, and it was a great way to start off the term. The story contains so many twists and turns, and just when you think you have figured everything out...du Maurier adds another twist! Her writing style is so smooth and suspenseful; you can practically feel every single emotion of the characters as if they are your own.
Rebecca
is the story of young Mrs. de Winter, who has just married a widowed man with a very dark and secretive past. Haunted by thoughts of her husband's first wife, Rebecca, and pestered by Rebecca's housekeeper Mrs. Danvers, Mrs. de Winter finds herself frightened in a world where she doesn't belong. If that were not enough, the mystery of Rebecca's death starts to unravel, and the head suspect is now none other than her widower and Mrs. de Winter's new husband, Maxamilian de Winter. This book is a must read for thrillseekers and those who love a big twist.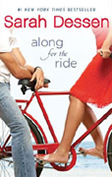 My final book is one for young adults, but I would recommend it to anyone.
Along for the Ride
by Sarah Dessen is my all-time favorite book. I have read it multiple times and I am still finding new ideas and life lessons.
Along for the Ride
is about a young girl named Auden who is spending the summer with her father, his new wife and their newborn before she heads off for college. Auden is the child of two professors who taught her to be smart, decisive and cunning, but never taught her how to just be a child. They didn't even teach her to ride a bike. So when Auden meets Eli, the fun loving retired BMX competitor, she begins a journey to places she never thought she would end up but—oddly enough—truly needed to be.
Along for the Ride
reminds us that it's not always the destination, but the journey we take to get there.