DOUG ANDERSON of Signature Sound recently wrapped up the group's European Tour during which he took plenty of time to engage in one of his favorite off-stage activities — reading! Here are three books that have found their way onto his all-time favorites list.
I am so thrilled to get to do this as I have been on a reading frenzy as of late. That's partly because I have a lot of friends who are writers and readers who keep me up to date on the latest must reads and then partly because I have had a lot of travel time with nothing to do!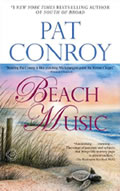 One of my favorite books of all time is Pat Conroy's
Beach Music
. That being said, I read his book
South of Broad
and was blown away by the story, but more than that, the character development. I was intrigued with each of these characters because I knew so much about them. When you get done with the book, you feel as if you know these people on a first-name basis and are somehow going through the story with them. This made me fall into
Beach Music
that much more. The cool thing about Conroy is that it seems like he takes actual experiences in his life and expands them into characters and stories. It's up to us to decide what is real and what is not. All of Conroy's books are set in the Carolina coastal ways and this one is no different. It spans a lifetime full of backstories that take you from South Carolina to California. It's a story of friends and how they remain a solid group, loyal to each other through good times and bad, success, tragedy and even acts of God. I started this book on a Thursday and I finished on Monday. I am a slow reader, so that shows how much I am into Conroy's books. I could do a whole article on him — he is by far my favorite writer.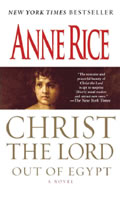 Another writer I admire is Anne Rice. Known more for her vampire books, she also wrote a couple of non-vampire books that I enjoyed. One was
Christ The Lord: Out of Egypt
. It wound up being controversial in some circles, but I loved it. It's a fictional book, people — not the Ten Commandments! I loved that it made me think. I have always wondered what happened to Jesus after He was born, what life He lived before He knew that He was special. Did He know? What conditions did they live in? What were Mary and Joseph like? This book takes you on a journey of "what ifs." In this story, Jesus as a 7-year-old boy is the narrator and begins to explore and find out that He is different. One of the first things that happens is Jesus has an altercation with a bully on the playground who then dies, but Jesus brings him to life again. Rice delivers basic historical fiction. The book takes you all the way through His early childhood to the point that He realizes He is the Son of God. It has caused some criticism as to whether Rice really got into the head of a 7-year-old Jesus, but I couldn't put it down.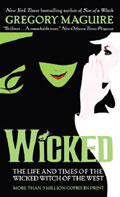 Recently, I have really enjoyed Gregory Maguire's book
Wicked
. I just finished the book and saw the musical. It is a brilliant, funny backstory to the famous Wizard of OZ. There are always two sides to every story. In the WOZ, we just heard Dorothy's side. In Maguire's
Wicked
we hear the side of the Wicked Witch. We find out where she came from, the trials she dealt with and what made this little green-skinned girl named Elphaba become "wicked." She will change the way you think about good and evil. The parallels to the original, and how the story weaves in and out of time periods is remarkable. I have to say, I was always scared of the Wicked Witch. But I finished this book understanding her and almost feeling sorry for her. I guess it's true — you can't judge a book by its cover. This, to me, will become a classic.