When invited to share the books to which I find myself returning for inspiration, I immediately recall the
Left Behind
series by Tim LaHaye and Jerry B. Jenkins. (Doubleday)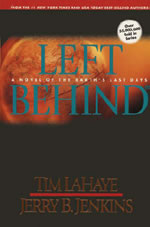 Its attraction is not that there is anything you wouldn't learn about in the words of God in Revelation — but that it was brought to life for the 21st century man by reminding him that the return of the Lord to the earth is going to be fast...it paints the picture for you about how quickly "in the twinkling of the eye, at the sound of the trump" would actually happen. It does for us the same thing that Gaither's "The King is Coming" does... "Busy housewives cease their labors, there's no traffic in the street." It creates an incredible sense of urgency AND sparks great conversation, even with nonbelievers. They are anxious or willing to talk about it because it is fiction and merely the author's "take" on this real future occasion; it creates an easy opportunity to make conversation on a plane or bus about the truth upon which it is built.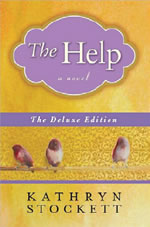 The Help
by Kathryn Stockett has become one of my all-time favorites. On tape, I had the advantage of a different voice for each of the three major characters. The story is all about living and growing up in the 1960s in Mississippi, during which era parents were hesitant to allow black kids and white kids to visit each others' homes. I thought that part was sad; it revived the memory of the even more hurtful, insensible events of that era. Anyone different (myself included, being blind) was badly treated. We've all seen these characters who don't see themselves. I thought very highly of other parts—and as a whole, found it extremely entertaining.
I cheered for Skeeter — a rebel who didn't care what people thought. This is a book everyone should both love and hate. Don't miss it!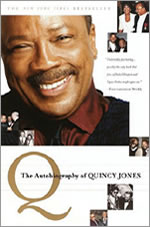 Another great read is
Q: The Autobiography of Quincy Jones
, edited by Paul A. Kirwan. It has been so popular because it is a lively and full-force account of Jones by himself, his family and friends, that is full of behind-the-scenes anecdotes.
It gives me new inspiration; Jones is one of the top five people I want to meet. The greatest producer of all time, he produced the best pop records of all time, including Michael Jackson's
Thriller
.
His book inspired me because he's done everything, and his energy was caught by everyone else. He was constantly experimenting with styles and harmonies and new talent, encouraging others. I found out a lot about this hero of mine that I didn't know before: I dreamed as a child (like we all do) but then you get to work with the people of your dreams — that's what he did! I learned so much from the real person about the musician of him.
Early on in the book, he describes the joy of his discovery of music, his friendship with Ray Charles and his struggles and joys as a jazz trumpeter on the road. It's much more than the typical celebrity memoir. It has chapters written by all the celebrities who have known him throughout the years. It dates back to his childhood in Chicago and Seattle, his romance with music in his early teens, first road trips as a performer, then bandleader — his wives, children, successes and failures. He was a musician's musician. I learned from the book as I believe I would have learned from the man in person.