Award-winning songwriter and newest member of the Isaacs, JIMMY YEARY has been busy penning songs and helping wife Sonya care for baby Ayden. He stops for a moment to talk about three of his favorite books, whose words have leaped from the page to impact his life.
One of my favorite things to do is relax and read a good book. It's a chance for me to go somewhere I've never been or learn something new. It's also very hard to focus on a book and worry about life's little stresses at the same time, so I love it! Here are a few of my favorite books that have impacted me the most down through the years.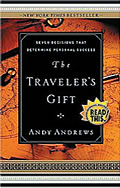 I love Andy Andrews' writing. I have read a few of his books, and one of my favorites is
The Traveler's Gift
. There have been many books I have read that deal with principles for living, but none done so perfectly as this one. Each principle is attached to a wonderful story based around a gure in history with whom we are all familiar. In this book you really feel like you could be this common man, David Ponder, who gets to spend time with these icons of history and live the moments of their most critical decisions. When I want to reflect on these tools for living, I need only go to the scene that Andy so eloquently paints. I believe it is important to read books more than once to be reminded of their impact, and it's about time I revisit this one. The Traveler's Gift was de nitely a life changer!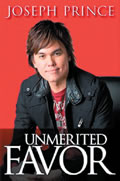 The next book is called
Unmerited Favor
, by Joseph Prince. I was raised in a church that taught me about fear, with a preacher who focused on rules. And I was constantly told about a God who was waiting for me to mess up so that He could take back the salvation He had given me. This book opened up my eyes with a mountain of scripture about God's grace. I don't know that I really understood what that word meant until this book. Every page seemed to further open my eyes to a God who was on my side. I once heard it said that religion was man's quest for God, but true Christianity is God's quest for man. God loves us beyond what I think we can even conceive sometimes. I believe that when a man can lose the fear of an "out to get you" God and realize the price He paid for us to be free, through His son Jesus Christ, then he can truly start to live. This book was instrumental in helping me to more freely live.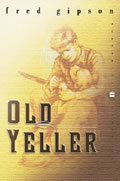 The last book is a classic that most everyone is familiar with.
Old Yeller
was the very first book I ever read. From the opening chapter, I was enthralled with this story. I was 9 years old and living in the country with a dog that I adored, so I indeed became the boy in this story. The bond between Travis and Old Yeller was special and unbreakable. The dog's heroism and love for Travis and his family made you love him too. When Old Yeller had to be put down because of rabies acquired while fighting off a wolf attack, my heart sank. I had fallen in love with this dog. He became my dog in a sense. He became my hero.
This book, I believe, was what started me on the unique journey of writing songs. I started pouring the joy and sadness I felt from Old Yeller into lyrics and music. I loved it! Songwriting became a way to express how I felt. I was a very sensitive young boy, so writing songs and singing them became my favorite thing to do, right up there with picking on my sister.