JOE BONSALL may be best known for his musical career as one quarter of the legendary Oak Ridge Boys, but in his spare time (!) he is also a prolific author whose books have touched countless lives. His latest is From My Perspective. Here Bonsall gives us a view of some memorable books in his life and how he grew to love them.
I am an avid reader and have been since I was a little boy. I had a wonderful woman in my life named Gertrude Clark who brought me books to read on a constant basis, and I have always been thankful for her guidance and love and encouragement. I read the complete works of authors Zane Grey, Jack London, H.G. Wells and Jules Verne by age 12, thanks to the woman I called "Nana" Clark.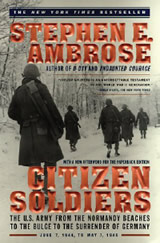 As I grew older I turned to spy novels, books about organized crime and war history, and I studied a ton of American history as well. To this day I have probably read a dozen books on the Civil War and more than that on World War II, which brings me to
Citizen Soldiers
by Stephen Ambrose and how I discovered it.
Around 2002, the Governor of Tennessee invited the four Oaks and our wives to a private dinner. The only other guests were the Director of Corrections and his wife. The man was a huge World War II buff who had visited major battlefields all around the world, and to my extreme pleasure, I sat beside him at dinner and we talked at length.
My dad's service came up, and I told him about my father's heroics as outlined in my book
G. I. Joe
and
Lillie
and mentioned that, like all men of that era, he would never talk about the war — and certainly would never want to be mentioned as any kind of a hero. His Silver Star, Bronze Star and Purple Hearts were buried in his sock drawer — they came out only when he had one too many alcoholic beverages in his bloodstream — and he rarely ever said anything to me about it.
"Have you ever heard of Stephen Ambrose?" asked the director. "He has been able to get old veterans like your dad to talk about the war. To open up, as it were. If you really want to know what your father went through in theater, you need to read Citizen Soldiers. It will be a good start. I will send you a copy tomorrow."
He did just that!
After reading that first book, I went on a mission to read more Ambrose. I wept like a child reading some of his books, and I must admit they became a huge inspiration and a guidepost to my own writings.
My dad passed away in 2001, as did my sweet mother, Lillie. Mr. Ambrose passed in 2002, right after I had read most of his work. I wish I could have met and thanked him for taking me inside the minds and hearts of young American boys who did such extraordinary things and made such a sacrifice so that we could live free in America.
My dad and mom now rest in Arlington National Cemetery, and I miss them every day. I am a better American because of my daddy, and I am a Christian, following Jesus today, because of my mom!
So instead of just recommending three of my favorite books, I encourage everyone to read all of Stephen Ambrose's books, but mostly, I encourage all to read! There is learning and wisdom in reading. I think this is why God gave us the Bible, which is still the greatest read ever!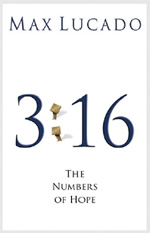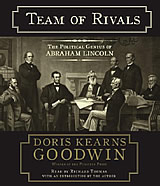 I am also a huge fan of Christian writer Max Lucado. I have read most of his books, with
3:16
being my favorite. Right now I am reading
Team of Rivals: The Political Genius of Abraham Lincoln
by Pulitzer Prize-winning author Doris Kearns Goodwin. It is a commitment, as this book is big enough to ward off a small tornado, yet I am enjoying every page. Nana Clark would be so proud of me!